Resident Publishes Op-Ed on Looming Medicare Cuts
By Department of Surgery | Sep 29, 2022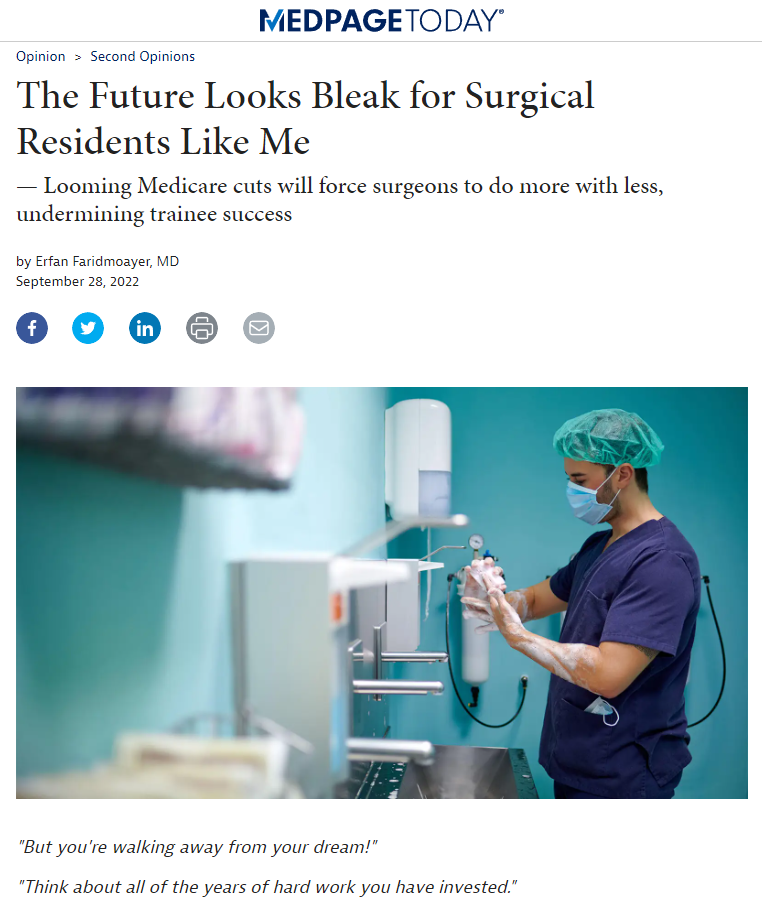 General surgery residents at Downstate continuously represent the institution by engaging with local and national surgical societies. Erfan Faridmoayer, MD, a third year general surgery resident, has been actively involved with advocacy initiatives nationally, especially in his role as the Resident and Associate Society liaison for the American College of Surgeons' Health Policy and Advocacy Group.
In a recently published op-ed on Medpage Today, Dr. Faridmoayer reflects on the proposed Medicare cuts affecting surgical care in the upcoming fiscal year.
The Centers for Medicare and Medicaid Services (CMS) has recently proposed a 4.5% cut to the Medicare conversion factor, as well as a 4% Pay-As-You-Go (PAYGO) cut. The combination of these cuts, Dr. Faridmoayer argues, lead to reduced quality and availability of surgical care nationwide. Moreover, he beleives these measures influence the quality of residents' surgical education, potentially impacting surgical care for future generations as well.
In a call to action, the article urges congressional leaders to revisit the proposed cuts, and consider the recommendations of the 14+ professional surgical associations that emphasize a more robust and reliabale Medicare payment model that is sustainable in the long-term.
Tags: Advocacy, Publications, Residency