Update: An Important Message About Ppe
PPE Reminder
As the University Hospital of Brooklyn and other area hospitals render care to patients with COVID-19, it is important to remain mindful of our supply of PPE. Though we have a decent inventory of N95 respirators, our supply is not inexhaustible, and unlike in the spring, everyone across the country, if not globally, is clamoring for supplies.
Guidelines for N95 respirator use at our hospital have not changed.
Staff in open areas where aerosolizing procedures on COVID-19 patients may take place, such as in the ED and ICUs, should routinely use N95 respirators.
Staff involved in aerosolization procedures should use N95 respirators.
Staff involved in direct care of known or highly suspected COVID-19 patients should use N95 respirators.
All others should use surgical masks, ear-loop face masks, and face shields.
Where possible, patients should also wear ear-loop face masks.
Few patients remain hospitalized at Downstate with COVID-19, and for the last two to four weeks, this has remained stable.
To meet ongoing low-level clinical needs outside of specialty areas, N95 respirators will be stocked in the isolation carts outside patient rooms. These N95 respirators should only be used by those individuals entering the room who have direct patient care responsibilities. To conserve supplies, the number of staff entering patient rooms should be kept to a minimum. With care, N95 respirators can be used throughout a shift, if not longer. Soiled or damaged masks should be discarded. N95 respirators should not be used for routine care of patients not infected with COVID-19.
We understand everyone's concerns. Staff safety is of paramount importance and we continue to seek out and purchase additional supplies. If we use our PPE inventory indiscriminately, we may find ourselves without supply when we need it most, so we are counting on you to help us use our supplies effectively. Thank you.
A Message from The New York State Department of Health About the Universal Use of Eye Protection
NYSDOH on Eye Protection
The New York State Department of Health (NYSDOH) strongly recommends universal use of eye protection by healthcare personnel for all patient interactions, in addition to face masks, throughout New York State.
Wearing both face masks and eye protection provides better protection for healthcare personnel who might unknowingly encounter asymptomatic, pre-symptomatic, or symptomatic but undiagnosed patients or residents with COVID-19.
The use of eye protection, in addition to face masks, might prevent some exposures that would otherwise require healthcare worker furlough (i.e. when a healthcare worker is in contact with a person with COVID-19 who was not wearing a face mask, see https://www.cdc.gov/coronavirus/2019-ncov/hcp/guidance-risk-assessment-hcp.html).
Face shields or goggles should be used. Standard eyeglasses are not personal protective equipment (PPE) and do not constitute sufficient eye protection.
NYSDOH recognizes that PPE supply shortages might prevent universal use of eye protection in all healthcare encounters. In this situation, the shortage should be documented, and eye protection should be reserved for and considered required for the care of patients and residents with known COVID-19; symptoms consistent with COVID-19; known exposure to a person with COVID-19; or in settings with a higher prevalence of patients or residents with COVID-19.
Such settings include, but are not limited to, emergency departments, outpatient clinics and practices which routinely see patients with acute infectious diseases, and nursing homes which have recently had residents or staff positive for COVID-19. Healthcare facilities and practices are referred to NYSDOH and CDC guidance on extended use and cleaning and disinfection of eye protection as a contingency strategy for PPE conservation.
We are also planning additional in-person training on this as well and here is a link to our PPE Chart.
Further information is available at What to do when PPE is in short supply; and at PPE Strategy - Eye Protection. General questions or comments about this advisory can be sent to icp@health.ny.gov. Thank you.
Important Update For Students on COVID-19
Updates and Reminders: Downstate's Response to COVID-19
Dear Students,
Winter and the holiday season are fast approaching. As was communicated earlier by the Back to New Normal Workgroup, we wish all of you a happy and, more importantly, healthy holiday season.
To continue protecting ourselves and others, the Center for Disease Control (CDC) and other regulatory bodies are strongly discouraging travel and recommending smaller family gatherings to avoid contracting or spreading the virus. We encourage you to celebrate as much as possible in creative, but virtual ways. If you must gather, make sure that you are gathering with fewer than ten people in well-ventilated places, wearing masks, and maintaining social distance.
Travel
As we have previously indicated, we continue to strongly recommend that students not travel during this time. Students who travel outside of New York State and the five contiguous states (New Jersey, Connecticut, Pennsylvania, Massachusetts, Vermont), including internationally, for more than 24 hours must comply with the following requirements (which are stricter than the New York State requirements, so please read these carefully):
You must complete a COVID-19 test within 3 days prior to returning to New York.
You must complete a seven-day total quarantine, the last three of which must be in New York State. (You can include days spent quarantining prior to returning to New York State if you remained quarantined at that location.)
You must complete the New York State Travel Form. Be sure to take a screenshot of the confirmation you have completed the form as proof. (See http://ny.gov/states)
After the completion of the seven-day quarantine, on the eighth day (at least the fourth day in New York State) you must complete a coronavirus test. (This test can be taken at Student Health, but not through the pooled saliva testing program described below. If you do not plan to take the test at Student Health, you should contact Student Health for an alternative means of testing before taking the test as we may not accept all tests.)
In order to be cleared by Student Health you must present evidence of both the initial and final test and completion of the New York State Travel Form.
You are not cleared to return to in-person learning until you are cleared by Student Health. Only Student Health can clear you
We should note that because we continue to recommend that you not travel outside of New York or the contiguous states during this period if you can avoid doing so as you must quarantine upon returning to New York. Also, if you are required to quarantine, Downstate may not be able to provide you with an alternative remote mode of instruction for the material you would miss.
In addition, we remind you that COVID-19 infection rates in the State of New York and the contiguous states also continue to rise, so please exercise as much caution as you can and avoid any unnecessarily travel, even within the region.
Questions about complying with the travel requirements can be addressed to Student Health at studenthealth@downstate.edu.
Usage of PPE
We have received multiple reports over the last week of students who have been observed on campus, and specifically in the Public Health Academic Building (PHAB) who were studying on-campus but had removed their masks. As a reminder, face masks are always required at all times when on campus, except when eating. This includes while participating in studying activities on-campus, whether participating in group study or individual study because the spaces you are in are both public and shared.
In addition, face shields over face masks are required whenever close contact of less than six feet for longer than ten minutes is required. This includes clinical activities and simulated clinical activities such as those that take place in the Simulation Center. For additional information, please consult the latest version of the PPE Chart - UHB PPE Table.
Failure to comply with the PPE requirements may result in disciplinary action as required under SUNY policy. In addition, continued observed non-compliance with requirements in spaces, such as the Public Health Academic Building, may result in those spaces being closed to group or individual study.
Updated Student Testing Requirements
SUNY Downstate is committed to maintaining the health and safety of our campus community. This includes requiring mandatory COVID testing for students who either live on campus, come to campus for an in-person class, are participating in a clinical activity (either at Downstate University Hospital or any other clinical site), work on campus, or visit campus facilities for any reason.
In accordance with SUNY policy, all students who fit in the above categories must participate in the SUNY Downstate Pooled Testing program between Monday, November 30 and Thursday, December 17. No exceptions to this rule will be granted if you are going to be on campus or at a clinical site during the month of December . As many COVID cases are asymptomatic, meaning you can be infected, and unknowingly and unintentionally spread the disease to others, we need to make sure all on-campus and clinical students are tested regularly. You must complete a test between November 30 and December 17 even if you previously completed a test with us or were recently tested by another agency.
If you are a fully online or remote student and will not be visiting campus or any clinical site in the month of December for any reason, including working in an on-campus job or internship; conducting research here or in the community; doing clinical work at Downstate or any other clinical affiliate; or visiting the library, academic buildings or any campus locations, you must request an exemption to this policy by completing this short survey.
https://downstate.co1.qualtrics.com/jfe/form/SV_erGtYGVh1dnxKrH
The only other exemption would be if you took a COVID test within the last 14 days and tested POSITIVE. If this applies to you, you should email studentaffairs@downstate.edu for further instructions.
If you do not fall under one of the exceptions above, you are required to participate in the test. If you fail to appear for the test, you will be considered out of compliance and may have your ability to access campus revoked and may become subject to disciplinary action.
Please note that the cost of the pool test will be incurred by Downstate. If a pool tests positive, a reflex test may be performed on each individual sample in the pool. Because the reflex test will be billed to your health insurance under the CARES Act, you will need to enter insurance information at the time you register. Please note there will be no co-pay or any cost to you.
The schedule for testing of testing will be:
Public Health Academic Building Lobby (PHAB Hall)
Monday, Tuesday, Wednesday, Thursday (Testing will not be done on Fridays)
11:00 am – 2:00 pm and 5:30 pm – 7:30 pm
You can make an appointment for your test here:
https://docs.google.com/forms/d/e/1FAIpQLSeWeYgErJLe_RdRTuEd12k2VWYhDn7SqpcMqSKUgR-x3wPc5w/viewform?usp=sf_link
(You can select any hour listed and come any time during the hour you select. Once an hour has filled up, it will not be available for selection. You can do your test at any time during the three-week period.)
Once you have selected a time, follow the instructions below to be ready for your appointment:
At least one day prior to the day of testing, students and employees will be required to create a COVID-19 Surveillance Account and complete their profile in advance of testing at http://register.suny-covid.com/ by following the guidelines below:
For your required saliva test, please register the day before your test. To register, click HERE. If this is your first time using the registration site, choose "Register." Enter your Downstate email (firstname.lastname@downstate.edu) and create a new password that meets the minimum criteria. DO NOT use your Downstate password. (If you have previously taken a test, use the email and password you previously created and do not have to set up the account prior to coming for your appointment time.)
To complete the online registration form:
Once you enter your email and select a password, the system will send you a verification code to your email. Use this code to activate your account.
Enter your name, email address, phone number, Downstate Identification Card Number (note: this is your student ID number unless a different number is listed on the back of your Student ID card), your date of birth and health insurance information on the registration form. Note that we are listed as "SUNY Downstate" in the listing of Colleges and that Brooklyn is "Kings County" when it asks for the County.
If the form prevents you from proceeding without completing a field enter 0(zeros) for digits and NA for words.
If you have any issues in creating your account, please email George Viriya at George.Viriya@downstate.edu.
Please note that your test kit will be given to you at the testing site.
On the Day of Your COVID-19 Saliva Test:
You MUST refrain from eating or drinking anything, including chewing gum, mints, or lozenges, within 30 minutes of reporting to the testing site, and should not have brushed your teeth or used mouthwash within the 3 hours before arriving at the test site. You must also abstain from smoking, vaping, or using smokeless tobacco products for 30 minutes prior to the test.
Bring your Downstate campus ID card AND mobile electronic device. You will need this device to match your registration details to the specimen being collected and sent to the lab.
As required every time you come to campus, you MUST have completed your health screening via the WellScreen terminal.
You will be given a swab at the testing site and asked to rub the inside of both cheeks of your mouth with the swab for 10-15 seconds under the observation of an attendant. Samples are left with the attendant. A video demonstrating the process can be viewed here: https://vimeo.com/447270240.
After Your COVID-19 Saliva Test:
Results are typically available within 2-5 days after your sample is sent to the lab. Individuals who test negative will not be notified.
Individuals who test positive will be notified immediately and, as required by law, the information will be reported to the NYS Department of Health.
If You have Had a Close COVID-19 Contact
If you have a prolonged and close contact (defined below) with a positive or suspected positive case, please contact Student & Employee Health immediately by e-mail for instructions (studenthealth@downstate.edu). You may be required to begin a 7-day quarantine or isolation period before resuming in-person classes or activities. You should not return to in-person activities until authorized to do so by Student Health or the SUNY Downstate Contact Tracing Corps.
"Close contact" is defined by the Center for Disease Control and Prevention ("CDC") as coming within six (6) feet of an individual for at least fifteen (15) minutes (prolonged exposure) starting from two (2) days before symptom onset (or for asymptomatic clients, two (2) days before positive specimen collection) until the time the individual is isolated. In healthcare settings, prolonged exposure to patients with COVID-19 is considered as a higher risk if the healthcare worker's eyes, nose, or mouth are not covered, or if the patient is actively having specific symptoms such as cough during the clinical encounter. Any duration of exposure during the performance of an aerosol-generating procedure is considered prolonged.
Please note that only Student & Employee Health Services or the SUNY Downstate Contact Tracing Corps, not your program faculty or administration, can clear you to return to coursework. Just receiving a negative test or recommendation from another health care provider is not sufficient.
If You Have a Obtained a Positive COVID-19 Diagnostic Test
If you have a positive test for COVID-19, you should report those results to Student Health immediately by e-mail (studenthealth@downstate.edu). They can help you navigate care (if needed) and will put you in touch with the Downstate Tracing Corps to determine if you have interacted with anyone else at Downstate that may need to be contacted. You should, obviously, not come to campus (unless directed to by Student & Employee Health or to obtain medical care), or attend classes or in-person activities during this period. Only Student & Employee Health Services or the SUNY Downstate Contact Tracing Corps, not your program faculty or administration, can clear you to return to coursework. Just receiving a negative test or recommendation from another health care provider is not sufficient.
Thank you for keeping our campus community safe and healthy.
Sincerely,
Kitaw Demissie, MD, PhD
Dean and Professor, School of Public Health
SUNY COVID-19 Campus Safety Monitor (CSM)
Jeffrey S. Putman, EdD
Vice President for Academic and Student Affairs
SUNY Downstate Joins Mayo Clinic Convalescent Plasma Trial for Hospitalized COVID-19 Patients
Blood Donations Are Needed from Recovered COVID-19 Patients
SUNY Downstate Health Sciences University, a dedicated COVID-19 facility, is participating in a national project using convalescent plasma for the treatment of hospitalized COVID-19 patients. SUNY Downstate is seeking blood donations from people who have recovered from COVID-19 in order to produce the plasma that will be given to patients. Potential donors must have evidence of previous COVID-19 infection with either a nasopharyngeal swab at the time of illness or a positive serologic test for antibodies to SARs-COV2, and they must be symptom-free for 14 days and seen by a health care provider.
The Mayo Clinic is the lead institution coordinating the trial. This national effort will collect plasma from donors who meet the criteria established by the Food and Drug Administration. There are currently no vaccines or proven treatments for COVID-19.
This treatment is based on the function of antibodies created by the immune system to fight infection. Some of these antibodies are capable of fighting viruses, while others fight off other diseases.
"The use of plasma to help patients fight disease began before the turn of the century, and was widely used prior to the development of antibiotics in the 1940's," said Dr. Michael Augenbraun, Chief of Infectious Diseases at SUNY Downstate Health Sciences University. "We don't yet know how COVID-19 antibodies might work in helping patients recover, but it is believed an infusion of convalescent plasma may improve their ability to fight the disease until their own immune system is strong enough to take over."
People who have recovered from COVID-19 who are interested in making a potentially life-saving blood donation for convalescent plasma may email us at CPTrial@downstate.edu.
Supplies Provided by Generous Donors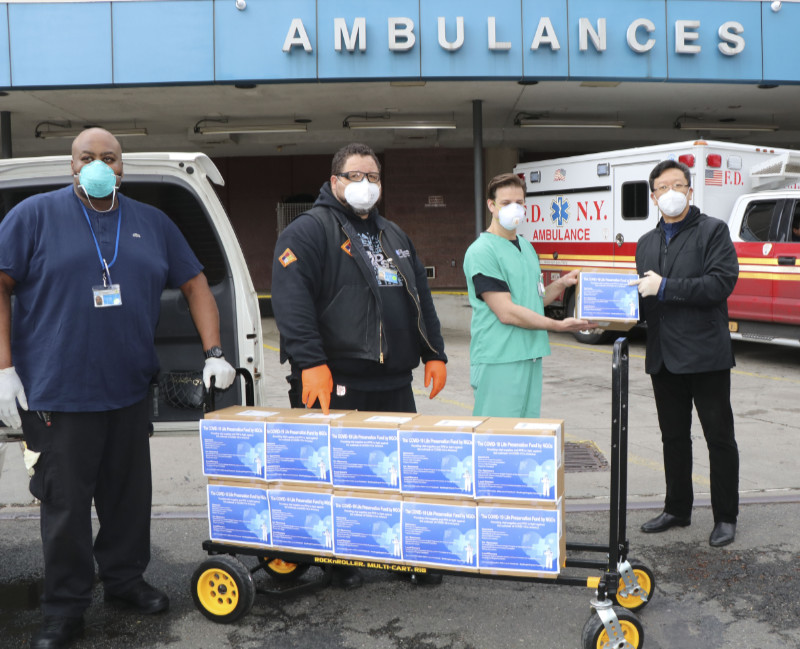 Today SUNY Downstate received a generous donation of 2500 N95 masks from the Daofeng & Angela Foundation. The donation was arranged by Dr. Lorenzo Paladino, Emergency Medicine Physician, Associate Professor and Assistant Director of Research at Downstate.
Based in Maryland, the Daofeng & Angela Foundation is part of a consortium of non-governmental organizations that recently formed the "The Covid-19 Life Preservation Fund by NGO's" to provide vital supplies and PPE to fight the outbreak of COVID-19 in the United States. To date, Chinese philanthropist Daofeng He and the Daofeng & Angela Foundation have together pledged more than $800,000 to support this effort. We appreciate their generosity and the efforts of Dr. Paladino in obtaining this donation. The consortium also donated 1050 N95 masts to Montefiore Medical Center.
Inquiries can be sent to donate@downstate.edu
In response to an outpouring of generosity by our community to donate critical medical supplies, SUNY Downstate Health Sciences University – University Hospital of Brooklyn has established a special email that be contacted by anyone interested in making donations.