About the Hospital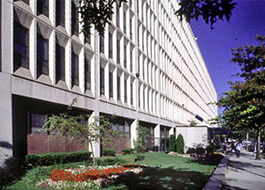 University Hospital at Downstate has been an integral part of SUNY Downstate Health Sciences University, one of America's most prominent educational and patient care networks. The 342-bed University Hospital serves the needs of nearly 3 million people. Brooklyn's only academic medical center, SUNY Downstate encompasses the College of Medicine, School of Graduate Studies, College of Nursing, School of Health Professions and extensive research facilities.
The Hospital is a regional referral center for neonatology, transplantation and pediatric hemodialysis and offers a rich resource of sophisticated medical facilities, many of which are found nowhere else in the region. Physicians refer patients here for diagnosis, treatment and rehabilitation services that require our advanced technologies.
University Hospital at Downstate is committed to providing quality health care to the people of Brooklyn and beyond. To expand access to medical services, our Emergency Care Center sees patients 24 hours a day, seven days a week. The Hospital also operated 3 satellite health centers to serve community healthcare needs; The Family Health Services Center at 840 Lefferts Avenue, and The Center for Healthcare Services at Midwood at 2171 Nostrand Avenue.