National Minority Quality Forum Selects SUNY Downstate Physician for Prestigious 40 Under 40 Leaders in Minority Health
Mar 4, 2019
Teresa Yvonne Smith, MD, MSEd to be honored by the National Minority Quality Forum for her contributions to increasing diversity in medicine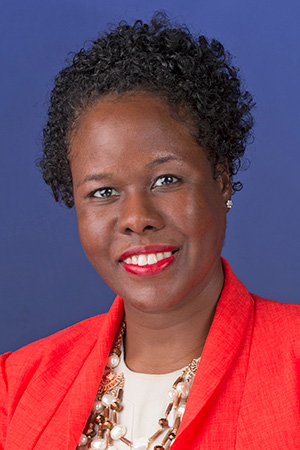 BROOKLYN, NY – SUNY Downstate Medical Center Clinical Emergency Medicine Associate Professor and Residency Program Director Teresa Y. Smith, MD, MSEd, FACEP,has been selected as one of the National Minority Quality Forum's (NMQF) 2019 40 Under 40 Leaders in Minority Health. The 40 Under 40 list honors Dr. Smith as one of the positive role models for the next generation of leaders in minority health. The award will be presented at the upcoming Congressional Black Caucus Spring Health Braintrust Gala Dinner on April 9 in Washington, DC.
Dr. Smith has spent her career championing diversity and inclusion in medicine by increasing diversity recruitment within medical education at the medical school and residency training level, and by improving retention and promotion of underrepresented minority professors. She is a proud contributing author to FemINEM, a blog devoted to empowering women physicians, and has spoken on many stages about why diversity in medicine matters. Dr. Smithis well known for her talk at FIX18, where she discussed her struggles with being both a doctor and a patient.
"We're very proud of Dr. Smith's national recognition of her work to enhance diversity in the medical field," said Downstate presidentWayne J. Riley, M.D. "As a champion and role model for increasing awareness about the positive impact of diverse, educational healthcare professionals, her work broadens care solutions for our most vulnerable and ethnically diverse patients."
Dr. Smith has mentored countless students in elementary schools, high schools, undergraduate institutions, and medical schools who seek to entire into the medical field. As a Clinical Assistant Dean in Downstate's College of Medicine, she has made a direct contribution to advising medical students during the residency selection and MATCH process.
"I am honored to be recognized by the National Minority Quality Forum among some of the most talented and passionate healthcare professionals in the nation," said Dr. Smith. "It is important for all leaders in medicine to continue to push towards diversity and inclusion in medical education. The house of medicine needs to be more reflective of the diversity in our patient populations. It is better for our patients, it is better for our medical institutions, and it is better for our communities."
For her efforts, Dr. Smith was the recipient of the first Dr. Dale Blackstock Award in Teaching and Excellence in 2017, and the Graduate Medical Education Program Director of Year in 2018.
Dr. Smith's research addresses health disparities and barriers to accessing healthcare for vulnerable patient populations. She received the SUNY Downstate President's Health Disparities Grant for her research involving the assessment of the medical and social needs of the sickle cell patient population.
Dr. Smith is currently an Associate Professor of Clinical Emergency Medicine at both SUNY Downstate Medical Center and Kings County Hospital. She is the Residency Program Director for the Emergency Medicine Residency Training Program – one of the largest Emergency Medicine training programs in the country.
A Bedford-Stuyvesant resident and a member of Delta Sigma Theta Sorority, Inc.,Dr. Smith graduated cum laude from Spelman Collegeand completed her medical degree from NYU School of Medicine. She completed her emergency medicine residency training at NYU/Bellevue Hospital and joined SUNY Downstate in 2011 completing a fellowship in emergency ultrasound. She went on to earn her Master's in medical education at the University of Pennsylvania in 2015.
The NMQF will recognize the 40 Under 40 Leaders in Minority Health at its 16th Annual Leadership Summit on April 9th in Washington, DC.
###
---
About SUNY Downstate Medical Center
SUNY Downstate Medical Center is the borough's only academic medical center for health education, research, and patient care, and is a 376-bed facility serving the healthcare needs of Brooklyn's 2.6 million residents. University Hospital is Downstate's teaching hospital, backed by the expertise of an outstanding medical school and the research facilities of a world-class academic center. More than 800 physicians, representing 53 specialties and subspecialties—many of them ranked as tops in their fields—comprise Downstate's staff.
A regional center for cardiac care, neonatal and high-risk infant services, pediatric dialysis, and transplantation, Downstate also houses a major learning center for children with physical ailments or neurological disorders. In addition to University Hospital, Downstate comprises a College of Medicine, College of Nursing, College of Health-Related Professions, a School of Graduate Studies, a School of Public Health, and a multifaceted biotechnology initiative, including the Downstate Biotechnology Incubator and BioBAT for early-stage and more mature companies, respectively. For more information, visit www.downstate.edu
---