AMY ALLEN, CLASS OF 2020, FIRST SUNY DOWNSTATE COLLEGE OF MEDICINE STUDENT TO RECEIVE PRESTIGIOUS FULBRIGHT AWARD
May 30, 2019
Grant will be used to study the link between healthcare engagement and the stigmas faced by HIV positive, IV drug abusing women in Ukraine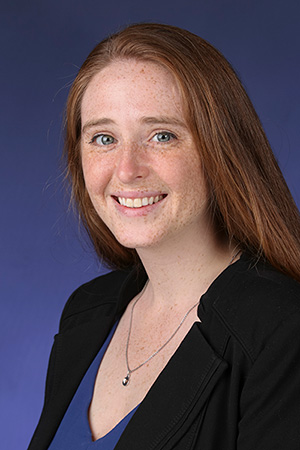 BROOKLYN, NY - SUNY Downstate Medical Center announced today that Amy Allen, Class of 2020, is the first ever College of Medicine student to receive an award from the Fulbright Foundation in the 73-year history of the program. One other Downstate student, psychology major Peter Goldfine, received a Fulbright award in 1966.
She is one of only 8,000 Fulbright recipients worldwide for the coming academic year.
Allen, 27, who is originally from the Chicago suburb of Batavia, Ill., will serve as a full-time Research Associate with the Ukrainian Institute for Public Health Policy, where she will research how the stigma associated with multiple marginalized identities influences how HIV positive, IV-drug abusing women in Ukraine engage the healthcare system.
"Being named the first ever College of Medicine Fulbright Award recipient from Downstate is an incredible honor for Amy and for SUNY Downstate," said SUNY Downstate President Wayne J. Riley, M.D. "This recognition is a testament to the caliber of our students, and Amy is an excellent example of our ongoing commitment to providing world-class education and producing highly-skilled medical professionals who are dedicated to transforming healthcare globally."
"I am passionate about global health, research, and medicine, and hope to use my research to achieve better healthcare outcomes for women in Ukraine," said Ms. Allen. "The mentorship and professional network that I hope to establish during the Fulbright program will be an excellent opportunity to develop a unique career in academic medicine with a focus on vulnerable populations. I am grateful for the support of SUNY Downstate in facilitating this opportunity."
"Amy personifies the kind of future physicians we are training here at SUNY Downstate," said College of Medicine Interim Dean Michael Lucchesi, M.D. "She recognizes the importance of gaining a better understanding of the barriers faced by certain populations in accessing healthcare and how what we learn from this kind of research can improve health status everywhere."
The Fulbright award is a highly-competitive grant that considers the academic and professional achievements of the applicants, as well as demonstrated leadership potential in their respective fields.
For over 70 years, Fulbright recipients have served as representatives of the United States and have the opportunity to work collaboratively with international partners across several disciplines like educational, political, cultural, economic, and scientific fields while further engaging in the local communities.
SUNY Downstate's Amy Allen joins the ranks of distinguished participants in the program. Fulbright alumni have become heads of state, judges, ambassadors, cabinet ministers, CEOs, and university presidents, as well as leading journalists, artists, scientists, and teachers. They include 59 Nobel Laureates, 82 Pulitzer Prize winners, 72 MacArthur Fellows, 16 Presidential Medal of Freedom recipients, and thousands of leaders across the private, public and non-profit sectors. Since its inception in 1946, more than 380,000 "Fulbrighters" have participated in the program.
###
---
About SUNY Downstate Medical Center
SUNY Downstate Medical Center is the borough's only academic medical center for health education, research, and patient care, and is a 376-bed facility serving the healthcare needs of Brooklyn's 2.6 million residents. University Hospital is Downstate's teaching hospital, backed by the expertise of an outstanding medical school and the research facilities of a world-class academic center. More than 800 physicians, representing 53 specialties and subspecialties—many of them ranked as tops in their fields—comprise Downstate's staff.
A regional center for cardiac care, neonatal and high-risk infant services, pediatric dialysis, and transplantation, Downstate also houses a major learning center for children with physical ailments or neurological disorders. In addition to University Hospital, Downstate comprises a College of Medicine, College of Nursing, College of Health-Related Professions, a School of Graduate Studies, a School of Public Health, and a multifaceted biotechnology initiative, including the Downstate Biotechnology Incubator and BioBAT for early-stage and more mature companies, respectively. For more information, visit www.downstate.edu
---