State Senator Kevin Parker Discusses Medical Education, Healthcare Quality at SUNY Downstate Retreat for Medical School Residency Coordinators
Aug 9, 2019
Annual event invites reflection, action on how to improve healthcare quality

BROOKLYN, NY – In order to empower medical school residency coordinators and strengthen ties in the healthcare community, on Friday, August 5, SUNY Downstate Health Sciences University hosted a day-long retreat for medical school residency coordinators from across the tri-state region. The keynote speaker was New York State Senator Kevin Parker (D-Brooklyn), who spoke about the "Importance of Medical Education to Improve the Quality of Health Care."
Residency coordinators play a key role in advancing the specialty training of new physicians by managing a myriad of administrative tasks in support of these critical training programs.
"Residency programs are vital to training physicians in every field of specialty," said SUNY Downstate President Wayne J. Riley, M.D "We appreciate Senator Parker's recognition of how important the residency programs here at Downstate and at other medical schools are in assuring the quality of our healthcare system."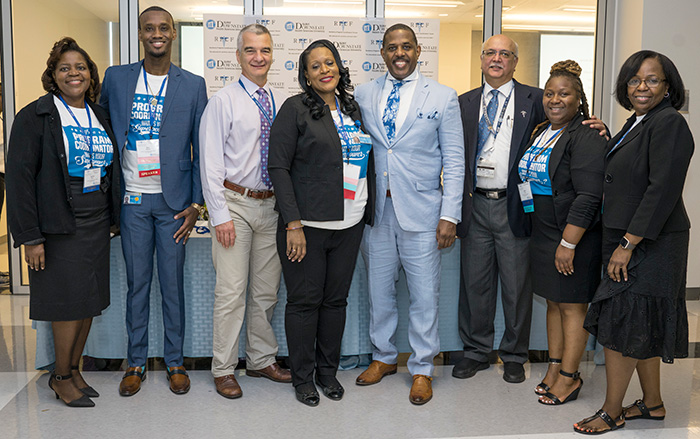 ###
---
About SUNY Downstate Health Sciences University
SUNY Downstate Health Sciences University is the borough's only academic medical center for health education, research, and patient care, and is a 342-bed facility serving the healthcare needs of New York City, and Brooklyn's 2.6 million residents. University Hospital of Brooklyn (UHB) is Downstate's teaching hospital, backed by the expertise of an outstanding medical school and the research facilities of a world-class academic center. More than 800 physicians, representing 53 specialties and subspecialties—many of them ranked as tops in their fields—comprise Downstate's staff.
A regional center for cardiac care, neonatal and high-risk infant services, pediatric dialysis, and transplantation, Downstate also houses a major learning center for children with physical ailments or neurological disorders. In addition to UHB, Downstate comprises a College of Medicine, College of Nursing, School of Health Professions, a School of Graduate Studies, a School of Public Health, and a multifaceted biotechnology initiative, including the Downstate Biotechnology Incubator and BioBAT for early-stage and more mature companies, respectively. For more information, visit www.downstate.edu or follow us on Twitter at @sunydownstate.
---