It's "Match Madness" at SUNY Health Science Center At Brooklyn Downstate Medical Center
Mar 15, 2019
Nearly 200 medical students find out where they will begin their residency training at the annual letter-opening ceremony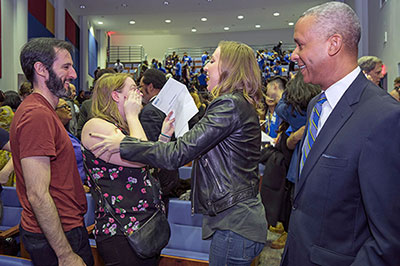 Brooklyn, NY—The State University of New York Chancellor Dr. Kristina M. Johnson and SUNY Health Science Center at Brooklyn/ Downstate Medical Center president Wayne J. Riley, M.D., joined nearly 200 Downstate fourth-year medical students for the annual "Match Madness" letter-opening ceremony.

Medical students and soon-to-be graduates gathered with family, friends, and faculty for the annual celebratory nationwide letter-opening event to find out where they will begin residency training for the next three to seven years. In a surprise visit from SUNY Chancellor Johnson who joined in a countdown to the noon "big reveal" moment, students simultaneously opened and read their Letters of Notification from the National Resident Matching Program (NRMP), a private, not-for-profit organization.

"Getting into a residency program is a major milestone in the education and training of our medical school students, and today is a significant step forward for 619 talented students as they continue on their medical careers," said Chancellor Johnson. "I want to congratulate all of SUNY's medical school students, who will be our next generation of highly skilled and trained physicians. We are all proud to have had them study at SUNY's four high-quality medical schools."

"Match Day is another rite of passage toward becoming a physician," said SUNY Downstate president Wayne J. Riley, M.D. "It is the emotional culmination of years of hard work and dedication resulting in great reward for the next career step as a resident, and for our students, an opportunity to proudly share what they have learned at SUNY Downstate Medical Center."

Just last month, Castle Connolly Medical ranked Downstate as the fourth top U.S. Medical School educating the nation's best physicians highlighting that more than 900 leading doctors nationwide earned their medical degrees at SUNY Downstate Medical Center.

"We're equally proud that nearly 50 percent of Downstate's medical students will remain in the five boroughs for their residencies," continued Dr. Riley. "Overall, 66 percent of the entire class have chosen to begin their residencies in New York State positively impacting the healthcare system that cares for our residents."

The NRMP expects the 2019 Main Residency Match to be the largest in history, exceeding the more than 43,000 applicants who registered for the 2018 Match and the more than 33,000 positions offered last year. Results are closely-watched because they can predict future changes in the physician workforce.

Of the 66 percent of medical students matching in New York State, 18 percent will be in Brooklyn, 11 percent in the Bronx, and 17 percent will be in Manhattan. In specialty care, 42 percent will rotate into primary care; including OB/GYN as a primary care specialty, the rate increases to 45 percent. A total of 25 percent will move into Internal Medicine, 11 percent into Emergency Medicine, 10 percent into Pediatrics, and 9 percent into Anesthesiology. Overall, 63 percent will remain in the New York metropolitan area, which includes New York City, and Westchester, Nassau, and Suffolk counties. SUNY Downstate's match rate is 98.5 percent.

Two students who completed the military match process will begin their residencies at U.S. military hospitals, and one student who completed the Canadian match process will serve at a hospital in British Columbia.

Top match institutions included SUNY Downstate Medical Center, SUNY Stony Brook, NYU Langone, Zucker School of Medicine/Northwell, Einstein School of Medicine (Montefiore and Jacobi Hospitals), New York Presbyterian/Cornell, New York Presbyterian/Columbia, ICAHN/Mount Sinai, and Temple University Hospital. Among other preeminent institutional matches are residencies at Johns Hopkins, University of Pennsylvania, USC, Boston University, Cedars-Sinai, the Cleveland Clinic, Yale, UCLA, and UC San Francisco.

The Match Process begins in the fall during the final year of medical school when students apply to the residency programs of their choice. Throughout the fall and early winter, applicants interview with programs, and from mid-January to late February, applicants and program directors rank each other in order of preference and submit the preference lists to NRMP which uses a computerized mathematical algorithm to match applicants' preferences with those of program directors for training positions available at teaching hospitals nationwide.
###
---
About SUNY Downstate Medical Center
SUNY Downstate Medical Center is the borough's only academic medical center for health education, research, and patient care, and is a 376-bed facility serving the healthcare needs of Brooklyn's 2.6 million residents. University Hospital is Downstate's teaching hospital, backed by the expertise of an outstanding medical school and the research facilities of a world-class academic center. More than 800 physicians, representing 53 specialties and subspecialties—many of them ranked as tops in their fields—comprise Downstate's staff.
A regional center for cardiac care, neonatal and high-risk infant services, pediatric dialysis, and transplantation, Downstate also houses a major learning center for children with physical ailments or neurological disorders. In addition to University Hospital, Downstate comprises a College of Medicine, College of Nursing, College of Health-Related Professions, a School of Graduate Studies, a School of Public Health, and a multifaceted biotechnology initiative, including the Downstate Biotechnology Incubator and BioBAT for early-stage and more mature companies, respectively. For more information, visit www.downstate.edu
---