SUNY Downstate Medical Center's Marilyn A. Fraser, M.D. Named Power Woman of Brooklyn
Mar 14, 2019
Dr. Fraser to be honored as a Health Hero for her work on health equity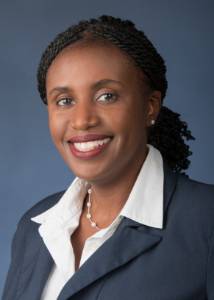 BROOKLYN, NY – SUNY Downstate Medical Center announced today that Arthur Ashe Institute for Urban Health (AAIUH) Chief Executive Officer Dr. Marilyn Fraser will be named as a Power Woman of Brooklyn by Schneps Media at their annual Power Women Awards and Networking Event. The event honors top Kings County women for their outstanding leadership and contributions to the community.

As Chief Executive Officer of the Arthur Ashe Institute for Urban Health, Dr. Fraser and her team provide expert programming to expand the community's access to medical information and critical health services," said SUNY Downstate president and AAIUH board member Wayne J. Riley, M.D. "This work advances our mission of delivering quality patient care in underserved communities. This a well-earned recognition for Dr. Fraser's exceptional contributions and her work with the Arthur Ashe Institute."

Dr. Fraser's contributions in Brooklyn include co-leading an investigative research team supported by several National Institute of Health and Centers for Disease Control and Prevention grants, helping develop behavioral health intervention models and training curricula for AAIUH's award-winning Black Pearls and Different Fades of Health program. She also served as the co-PI to a team of investigators conducting the Institute's ACCESS project to increase access to health and social services for formerly incarcerated individuals in Brooklyn.

Guyanese-born Dr. Fraser is a graduate of the Spartan Health Sciences University School of Medicine in St. Lucia. She completed her medical training in the West Indies, Mexico, and the United States. In addition to her role as Chief Executive Officer at the Arthur Ashe Institute for Urban Health, she is also a Research Associate Professor in the Department of Medicine at SUNY Downstate, and co-Director of the Brooklyn Health Disparities Center.

For more information on the awards, click here.

About the Arthur Ashe Institute for Urban Health

Moved by SUNY Downstate Medical Center's long history of serving immigrants and low-income Brooklyn residents as well as its staff and faculty research, shortly before his death, tennis great Arthur Ashe established the Arthur Ashe Institute for Urban Health (AAIUH). Located in multi-ethnic Brooklyn, AAIUH collaborates with community members to design, incubate, and replicate neighborhood-based interventions that address health conditions that disproportionately affect minorities. Recognizing the complexity of the economic and social determinants of health, AAIUH partners with a wide variety of grassroots and institutional organizations to provide after-school science enrichment through our Health Science Academy program, and outreach initiatives in trusted venues, as well as research and advocacy.
###
---
About SUNY Downstate Medical Center
SUNY Downstate Medical Center is the borough's only academic medical center for health education, research, and patient care, and is a 376-bed facility serving the healthcare needs of Brooklyn's 2.6 million residents. University Hospital is Downstate's teaching hospital, backed by the expertise of an outstanding medical school and the research facilities of a world-class academic center. More than 800 physicians, representing 53 specialties and subspecialties—many of them ranked as tops in their fields—comprise Downstate's staff.
A regional center for cardiac care, neonatal and high-risk infant services, pediatric dialysis, and transplantation, Downstate also houses a major learning center for children with physical ailments or neurological disorders. In addition to University Hospital, Downstate comprises a College of Medicine, College of Nursing, College of Health-Related Professions, a School of Graduate Studies, a School of Public Health, and a multifaceted biotechnology initiative, including the Downstate Biotechnology Incubator and BioBAT for early-stage and more mature companies, respectively. For more information, visit www.downstate.edu
---