SUNY Downstate Unveils Portrait of Former President John C. LaRosa, MD
Sep 11, 2019
Dr. LaRosa Served as the 15thPresident from 1999-2012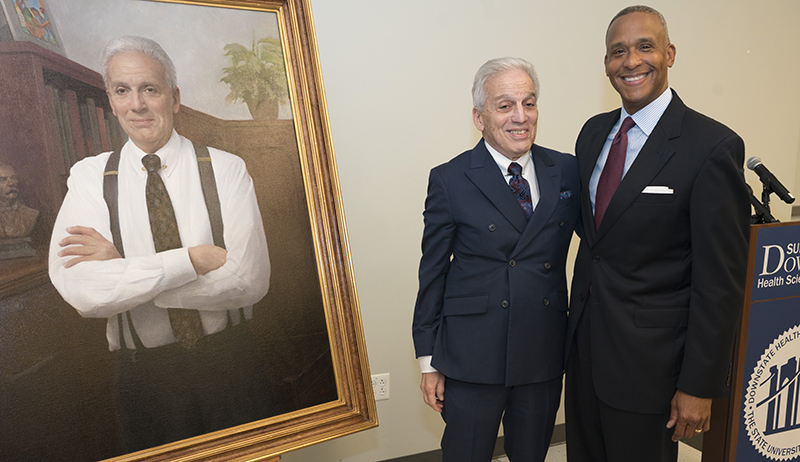 BROOKLYN, NY –SUNY Downstate Health Sciences University today formally unveiled the presidential portrait of John C. LaRosa, MD, who served as the Institution's 15thpresident from 1999-2012.
The portrait unveiling took place in the School of Public Health, where among his many contributions, he also was the founder.
A renowned cardiologist and researcher, as well as a pioneer in the development of statin medications to fight high cholesterol, Dr. LaRosa was recognized for his service to the University, where for the last 20 years, he dedicated his efforts to improving health, advancing health policy, and driving the very best in health and medical education.
Named as President in 1999, Dr. LaRosa came to Downstate to help grow, change, revitalize, and expand the institution into a world-class academic medical center.
He launched Downstate's first Master of Public Health Program, which soon expanded to become the School of Public Health. Some of Dr. LaRosa's other academic initiatives included the addition of an Accelerated Bachelor's Degree in Nursing, a Master's Degree in Health Informatics, and the Doctor of Physical Therapy Program in the newly-renamed School of Health Professions. A new Ph.D. program was added in Biomedical Engineering along with a joint M.D./Ph.D. program in Medicine and Nanoscale Sciences.
Under Dr. LaRosa's leadership, SUNY Downstate also saw the construction of new emergency services, an expansive Infant and Child Learning Center, new labor and delivery facilities and a Neonatal Intensive Care Unit. Downstate also added new patient services for Alzheimer's disease, other cognitive disorders, epilepsy, robotic surgery, and more.
Dr. LaRosa also deepened Downstate's relationship with the Arthur Ashe Institute for Urban Health and the Brooklyn Borough President's Office, resulting in the creation of the SUNY Downstate Center for Health Disparities.
After leaving the President's post in 2012, and following a year's sabbatical, Dr. LaRosa, who has published more than 250 scholarly articles to date, returned to Downstate where he continues to serve as a professor in both the College of Medicine and in the School of Public Health.


###
---
About SUNY Downstate Health Sciences University
SUNY Downstate Health Sciences University is the borough's only academic medical center for health education, research, and patient care, and is a 342-bed facility serving the healthcare needs of New York City, and Brooklyn's 2.6 million residents. University Hospital of Brooklyn (UHB) is Downstate's teaching hospital, backed by the expertise of an outstanding medical school and the research facilities of a world-class academic center. More than 800 physicians, representing 53 specialties and subspecialties—many of them ranked as tops in their fields—comprise Downstate's staff.
A regional center for cardiac care, neonatal and high-risk infant services, pediatric dialysis, and transplantation, Downstate also houses a major learning center for children with physical ailments or neurological disorders. In addition to UHB, Downstate comprises a College of Medicine, College of Nursing, School of Health Professions, a School of Graduate Studies, a School of Public Health, and a multifaceted biotechnology initiative, including the Downstate Biotechnology Incubator and BioBAT for early-stage and more mature companies, respectively. For more information, visit www.downstate.edu or follow us on Twitter at @sunydownstate.
---