Patricia A. Winston Named Among The Network Journal 25 Influential Black Women In Business
Feb 20, 2019
Selected as one of 25 honorees for her exemplary contributions to healthcare and the community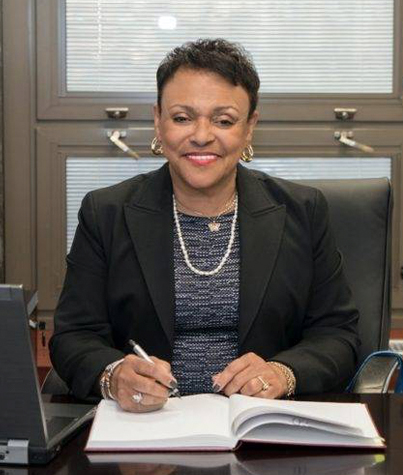 BROOKLYN, NY – SUNY Downstate Medical Center announced today that University Hospital of Brooklyn (UHB) Interim Senior Vice President & Managing Director Patricia A. Winston, RN, was named among The Network Journal (TNJ) 2019 class of the 25 Influential Black Women in Business. Ms. Winston, who is also Vice President and Chief Operating Officer at UHB will be profiled in the spring 2019 issue of The Network Journal, an award-winning business magazine for African-American professionals, corporate executives, and business owners.

"This is a well-deserved recognition for Ms. Winston," said Downstate president Wayne J. Riley, M.D. "This award is a testament to her commitment to serving the strategic direction and management of University Hospital of Brooklyn and serving as a role model for women of color and women everywhere. We're proud that she is among a cadre of phenomenal women who represent approximately 61 percent of the workforce here at Downstate, working tirelessly to provide quality patient care, education, and research."

"Growing up as the daughter of a nurse–my first role model—ensured that I remained committed to the ideals she taught me," said Ms. Winston. "She taught me how important it was to share knowledge and wisdom with women because we can always impact significantly more lives when we are part of a village. I am humbled at this recognition, and I look forward to continuing along this path to helping other women achieve success.

Ms. Winston will be formally honored during Women's History Month at the 21st Annual 25 Influential Black Women in Business Awards Luncheon on Friday, March 22, 2019. This signature TNJ event will be held at the New York Marriott Marquis Hotel, located at 1535 Broadway in New York City, from 11:00 a.m. to 2:00 p.m.

Before joining SUNY Downstate, Ms. Winston served for five years as Senior Vice President/Chief Nursing Officer at The Brooklyn Hospital where she had strategic development and management oversight of the Department of Patient Care Services including nursing, infection control, patient relations, rehab services, and the therapy department. Previously, she was the Chief Nursing Officer for Universal Health Services in King of Prussia, PA, and at the George Washington University Hospital as a member of senior leadership. Additionally, she has served on numerous boards and in professional leadership capacities, including - American Nurses Association; Delaware Nurses Association, National Association of Health Service Executives; American College of Healthcare Executives; American Organization of Nurse Executives, and the Delaware Organization of Nurse Executives. She is also a member of Alpha Kappa Alpha Sorority and The Links.

Ms. Winston graduated from the Nursing School of Wilmington, Delaware with an R.N. diploma, a Bachelor of Science degree in professional arts and nursing, and a Master of Science degree in healthcare administration from West Chester University in Pennsylvania. She is Board Certified in Nursing Administration (NEA-BC) and a Fellow of the American College of Health Care Executives (FACHE). She is currently completing a doctoral studies program at George Washington University.

For a complete list of this year's honorees, and additional information about the awards luncheon, click here.
###
---
About SUNY Downstate Medical Center
SUNY Downstate Medical Center, founded in 1860, was the first medical school in the United States to bring teaching out of the lecture hall and to the patient's bedside. A center of innovation and excellence in research and clinical service delivery, SUNY Downstate Medical Center comprises a College of Medicine, College of Nursing, School of Health Professions, a School of Graduate Studies, School of Public Health, University Hospital of Brooklyn, and a multifaceted biotechnology initiative including the Downstate Biotechnology Incubator and BioBAT for early-stage and more mature companies, respectively.
SUNY Downstate ranks twelfth nationally in the number of alumni who are on the faculty of American medical schools. More physicians practicing in New York City have graduated from SUNY Downstate than from any other medical school.
---