enCourage Kids Foundation Donate Disney-Themed Band-Aids To SUNY Downstate Child Life Program
Mar 12, 2019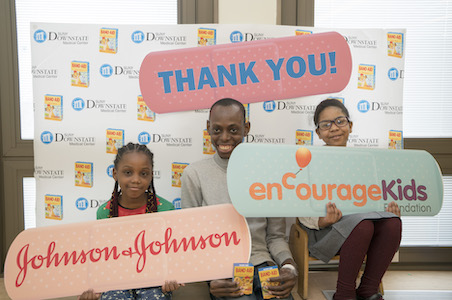 The enCourage Kids Foundation recently donated nearly 25,000 Disney-themed, colorful character Johnson & Johnson Band-aid brand bandages to the Child Life Program in the Department of Pediatrics of SUNY Downstate Medical Center's University Hospital of Brooklyn. The band-aids will be used for children in the Pediatrics Unit as needed to help put smiles on their faces.

"Hospitals can be scary places for children; any chance to bring comfort to them is critical to their healing," said Child Life Program Director Lisa Smith. "Familiar characters like Simba and Pumbaa help to comfort them and put smiles on their faces."

"We are grateful to enCourage Kids Foundation and Johnson & Johnson and for their generosity, and look forward to a long partnership with them," said Pediatric Department Chairman Dr. Stephen Wadowski. "They understand the difficulties for children in hospitals and respond in simple and effective ways; a band-aid always makes a child smile and feel better."

About the enCourage Kids Foundation

Since 1985, enCourage Kids has helped humanize healthcare for children and their families by resourcing impact-driven pediatric programs and supporting the Child Life Community. Serving more than 400,000 children annually, our programs offer relief from the constant burden of treatment, hospital stays, and doctor appointments, while also helping pediatric facilities to meet the unique needs of their patients.
###
---
About SUNY Downstate Medical Center
SUNY Downstate Medical Center is the borough's only academic medical center for health education, research, and patient care, and is a 376-bed facility serving the healthcare needs of Brooklyn's 2.6 million residents. University Hospital is Downstate's teaching hospital, backed by the expertise of an outstanding medical school and the research facilities of a world-class academic center. More than 800 physicians, representing 53 specialties and subspecialties—many of them ranked as tops in their fields—comprise Downstate's staff.
A regional center for cardiac care, neonatal and high-risk infant services, pediatric dialysis, and transplantation, Downstate also houses a major learning center for children with physical ailments or neurological disorders. In addition to University Hospital, Downstate comprises a College of Medicine, College of Nursing, College of Health-Related Professions, a School of Graduate Studies, a School of Public Health, and a multifaceted biotechnology initiative, including the Downstate Biotechnology Incubator and BioBAT for early-stage and more mature companies, respectively. For more information, visit www.downstate.edu
---