University Hospital of Brooklyn Hosts Ribbon Cutting Ceremony for New Pediatric Intensive Care Unit
Oct 15, 2019
FOR IMMEDIATE RELEASE: October 15, 2019
MEDIA CONTACT: John Gillespie | John.Gillespie@downstate.edu | (718) 270-2262
New State-Of-The-Art PICU To Provide the Highest Standards of Complex Care for Children with Critical Illnesses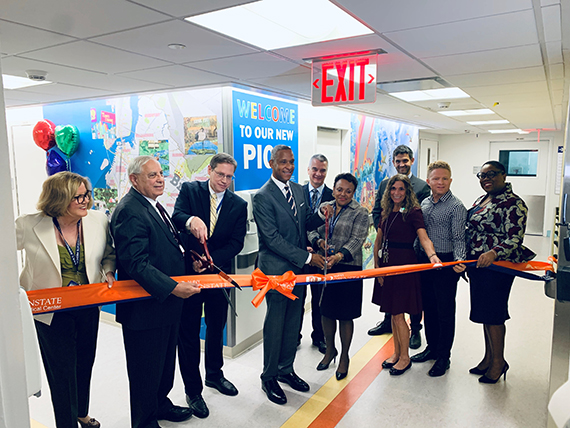 Congratulations to the physicians and staff of University Hospital of Brooklyn at SUNY Downstate on today's ribbon-cutting in celebration of the brand new Pediatric Intensive Care Unit (PICU).
Nearly a decade in the making, the new PICU is a state-of-the-art facility that supports comfort, safety, privacy, and adopts a family-centered approach to care for the most critically ill infants, children, and adolescents.
There are five glass-enclosed private rooms— including a negative pressure room—that provide line-of-sight monitoring by nurses and brings all caregivers closer to the bedside. Each room features child-friendly murals, a brightly-colored couch which can be converted into a bed for parents, and plenty of natural light. There is a separate space for private family meetings, consultations, or bereavement.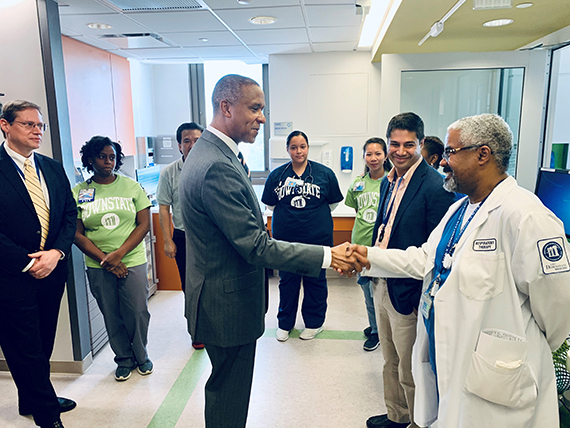 The Unit features the latest monitoring and telemetry systems, as well as information technology that brings electronic medical records, imaging studies, lab information pharmacy, and nutrition to the bedside. A pneumatic tube system in the Unit itself means staff need not leave the Unit to drop off specimens or retrieve medications.

These and other features will enable our specialty physicians to provide all modalities of critical care interventions including advanced ventilator management, use of inhalational gas therapies, dialysis, including continuous renal replacement therapy, plasmapheresis, continuous video EEG, invasive procedures and monitoring, bedside bronchoscopy and endoscopy, perioperative critical care, isolation precautions, and other In-Unit interventions.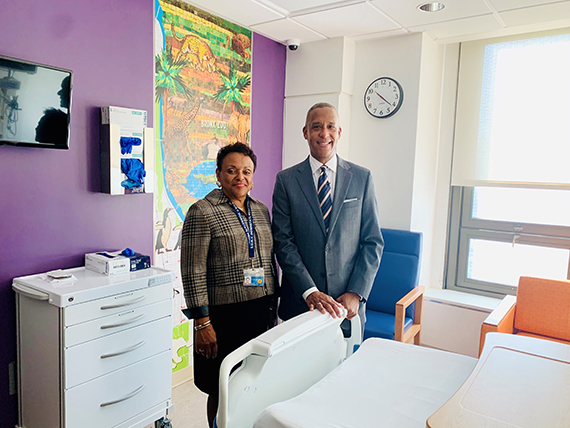 What all of this means is that this new PICU will enable us to provide the highest standards of complex care for children with critical illnesses right here in the communities we serve. Additionally, the new PICU significantly adds to the clinical training in pediatric critical care we provide our students and residents.
Most recently, the PICU was located in what had been the pediatric step-down unit while construction of the new PICU was underway. Once the move-in is complete, that space will return to its original function as a both a step-down unit, and as an overflow for the PICU.
###
---
About SUNY Downstate Health Sciences University
SUNY Downstate Health Sciences University is the borough's only academic medical center for health education, research, and patient care, and is a 342-bed facility serving the healthcare needs of New York City, and Brooklyn's 2.6 million residents. University Hospital of Brooklyn (UHB) is Downstate's teaching hospital, backed by the expertise of an outstanding medical school and the research facilities of a world-class academic center. More than 800 physicians, representing 53 specialties and subspecialties—many of them ranked as tops in their fields—comprise Downstate's staff.
A regional center for cardiac care, neonatal and high-risk infant services, pediatric dialysis, and transplantation, Downstate also houses a major learning center for children with physical ailments or neurological disorders. In addition to UHB, Downstate comprises a College of Medicine, College of Nursing, School of Health Professions, a School of Graduate Studies, a School of Public Health, and a multifaceted biotechnology initiative, including the Downstate Biotechnology Incubator and BioBAT for early-stage and more mature companies, respectively. For more information, visit www.downstate.edu or follow us on Twitter at @sunydownstate.
---