Dr. Joanne Ritter-Teitel Appointed as Chief Nursing Officer at SUNY Downstate Medical Center/University Hospital of Brooklyn
Jan 16, 2019
Healthcare executive with over 30 years of strategic leadership in hospital and health systems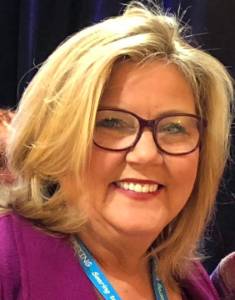 BROOKLYN, NY—SUNY Downstate Medical Center announced that Dr. Joanne Ritter-Teitel, Ph.D., RN, NEA-BC, joined SUNY Downstate Medical Center last week as the new Chief Nursing Officer (CNO) of University Hospital of Brooklyn (UHB), and Associate Dean of Clinical Practice in the College of Nursing (CON). As a key member of the UHB leadership team, Dr. Ritter-Teitel will provide executive leadership, direction, and administration of nursing services. She will oversee nursing practice throughout the medical center and will implement a team-based nursing strategy focused on safe and high-quality patient care.
"Dr. Ritter-Teitel is a proven leader with a wealth of knowledge that will greatly serve our patients and students," said Downstate president Wayne J. Riley, M.D. "I am thrilled to welcome her to the team and look forward to her vision for our nursing department and towards continued improvements in quality patient care and safety at the University Hospital of Brooklyn."
"Nursing is a rewarding career with a direct way to impact the community by delivering high- quality care that keeps patients and families safe," said new Chief Nursing Officer Joanne Ritter-Teitel. "I am excited to join the SUNY Downstate family to build upon the unmatched care our patients receive and to ensure our nurses are ranked highly in New York State."
"Dr. Ritter-Teitel's commitment to clinical and operational excellence aligns with the mission of University Hospital of Brooklyn," said UHB Senior Vice President & Managing Director William P. Walsh. "She will be a tremendous asset to our team, as we continue to deliver excellence in healthcare."
Before this role, Dr. Ritter-Teitel served as Vice President and the first Chief Nursing Officer at Orange Regional Medical Center in Middletown, NY, part of the Greater Hudson Valley Health System. In this role, she provided executive nursing leadership to help achieve a number of external quality ratings, including Magnet designation, the regional Baldrige award and greater recognition in the US News and World Report rankings. She also oversaw patient initiatives that increased patient satisfaction scores. Before this appointment, Dr. Ritter-Teitel was Vice President and Chief Nurse Executive at Montefiore Medical Center in New York City, where she managed Montefiore's 2,200 nurses and led inpatient nursing and dialysis services. She also provided leadership on budgeting and monitored the financial performance of all nursing initiatives. She previously held the position of Vice President of Nursing and Patient Services at Princeton Healthcare System and Robert Wood Johnson University Hospital in New Jersey.
In addition to her years of experience – she received training at highly-regarded academic institutions including her BSN in Nursing from Columbia University, MA from New York University and a Ph.D. in Nursing Administration from the University of Pennsylvania. She has authored for numerous publications including on professional nursing practice and environments at the unit and organizational level, as well as nursing leadership implications in integrated delivery systems and accountable care organizations.
Dr. Ritter-Teitel is the President of the award-winning New York Organization for Nurse Executives and Leaders (NYONEL) which played a key role in the passage of the trail-blazing BS in 10 legislation in New York State.
School of Nursing Dean Lori Escallier, Ph.D. chaired the Committee in a national search for the new Chief Nursing Officer. Search Committee members included Regulatory Affairs Director Adeola Dabiri, MS, MBA; Nursing Department Assistant Director Gerald Eaddy, MSN, RN; College of Medicine Interim Dean Michael Lucchesi, M.D.; Internal Medicine Department Vice Chair Mafuzar Rahman, M.D.; CTICU Surgical Director Louis Stein, M.D.; Pediatrics Clinical Professor & Clinical Affairs Vice Chair Gloria Valencia, M.D.; Perioperative Services Assistant Vice President Tashma Watson, MSN, RN; and UHB Vice President & Chief Operating Officer Patricia A. Winston, MS, RN.
###
---
About SUNY Downstate Medical Center
SUNY Downstate Medical Center, founded in 1860, was the first medical school in the United States to bring teaching out of the lecture hall and to the patient's bedside. A center of innovation and excellence in research and clinical service delivery, SUNY Downstate Medical Center comprises a College of Medicine, College of Nursing, School of Health Professions, a School of Graduate Studies, School of Public Health, University Hospital of Brooklyn, and a multifaceted biotechnology initiative including the Downstate Biotechnology Incubator and BioBAT for early-stage and more mature companies, respectively.
SUNY Downstate ranks twelfth nationally in the number of alumni who are on the faculty of American medical schools. More physicians practicing in New York City have graduated from SUNY Downstate than from any other medical school.
---