ARTHUR ASHE INSTITUTE CEO MARILYN A. FRASER, M.D. HONORED FOR WORK EXPANDING HEALTHCARE ACCESS IN URBAN AREAS
Jun 18, 2019
Dr. Fraser awarded Heritage Healthcare Innovation Award for her leadership in advancing the institute's mission to serve vulnerable populations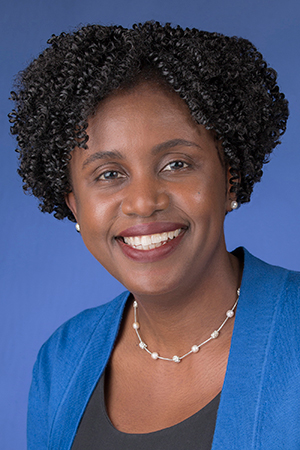 BROOKLYN, NY — Arthur Ashe Institute for Urban Health Chief Executive Officer Dr. Marilyn Fraser was honored by the 4thAnnual Heritage Provider Network Innovation Awards. Dr. Fraser received the Heritage Healthcare Innovation in Leadership Award for her dedication to increasing both access to and the quality of healthcare for vulnerable populations in New York.
The Institute is located on the campus of SUNY Downstate, which is its key academic partner and provides critical support for many of the Institute's programs.
"In her 15 years with the Arthur Ashe Institute, Dr. Fraser has demonstrated excellence in leadership, while forging innovative programs and partnerships that engage community organizations in health disparities research," said SUNY Downstate President and Arthur Ashe Institute Board Member Wayne J. Riley, M.D."This recognition is reflective of Dr. Fraser's guidance and direction in carrying out the mission of the Institute to bring equity to historically underserved populations in urban areas."
Each year, the Heritage Healthcare Innovation Awards, in partnership with Crain's New York Business,honor healthcare clinicians, entrepreneurs, administrators, and researchers making measurable improvements in access to care, the quality of care, and long-term affordability.
"This award highlights the tremendous work the Arthur Ashe Institute is doing to help bring equity to healthcare access and quality, particularly in underserved urban areas," said Marilyn Fraser, M.D, CEO of the Arthur Ashe Institute. "It is a privilege to represent the Institute as we navigate the complex economic and social determinants of health. I look forward to the work ahead as we help create a better healthcare system for our more vulnerable populations."
SUNY Downstate is the primary academic partner for the Arthur Ashe Institute. In 2004, the Arthur Ashe Institute developed the Brooklyn Health Disparities Center in collaboration with SUNY Downstate and the Office of the Brooklyn Borough President to address health gaps in Brooklyn.
In addition to her role as Chief Executive Officer of the Arthur Ashe Institute for Urban Health, Dr. Fraser is also an Associate Research Professor in the Department of Medicine at the SUNY Downstate Medical Center and the co-Director of the Brooklyn Health Disparities Center. Earlier this year, Dr. Fraser was named Power Woman of Brooklyn by Schneps Media.
Click here to view the highlights from this year's Heritage Healthcare Innovation in Leadership Awards.
###
---
About the Arthur Ashe Institute for Urban Health
Moved by SUNY Downstate Health Sciences University's long history of serving immigrants and low-income Brooklyn residents as well as its staff and faculty research, shortly before his death, tennis great Arthur Ashe established the Arthur Ashe Institute for Urban Health (AAIUH). Located in multi-ethnic Brooklyn, AAIUH collaborates with community members to design, incubate, and replicate neighborhood-based interventions that address health conditions that disproportionately affect minorities. Recognizing the complexity of the economic and social determinants of health, AAIUH partners with a wide variety of grassroots and institutional organizations to provide after-school science enrichment through our Health Science Academy program, and outreach initiatives in trusted venues, as well as research and advocacy.
About SUNY Downstate Health Sciences University
SUNY Downstate Health Sciences University is the borough's only academic medical center for health education, research, and patient care, and is a 342-bed facility serving the healthcare needs of New York City, and Brooklyn's 2.6 million residents. University Hospital of Brooklyn (UHB) is Downstate's teaching hospital, backed by the expertise of an outstanding medical school and the research facilities of a world-class academic center. More than 800 physicians, representing 53 specialties and subspecialties—many of them ranked as tops in their fields—comprise Downstate's staff.
A regional center for cardiac care, neonatal and high-risk infant services, pediatric dialysis, and transplantation, Downstate also houses a major learning center for children with physical ailments or neurological disorders. In addition to UHB, Downstate comprises a College of Medicine, College of Nursing, School of Health Professions, a School of Graduate Studies, a School of Public Health, and a multifaceted biotechnology initiative, including the Downstate Biotechnology Incubator and BioBAT for early-stage and more mature companies, respectively. For more information, visit www.downstate.edu or follow us on Twitter at @sunydownstate.
---