Dr. Gerald Deas Receives Honorary Doctor of Science at Commencement From SUNY Downstate Medical Center
May 22, 2019
The first African American Class President of the College of Medicine has devoted his life to improving the health and wellbeing of his Brooklyn neighbors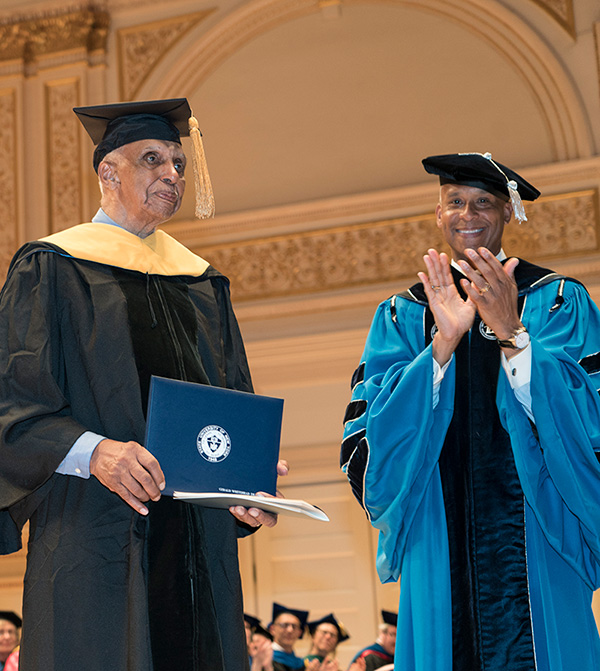 BROOKLYN, NY – Dr. Gerald Deas, a pioneering public health advocate who was among the first physicians to use the power of the media to improve public health, was awarded an Honorary Doctorate of Science at SUNY Downstate Medical Center's 2019 Commencement Ceremonies.
Born and raised in Brooklyn, Gerald Whitehead Deas graduated from Brooklyn College with a degree in Biochemistry. He was drafted into the Army during the Korean War and returned with the single-minded purpose of making a difference.
"Dr. Deas has worked diligently and maintained a passion for six decades to improve the lives of citizens globally," said SUNY Downstate president, Wayne J. Riley, M.D. "As a leader, and among the first to focus efforts on addressing health disparities, largely in black communities, Dr. Deas created his unique model for educating community residents in a variety of ways. His efforts on television, in churches, schools, and community-based organizations, as well as through his decades-long column in the Amsterdam News, has earned him the respect and admiration of at least two generations."
Following his Master's Degree in public health from the University of Michigan, Dr. Deas returned to Brooklyn and enrolled in the SUNY Downstate College of Medicine, graduating in 1962 as the first African American Class President. He completed his internship and residency in internal medicine at Kings County Hospital, and subsequently joined the SUNY Downstate faculty as Assistant Professor of Preventive Medicine.
Dr. Deas' drive to reach communities of color to educate them about the perils of health disparities and the impact on their health took him down a path traveled by few physicians of his time, let alone black physicians.
Using the media as his megaphone, Dr. Deas was the first Black medical columnist for the New York Daily News; the chief medical correspondent for Fox television's Emmy-winning McCreary Report for ten years, and continues to be a contributing writer for the Amsterdam Newstoday, along with eleven other newspapers during his tenure as a media correspondent. He also hosted a weekly radio show on WLIB. In recent years, Dr. Deas was host of SUNY Downstate's Health Center program which aired on local cable access channels.
In the 1970s, Dr. Deas led a public health campaign against the Argo Starch Company to push for a change in labeling to prevent the poisoning of black women, for which the FDA awarded him a special commendation.
"Not only have his efforts saved countless lives, his encouragement and mentorship of minority and disadvantaged students in pursuing careers in medicine is a legacy that will save countless more lives over generations to come," added Dr. Riley, "It is only fitting that we recognize this legacy with an Honorary Doctor of Science – 57 years after Dr. Deas first walked down the aisle; we congratulate him on this honor."
Dr. Deas has received numerous honors, including the Citizenship Award from the Medical Society of New York State; Frank L. Babbott Memorial Award from the Alumni Association of Downstate's College of Medicine; Outstanding Community Service Award from the Aesclepius Medical Society; Community Empowerment Award for Outstanding Contributions for Health Care from the Southeast Queens Clergy; Martin Luther King, Jr., award from Downstate's Office of Diversity and Inclusion; and the Unsung Hero Award from the Rotary Club of Jamaica. He has received several declarations of honor from Queens Borough President Melinda Katz and Brooklyn Borough President Eric Adams. NYU's College of Dentistry named a scholarship in Dr. Deas' honor. In 2002, he was awarded the Legacy in Motion award from the Arthur Ashe Institute for Urban Health for his leadership in urban medicine.
###
---
About SUNY Downstate Medical Center
SUNY Downstate Medical Center is the borough's only academic medical center for health education, research, and patient care, and is a 376-bed facility serving the healthcare needs of Brooklyn's 2.6 million residents. University Hospital is Downstate's teaching hospital, backed by the expertise of an outstanding medical school and the research facilities of a world-class academic center. More than 800 physicians, representing 53 specialties and subspecialties—many of them ranked as tops in their fields—comprise Downstate's staff.
A regional center for cardiac care, neonatal and high-risk infant services, pediatric dialysis, and transplantation, Downstate also houses a major learning center for children with physical ailments or neurological disorders. In addition to University Hospital, Downstate comprises a College of Medicine, College of Nursing, College of Health-Related Professions, a School of Graduate Studies, a School of Public Health, and a multifaceted biotechnology initiative, including the Downstate Biotechnology Incubator and BioBAT for early-stage and more mature companies, respectively. For more information, visit www.downstate.edu
---