SUNY Downstate School Of Public Health Appoints Dr. Michael A. Joseph As New Vice Dean Of Academic And Student Affairs
Jan 4, 2019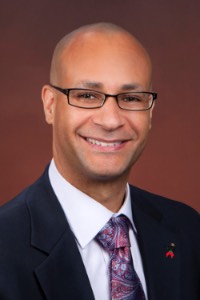 BROOKLYN, NY—SUNY Downstate Medical Center today announced that Michael A. Joseph, PhD, MPH was appointed Vice Dean of Academic and Student Affairs of the School of Public Health (SPH). The announcement was made by new School of Public Health Dean Kitaw Demissie, MD, PhD.

As a member of Downstate's faculty since 2004, Dr. Joseph has served in several key SPH leadership roles, including as Vice Chair of the Department of Epidemiology and Biostatistics and Interim Chair of the Department of Environmental and Occupational Health Sciences. He is also part of the leadership of the Brooklyn Health Disparities Center, where he serves as the Director of the Education and Training Core and Co-Director of the Community Engagement and Outreach Core.

"I'm excited to work with Dr. Joseph as I begin my tenure here at SUNY Downstate," said Dean Demissie. "He has a wealth of knowledge about our campus culture that will inform collaborative decision making for students and faculty, and will help us move the School of Public Health forward with the support of his colleagues and the Downstate community.

"Because the School of Public Health holds a special place in my heart, I am honored to have this opportunity to serve a prominent role in its continued development,"said Dr. Joseph.

Dr. Joseph earned his Bachelor of Science in Health Science from Brooklyn College, his Master of Public Health in Chronic Disease Epidemiology from Yale University, and his doctorate in Epidemiologic Science from the University of Michigan School of Public Health. He completed his postdoctoral training in Cancer Prevention and Control at the Mount Sinai School of Medicine.

In addition to being an exemplary academician, Dr. Joseph brings to the position enthusiasm, great energy, and is passionate about the mentorship and career development of students; his work was acknowledged in 2013 when he received the prestigious SUNY Chancellor's Award for Excellence in Teaching.
###
---
About SUNY Downstate Medical Center
SUNY Downstate Medical Center, founded in 1860, was the first medical school in the United States to bring teaching out of the lecture hall and to the patient's bedside. A center of innovation and excellence in research and clinical service delivery, SUNY Downstate Medical Center comprises a College of Medicine, College of Nursing, School of Health Professions, a School of Graduate Studies, School of Public Health, University Hospital of Brooklyn, and a multifaceted biotechnology initiative including the Downstate Biotechnology Incubator and BioBAT for early-stage and more mature companies, respectively.
SUNY Downstate ranks twelfth nationally in the number of alumni who are on the faculty of American medical schools. More physicians practicing in New York City have graduated from SUNY Downstate than from any other medical school.
---