IRB Electronic Submission Process
Quick Links
---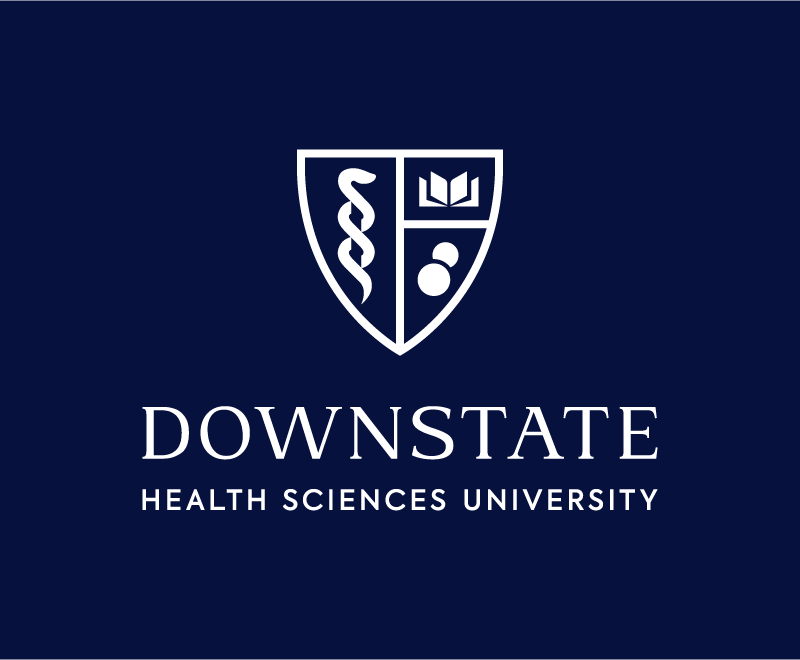 IRB Member Nominations:
Voluntary service as an IRB member is a great opportunity to help improve the research enterprise, deepen personal knowledge on human research, and may create future professional opportunities. To learn more about this exciting opportunity click link below.
---
What's New?
Recorded IRB Session for the Clinical Trials Symposium:
Recorded sessions by the Downstate IRB are posted in Step 6b-3 (below). The IRB Session for the Downstate Clinical Trials Symposium is now available. This presentation covers: a) Using an External IRB b) Applicable Clinical Trials and PRS reporting c) What's new with the IRB.
Human Research Protections Clubhouse Webinars:
The IRB is delighted to announce that Vivian Chin, MD is our new Vice- Chair. Please see our updated rosters:
2024 IRB & Privacy Board Meeting Schedule
Updated Flow Chart (Determining which IRB to use, which agreements are required, and which IRB fees are required.)
New tips, guidance, and application form for requesting IRB Determinations (Not Research, Not Human Research, or Institution Not Engaged):
IRB Submission Tips:
Go to the step below:
To find one of the following forms, templates, policies, or guidance:
Tips:

Review the tip sections to understand:

Tip 1: Steps and associated materials

Tip 2: Completing fillable PDF forms and obtaining digital signatures

Tip 3: Delegation of Signatures

Tip 1: Ensuring effective and efficient IRB approval process.

Step 1:

Policies and guidance

Step 2:

Tips for planning the project

Step 3:

PI Status

Step 4:

Downstate workforce

Step 5:

Determining which IRB to use

Agreements

IRB Fees

Step 6:

Training

Conflict of Interest disclosures

Step 7:

Protocol templates

CMRC Review Request Form

Step 8:

Obtaining legally effective informed consent and HIPAA research authorization

Consent Templates

Stand-alone HIPAA Authorization

Pregnancy follow-up consent

SUNY RF Payment Consent, Waiver, and Guidance

Assent

Recruitment authorization forms

Medical release form

HIPAA waiver/alteration form

Waiver of informed consent requirements form

Step 9:

Obtaining legally effective informed consent and HIPAA research authorization

Short forms

Translation certificates

Step 10:

Additional IRB materials to submit with IRB application

Step 11:

IRB Application forms for initial review

Step 12:

IRBNet guidance

Step 13:

Scientific review guidance and forms

Step 14:

Ancillary reviews

Step 15:

Department Chair/Dean approvals

Step 16:

IRBNet

Step 17:

Responding within IRB deadlines

Step 18:

Completing requirements for external sites

Step 19:

Post-IRB approval requirements

Step 20:

Post-IRB application forms

Step 21:

Quality Assessment Program forms
Note: Instructions may vary due to the software version or computer settings. Please consult the Downstate Help Desk for questions about computer settings or software.
Step-by-Step Instructions:
1. Saving the Downstate IRB Form on the desktop:
Download the applicable Downstate IRB Form from the applicable Step from the IRB Submission web page.
Before filling out the form, save the form on your computer with a descriptive file name, such as "8383730_survey4_exempt-application_01.15.2023"
You may now close the form so that it may be imported into Adobe Reader as indicated below.
2. Complete the form:
Open Adobe Reader on your computer. Note: The "Adobe Reader" software is available for free download at Adobe Reader Download website or you can search for it within the Adobe website.
The form must be filled out properly in Adobe Reader to permit the use of dynamic functions such as scrolling and the e-signature feature.
Navigate to "Tools" and click on the "Fill & Sign" icon.
Click on "Select a File", navigate to the form, select it, and click open. The form can now be viewed and completed.
Fill out the form by clicking on the fields and entering the required information.
Review and edit any responses to ensure accuracy.
A digital signature is required on certain Downstate IRB forms (e.g., HIPAA Waiver, Individual Investigator Agreement, Honest Broker (to be updated), Delegation of Signature (to be updated).

Please review step 3 below to obtain a digital signature.
Save the completed form on your computer and rename the file if necessary.
Forward the form for signature, when applicable.
3. Digital Signature:
The IRB incorporates "Digital Signatures" in the forms which require electronic signatures. A digital signature is an e-signature that is generated using a digital certificate and cryptographically bound to the document using public key infrastructure (PKI). Digital signatures comply with regulatory requirements around the world and provide the highest level of identity assurance with digital documents. Please note that this is NOT a signature fillable block that is sometimes seen on PDF forms where you could just type or draw your signature.
If you received the document from someone else, complete the above steps first.
Be sure you navigate to "Tools" and click on the "Fill & Sign" icon; otherwise, you will not be able to see the signature box on the form nor be able to execute a digital signature.
Review form to ensure content is correct before signing it.
Make any necessary changes and save it on your computer.
Navigate to the signature section of the document.
DO

NOT

CLICK THE "Sign yourself" button at the top of the adobe form, as this is NOT a digital signature.
Click on the "Red Tab" (see image below) in the upper left corner of the signature box. Adobe will prompt you to sign the document. Follow the instructions to establish a digital certificate if you do not have one set up on your computer.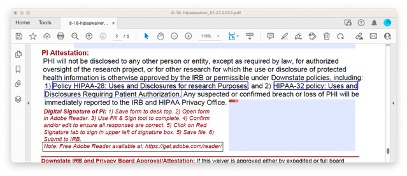 4. Submit the completed form to the IRB using IRBNet.
The following tips are offered to help ensure an effective and efficient IRB approval process:
Complete all required application materials, forms, and templates.
Review IRB policy, guidance, templates as needed.
Always contact the IRB Office if you are unsure about something. We are here to help you.
Make sure all materials submitted to the IRB are consistent and congruent with one another.
Obtain all required signatures.
Ensure all required training and conflict of interest disclosures are complete.
IRB Submission Steps:
Below is a step by step process for preparing and submitting an IRB application along with all related materials to seek Downstate IRB approval or activation of human research activities.
The order of these steps is designed for a new investigator and are not meant to be prescriptive and many of the steps can take place in parallel to save time. A more experienced investigator or coordinator who has a good grasp on the IRB process may wish to carry out the steps in a different order.
Note: For more information on whether an activity requires IRB approval, please refer to the Downstate IRB FAQs. To request an IRB determination letter for activities which do not require IRB approval, skip to step 11 (below) and review the information on the IRB Decision Aid forms.
Disclaimer: The SUNY Downstate web site includes links to information and sites created and maintained by other public or private organizations. SUNY Downstate provides these links solely for its users' information and convenience. When users select a link to an external site, they are leaving the SUNY Downstate web site and are subject to the privacy and security policies of the external sites. These sites do not necessarily operate under the same laws, regulations, or policies as SUNY Downstate. SUNY Downstate does not control or guarantee the accuracy, relevance, timeliness, or completeness of information on a linked web site. SUNY Downstate does not endorse the organizations sponsoring linked web sites and does not endorse the views they express or the products and services they offer. SUNY Downstate cannot authorize the use of copyrighted materials contained in linked web sites and is not responsible for transmissions users receive from linked web sites.