SUNY Downstate President Dr. Wayne Riley Honored by YMCA of Greater New York at 46th Annual Dodge Dinner
By Office of Communications & Marketing | Jun 7, 2022
Dr. Riley Awarded with the Order of the Red Triangle for Outstanding Citywide Leadership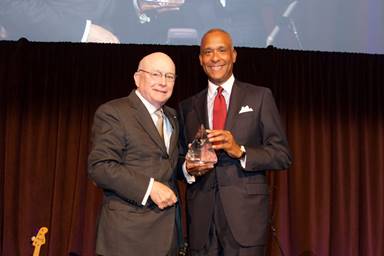 Brooklyn, NY – This week, the YMCA of Greater New York presented SUNY Downstate Health Sciences University President Dr. Wayne J. Riley with the Order of the Red Triangle. This national award from the YMCA of the USA, presented at the 46th Annual Dodge Dinner, is given to an individual who has demonstrated outstanding leadership, made a citywide impact on the YMCA Greater New York Association, and whose service has supported the ideals and advanced the work of the YMCA. Dr. Jack Rowe presented the award to Dr. Riley.
"I'm humbled to receive the prestigious Order of the Red Triangle award," said Wayne J. Riley, M.D., President of SUNY Downstate Health Sciences University and YMCA Board Member.
"The YMCA has long been a haven for families to build spirit, mind, and body. The Y was most needed during the pandemic as they sought to work within the constraints of the virus to meet the needs of the 210,000 people they serve each year. This work continues to inspire me—as well as so many friends of the Y—to work steadfastly ensuring that families receive the best it has to offer."
Other award recipients at the Dodge Dinner included Senator Chuck Schumer, the MetLife Foundation, and recipients of the 2020 and 2021 Von der Heyden Scholarships presented annually to two high school students who have exhibited strong leadership qualities and a determination to better their communities
"When the pandemic struck New York City and our nation, the YMCA responded with speed and urgency to meet the rapidly changing needs of New Yorkers," said Sharon Greenberger, President, and CEO of the YMCA of Greater New York. "That wouldn't have been possible without the support of the three heroes we honor tonight: Senator Chuck Schumer, Dr. Wayne Riley, and MetLife Foundation. Senator Schumer's advocacy on behalf of the Y enabled us to survive and continue to serve communities in need throughout the pandemic. Dr. Riley's leadership and expertise enabled the Y to restart membership services at our branches as safely and efficiently as possible. And MetLife Foundation's flexibility and responsiveness enabled the Y to address urgent needs within the community, including vaccinating 95,000 New Yorkers, distributing 260,000 pounds of food, and expanding our transitional housing capacity."
More than 300 people attended the Dodge Dinner, including New York State Poet Laureate Willie Perdomo. All proceeds from the event will be used to support and expand access to Rowe Scholars, the YMCA of Greater New York's comprehensive college and career access program offered throughout all five boroughs. Rowe Scholars have access to individualized academic planning and support, college tours, curriculum-based workshops, career events, financial literacy training, and support with FAFSA and admissions exams.
###
---
Contact: Dawn S. Walker
917.439.9666 | 347.533.2071
dawn.walker@downstate.edu
About SUNY Downstate Health Sciences University
SUNY Downstate Health Sciences University is the borough's only academic medical center for health education, research, and patient care. It is a 342-bed facility serving the healthcare needs of New York City and Brooklyn's 2.6 million residents. University Hospital of Brooklyn (UHB) is Downstate's teaching hospital, backed by an outstanding medical school's expertise and world-class academic center research facilities. More than 800 physicians, representing 53 specialties and subspecialties—many of them ranked as tops in their fields—comprise Downstate's staff.
In addition to high-risk neonatal and infant services, pediatric nephrology, and dialysis (kidney diseases)—and offering the only kidney transplantation program in Brooklyn, among many other distinctive programs—Downstate also sponsors a major learning center for young children with developmental disorders and disabilities. In addition to UHB, Downstate comprises a College of Medicine, College of Nursing, School of Health Professions, a School of Graduate Studies, a School of Public Health, and a multifaceted biotechnology initiative, including the Downstate Biotechnology Incubator and BioBAT for early-stage and more mature companies, respectively. For more information, visit www.downstate.edu or follow us on Twitter at @sunydownstate.
---
About the YMCA of Greater New York
For 170 years, the YMCA of Greater New York has been helping all New Yorkers reach their full potential. As New York City's leading nonprofit community service and wellness organization, the Y empowers everyone, no matter who they are or where they're from, by providing access and opportunities for all to learn, grow, and thrive. We provide a place to play, to be healthy, and to give back. We give parents childcare, young adults job training, seniors a way to connect, and children a safe place to go. By bringing people together from different backgrounds, perspectives, and generations, the Y improves overall health and well-being, ignites youth empowerment, and connects and supports diverse communities across New York City. Follow us on Facebook, Twitter, and Instagram at @ymcanyc.