SUNY Downstate Appoints Justin Chin-Bong Choi, M.D., as Vascular Surgeon and Assistant Professor of Surgery
By Office of Communications & Marketing | Sep 21, 2022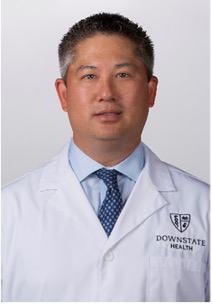 Brooklyn, NY – SUNY Downstate Health Sciences University announced the appointment of Justin Chin-Bong Choi, M.D., FACS, as vascular surgeon and Assistant Professor in the Department of Surgery.
"Dr. Choi's appointment will improve our ability to provide all-inclusive, high-quality vascular surgery services in outpatient and inpatient settings," said Panagiotis Kougias, M.D., M.Sc., Downstate Surgery Chairman. "He will also instruct medical students and surgical residents rotating through vascular surgery. In addition to this critical work, we are excited that he has joined us to rejuvenate the market share and scope of services provided by the Vascular Surgery Division."
Dr. Choi joins Downstate from the Michael E. DeBakey Department of Surgery at Baylor College of Medicine in Houston, Texas, where he served as Assistant Professor of Surgery in the Division of Vascular Surgery and Endovascular Therapy. He was a staff surgeon at Michael E. DeBakey VA Medical Center, where he spearheaded multiple quality improvement programs. In particular, he developed and led a multidisciplinary effort to manage institution-wide pulmonary embolisms through the Pulmonary Embolism Response Team (PERT).
"I am excited to join Downstate and look forward to expanding the breadth of surgical services offered by our Division," said Dr. Justin Choi.
Dr. Choi earned his Doctor of Medicine at Baylor College of Medicine. During his postgraduate training at Baylor, he served as a Postdoctoral Research Fellow, Chief Resident in General Surgery, and Chief Resident in Quality and Patient Safety. In addition, he completed a Fellowship in Vascular Surgery at MedStar Washington Hospital Center/Georgetown University. Dr. Choi has Board Certifications in Surgery and Vascular Surgery from the American Board of Surgery and is a Registered Physician in Vascular Interpretation from the American Registry for Diagnostic Medical Sonography.
###
---
Contact: Dawn S. Walker
917.439.9666 | 347.533.2071
dawn.walker@downstate.edu
About SUNY Downstate Health Sciences University
SUNY Downstate Health Sciences University is the borough's only academic medical center for health education, research, and patient care. It is a 342-bed facility serving the healthcare needs of New York City and Brooklyn's 2.6 million residents. University Hospital of Brooklyn (UHB) is Downstate's teaching hospital, backed by an outstanding medical school's expertise and world-class academic center research facilities. More than 800 physicians, representing 53 specialties and subspecialties—many of them ranked as tops in their fields—comprise Downstate's staff.
In addition to high-risk neonatal and infant services, pediatric nephrology, and dialysis (kidney diseases)—and offering the only kidney transplantation program in Brooklyn, among many other distinctive programs—Downstate also sponsors a major learning center for young children with developmental disorders and disabilities. In addition to UHB, Downstate comprises a College of Medicine, College of Nursing, School of Health Professions, a School of Graduate Studies, a School of Public Health, and a multifaceted biotechnology initiative, including the Downstate Biotechnology Incubator and BioBAT for early-stage and more mature companies, respectively. For more information, visit www.downstate.edu or follow us on Twitter at @sunydownstate.
---