SUNY Downstate Appoints Jamie Grecco as New Senior Associate Vice President of Human Resources
By Office of Communications & Marketing | Apr 15, 2022
Mr. Grecco brings 14 years of HR experience to SUNY Downstate from the New York City Health and Hospitals Corporation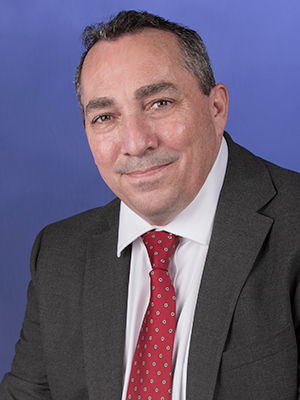 Brooklyn, NY — SUNY Downstate Health Sciences University announced the appointment of Jamie Grecco as its new Senior Associate Vice President of Human Resources. Grecco has extensive experience in labor relations and human resources from the New York City Health and Hospitals Corporation (HHC).
Grecco, who will report directly to the Senior Vice President and Chief of Staff, will be responsible for Human Resources Operations, Labor Relations, and Employee Assistance Program (EAP). Additionally, he will formulate SUNY Downstate Health Sciences University's human resources policy with appropriate references to SUNY, New York State Civil Service, and Research Foundation policy and guidelines with recognition of federal and state laws, including regulatory agency mandates.
"I am honored to join the SUNY Downstate family," said Jamie Grecco, Senior Associate Vice President of Human Resources. "As a proud Brooklynite, I look forward to enhancing and supporting Downstate's human resources obligations and policy interpretation to ensure the Downstate community has the support it needs."
Most recently, Mr. Grecco was Director of Redeployment/Realignment and Employee Relations at HHC. He directed employee relations, where he managed emergency room cases including disciplinary actions, performance management, grievances, realignment initiatives, and other sensitive matters to successful resolution. Additionally, he managed labor relations, redeployment and realignment, trainings, as well as job and salary architecture.
Mr. Grecco was born in Victory Memorial hospital (now Downstate Hospital - Bay Ridge) and raised in Brooklyn. He is a graduate of Touro Law School. After law school, he began work in the public sector at HHC. Mr. Grecco earned a Bachelor of Arts in Sociology from St. Joseph's University.
###
---
Contact: Dawn S. Walker
917.439.9666 | 347.533.2071
dawn.walker@downstate.edu
About SUNY Downstate Health Sciences University
SUNY Downstate Health Sciences University is the borough's only academic medical center for health education, research, and patient care. It is a 342-bed facility serving the healthcare needs of New York City and Brooklyn's 2.6 million residents. University Hospital of Brooklyn (UHB) is Downstate's teaching hospital, backed by an outstanding medical school's expertise and world-class academic center research facilities. More than 800 physicians, representing 53 specialties and subspecialties—many of them ranked as tops in their fields—comprise Downstate's staff.
In addition to high-risk neonatal and infant services, pediatric nephrology, and dialysis (kidney diseases)—and offering the only kidney transplantation program in Brooklyn, among many other distinctive programs—Downstate also sponsors a major learning center for young children with developmental disorders and disabilities. In addition to UHB, Downstate comprises a College of Medicine, College of Nursing, School of Health Professions, a School of Graduate Studies, a School of Public Health, and a multifaceted biotechnology initiative, including the Downstate Biotechnology Incubator and BioBAT for early-stage and more mature companies, respectively. For more information, visit www.downstate.edu or follow us on Twitter at @sunydownstate.
---