Board of Directors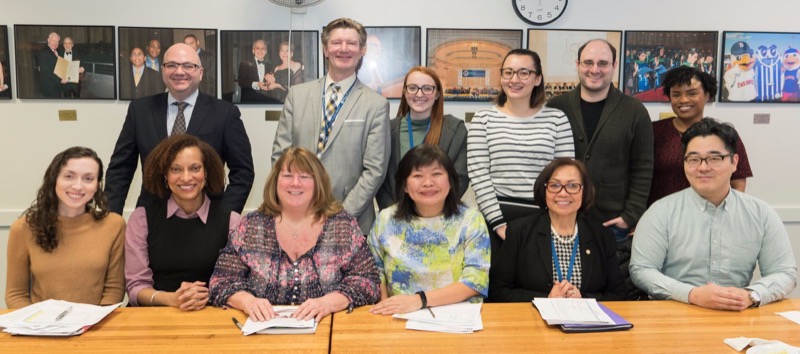 FSA Board of Directors Jan 2019 Pictured are: Standing L-R: Sergio Maffettone (Admin, FSA Treasurer), Rich Bentley (Admin, FSA President), Rachel Radigan (SPH Student Council President), Alice Herchek (Medical Student Council Treasurer), Michael Cupelli (Grad School Student Council President), Catrisha Duret (CHRP Student Council President). Seated L-R: Elizabeth Moccia (Medical Student Council President), Brigitte Desport (Admin), Meg O'Sullivan (Admin, FSA Secretary), Charis Ng (Admin), Maria Rosario-Sim (CON Faculty ), Charles Park (Nursing Student Council President). Not pictured: Jelanie DeShong (Admin), Shirley Eisner (COM Faculty), William Gerdes (Admin), and Julie Rushbrook (Graduate School Faculty). Photo by Marcos Lainez.
FSA Board of Directors Forms / Documents
FSA Board of Directors meets quarterly; Board approved 2021 have not yet been established due to COVID19, but are traditionally mid Jan, April, July and October (to be rescheduled); All on Wednesdays at Noon in Student Center; Most recent agenda's and minutes posted here.
Draft minutes are unofficial until approved by FSA Board of Directors at subsequent meeting.
2020
2019
2018
BOD Meeting Proxy Form. Used by FSA voting Board members when you are unable to attend an FSA Board of Directors meeting. Email to Meg O'Sullivan or Fax to 718-270-1040
FSA BOD Handbook: includes FSA structure, governance, Board member responsibilities, and pertinent corporate documents: Bylaws, Organizational Chart, BOD Members, FSA Annual Budget, and Prior Year CPA Report.
FSA Employee Handbook. For all FSA paid Employees.
SUNY Auxiliary Services Corporation Guidelines
FSA Presentation to Campus President's Transition Team (2017; summary - key points)