Eligibility for Financial Aid: 2022-2023
The Office of Financial Aid will determine your eligibility for the various types of aid available by reviewing the data you submitted on the Free Application for Federal Student Aid. Most students who demonstrate need will receive some type of assistance. Grants, scholarships and low interest loans are usually restricted to students who meet specific financial eligibility requirements. Each financial aid program has different criteria for determining eligibility. Therefore, depending upon your particular circumstances, you may be eligible for the maximum award for one program, but not be eligible at all for aid from another.
We suggest that you follow these general steps in applying for aid to be sure that you are considered for as many sources of aid as possible: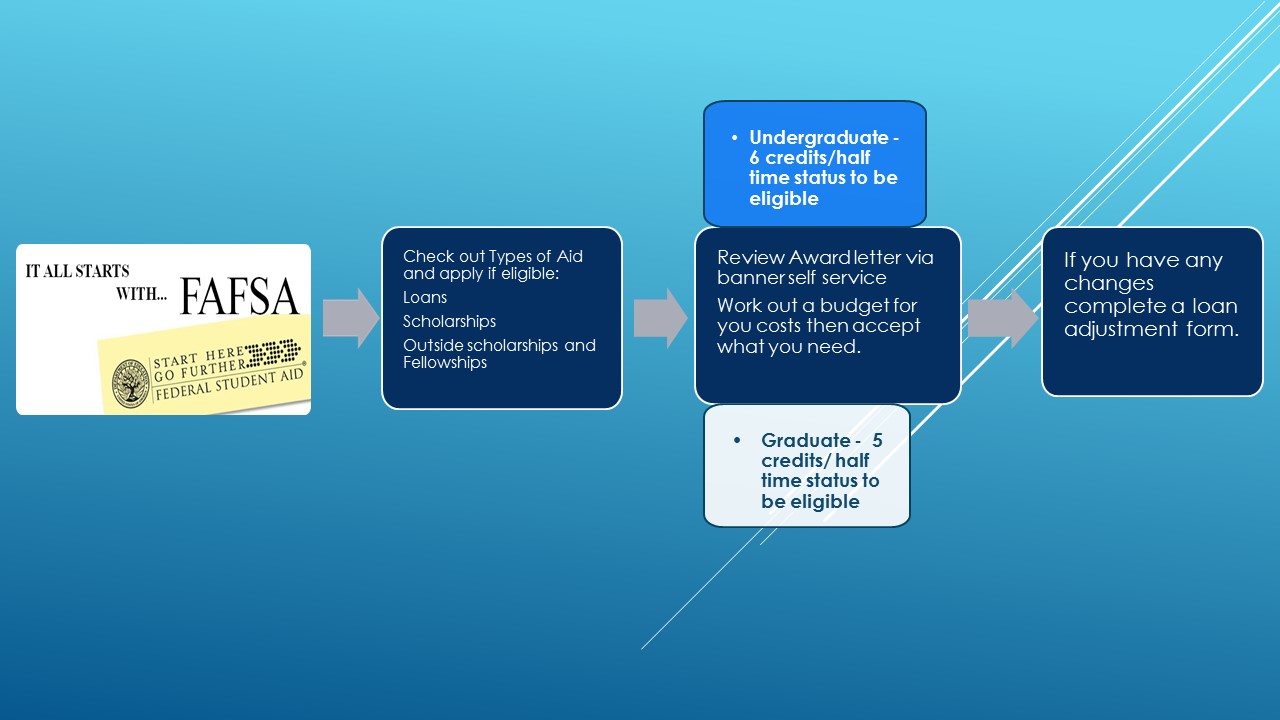 Submit the Free Application for Federal Student Aid (FAFSA) for 2022-23 as soon as possible after October 1st, 2021. This will allow you to be considered for all the types of aid that are offered by SUNY Downstate.
After this you will recieve your award letter via your Downstate email address.

Steps to Accept, Adjust or Cancel Your Award Letter

Financial Aid Self Service

Log into Banner using your user id and password
Select the "Financial Aid" menu
Select "Award"
Select "Award for Aid Year"
Select "Aid Year"
Select "Accept Award Offer" to accept, adjust or decline your Financial Aid Offer

Complete entrance counseling and sign Master Promissory note.
Please Note: Aid for Graduate and Medical students is primarily ONLY Federal Direct Loans students may borrow to assist with their educational costs. SUNY Downstate Financial Aid Office does not have scholarships for any of the Undergraduate Programs offered. SUNY Downstate has some limited institutional grants for disadvantaged students for Medical school and graduate programs for past EOP students. For additional resources please visit Types of Assistance.
| Undergraduate | Graduate |
| --- | --- |
| Must register for 6 or more credits each semester to receive aid | Must have 5 or more credits to receive loans |
| Must be registered for 3 or more credits to meet the Pell Grant eligibility | Must have 9 or more credits to receive grants |
| Must have 12 or more credits per semester to be considered full-time for aid purposes | |
There are limited institutional grants for current and prior Educational Opportunity Grant (EOP) students in SUNY Downstate programs.
You must be officially admitted and matriculated in a program leading to an undergraduate or graduate degree (non-matriculated students are not eligible).
If you wish to be considered for Institutional scholarships and/or grants, you must include your parent's asset and income information in the purple section of the FAFSA, even if you are "independent". Please contact the Financial Aid Office for more details.
Check to see if there are any private sources of financial aid that may be available to you. We also have an Outside Scholarship list.
---
Through the submission of the FAFSA, your eligibility must be confirmed through federal database matches with:
Social Security Administration (the match verifies social security number, name, date of birth and citizenship status)
Immigration and Naturalization Services (reports on non-citizen eligibility for aid)
Selective Service Administration (reports on compliance to selective service registration requirement for males)
National Student Loan Database System (reports students with a federal loan default or federal grant repayment requirement who are not eligible for further federal aid at any school until the default or repayment is cleared).
Other requirements may apply — you will be notified by the Financial Aid Office if any apply to you.
Don't Forget! Every semester all students MUST clear their tuition bill through the Bursar.