FSA staff continues working on site each workday, but the Student Center Building which the FSA Office is located is open only on a limited basis on Mondays through Thursdays. Please eMail any urgent needs to us at: FSABusinessOffice@downstate.edu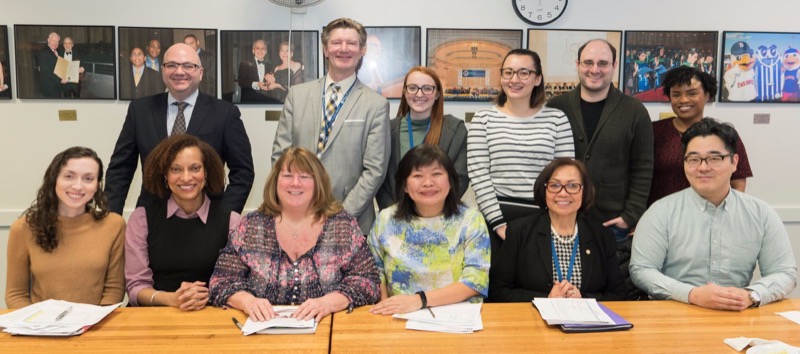 FSA Board of Directors Jan 2019 Pictured are: Standing L-R: Sergio Maffettone (Admin, FSA Treasurer), Rich Bentley (Admin, FSA President), Rachel Radigan (SPH Student Council President), Alice Herchek (Medical Student Council Treasurer), Michael Cupelli (Grad School Student Council President), Catrisha Duret (CHRP Student Council President). Seated L-R: Elizabeth Moccia (Medical Student Council President), Brigitte Desport (Admin), Meg O'Sullivan (Admin, FSA Secretary), Charis Ng (Admin), Maria Rosario-Sim (CON Faculty ), Charles Park (Nursing Student Council President). Not pictured: Jelanie DeShong (Admin), Shirley Eisner (COM Faculty), William Gerdes (Admin), and Julie Rushbrook (Graduate School Faculty). Photo by Marcos Lainez.
About FSA
FSA is an IRS 501c3 Not For Profit Charitable corporation organized in 1950 and exists under a contract between FSA and SUNY to provide services to this campus as a nonprofit auxiliary service corporation. The FSA has a 16 member Board of Directors consisting of Faculty, Students and Staff and its Business Office is located in the Student Center Rm 2-09
FSA operates the following services for the Downstate community:
Bookstore
Gift Shop
Student Health Insurance
Cafe 101 Catering and Coffee Carts
ATM Banking Machines
Vending Machines
Laundry Washers and Dryers
Zipcar Services
Accounting Services for numerous Student Organizations & Clubs, and other non-State affiliated entities that exist on the SUNY Downstate Medical Center campus
Business Office Staffing Update:
The role of "Controller" continues to be filled on an interim basis by the firm of Demasco Sena and Jahelka, LLP (DSJ) until a permanent Controller is engaged. The DSJ staff includes Anthony Condoleo, Christopher Sena, Bob Jahelka, and Anthony Carrella.
Please Use the FSA Business Office Team eMail link in the INFO box above. It will auto-address an eMail to all relevant individuals on the team.

FSA is committed to environmental best practices, including: the purchase of equipment that reduce consumption of energy and water; use of healthful and sustainable indoor and outdoor materials wherever possible; proper supply chain management to ensure we are working with eco-friendly partners and vendors, and effective recycling strategies to minimize our carbon footprint.
FSA Green Initiatives:
Zipcars An Energy efficient car sharing program.
University Bookstore Purchase Travel Mugs & get a discount when buying beverages at the cafeteria. Recycled Paper sales, and Used Textbook buyback program.
Laundry Services Installed High Energy Efficient Washers and Dryers with " LaundryView" on the web.
Vending Services Installed Energy Efficient electrical misers on refrigerated machines.