Division of Physical Medicine & Rehabilitation
The Division of Physical Medicine and Rehabilitation offers a wide range of comprehensive inpatient and ambulatory services. The Chief of the Division of Physical Medicine & Rehabilitation is Sanjeev Agarwal, MD. The other faculty in the Division include Tsai Chao, MD, Haris Choudry, MD, Derek Ho, DO, and Seung Park-Shin, MD.
Inpatient Services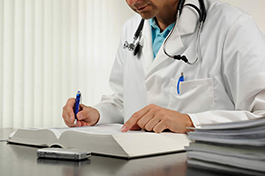 University Hospital of Brooklyn has 18 dedicated rehabilitation beds for comprehensive rehabilitation. The types of patients admitted to the comprehensive inpatient unit come from Neurology, Neurosurgery, General Surgery, Cardiothoracic Surgery, Vascular Surgery, Renal Diseases, Orthopaedic Surgery and Internal Medicine. We treat patients suffering from cerebral vascular accidents, amputation, cardiac disorders, degenerative diseases, automobile accidents, cardiothoracic surgery, arterial bypass and post-surgical patients. Patients are treated by a team of physical therapists, occupational therapists, case managers, social workers, a psychologist and a speech pathologist as needed. Bedside therapy is provided to those inpatients whose medical/surgical condition prevents them from being transported to the gyms.
Combined with the Department of Orthopaedic Surgery, the Division for Rehabilitation Medicine provides a specialized program with trained multidisciplinary staff and specialized equipment designed to meet the needs of pre- and post-operative orthopaedic patients. The Rehabilitation Service also provides a Phase I inpatient Cardiac Rehabilitation Program to help support the Cardiovascular Surgery program.
Outpatient/Ambulatory Programs
Our physiatrists treat outpatients after strokes, amputations, cardiac disease, degenerative disorders, trauma, and other surgery. We also provide EMGs as an outpatient service, along with specialized outpatient clinics to best meet patient needs.
We provide specialized outpatient clinics to best meet the patient's needs. All specialty clinics are staffed by licensed therapists and attending physicians. Clinics include:
Wheelchair and Seating Assessment
Brace/Orthotic Devices
Prosthetic Clinics