Transplant Clinic
You will be followed in the outpatient area twice a week for the first several weeks after you are discharged from the hospital following transplant. Your appointments will be tapered to once a month as your kidney function stabilizes. The clinic area is located on the first floor of the hospital building. Patients are seen for follow up care in the outpatient area by appointment and time of arrival. Please be punctual.
You may eat a full breakfast and drink fluids as you normally would prior to coming to clinic. It is not necessary to come in fasting unless you are specifically instructed to do so.
Schedule
CLINIC C - MONDAY MORNINGS BY APPOINTMENT
CLINIC C - THURSDAY MORNINGS BY APPOINTMENT
CLINIC C - FRIDAY MORNINGS BY APPOINTMENT
Call (718) 270-7207 to schedule appointments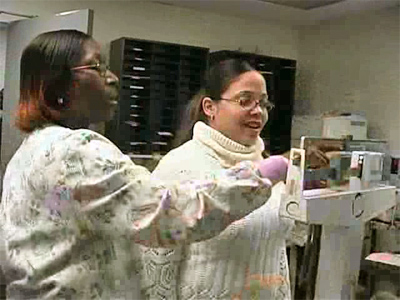 When You Arrive
When you arrive, please report to the reception desk in Suite C where you will be registered. Please tell the clerk whether you take Prograf (Tacrolimus) or Cyclosporine (Neoral) so he/she may give you the correct lab slip for the medication you take. You will be given laboratory request slips for your blood and urine tests.
You will be directed to the outpatient laboratory where a blood sample will be drawn and a urine sample collected. The laboratory is located in the out-patient clinic area. You may have lab work done while waiting to see the doctor.
Because you will have a Prograf (Tacrolimus) or Cyclosporine (Neoral) level drawn at each clinic visit DO NOT TAKE YOUR PROGRAF (TACROLIMUS) OR CYCLOSPORINE (NEORAL) UNTIL AFTER YOUR BLOOD SAMPLES HAVE BEEN TAKEN. As soon as you are finished in the laboratory you can take your medication. TAKE ALL YOUR OTHER MEDICATIONS AS YOU NORMALLY WOULD AND BRING YOUR PROGRAF (TACROLIMUS) or CYCLOSPORINE (NEORAL) WITH YOU SO YOU CAN TAKE IT IMMEDIATELY AFTER YOUR BLOOD IS DRAWN.
Clinic Procedures
After registration, have a seat in the waiting room. Your name will be called and you will be escorted to the nursing area where you will have your temperature, weight and blood pressure taken prior to seeing the doctor.
Please bring your list of medications to each clinic visit for review by the doctor. Many medication adjustments will be made, especially in the early post-transplant period so please bring your list each time you come.
Please remember to check for prescription refills you may need and be sure you have refills to last until your return visit. The doctor will give you all the refills you need.
After you have finished seeing the doctor, return to the appointment desk where you will be given an appointment for your next visit. Please be sure that you have a return appointment date registered before you leave. If your appointment is not registered in the computer system, your chart will be unavailable and you will have a significant wait until it is retreived or you may be asked to reschedule your visit. After you receive your appointment for your next visit you are free to leave.
After your initial visit, appointments must be made at least two (2) days prior to the date you wish to be seen.
If you have an emergency or a problem that cannot wait until the next available appointment, please contact the Transplant Nurse Practitioner at (718)270-3169.
We know you are most anxious to receive the results of laboratory tests taken during your clinic visits. If the doctor identifies any problem with any of your test results or wishes you to make any medication changes, you will be notified by the Transplant Coordinator. If you are curious and would like to know your results, please feel free to call the transplant office on the day after your clinic appointment. Your cooperation regarding when to call for your test results will be greatly appreciated.
Remember to keep your appointments and be punctual.
Health Updates