Physical Medicine & Rehabilitation Residency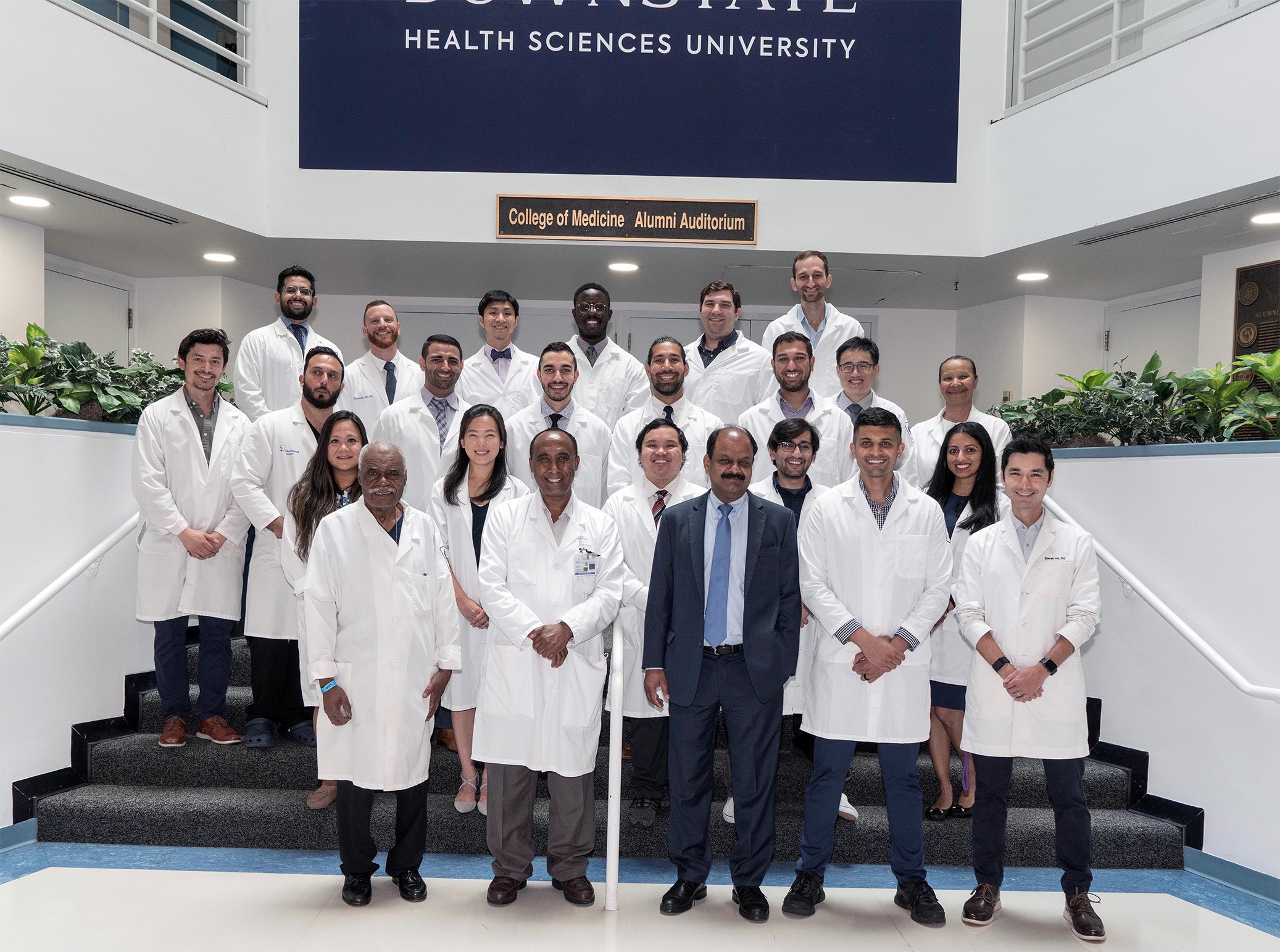 Welcome
The Division of Physical Medicine and Rehabilitation at SUNY Downstate Health Sciences University is dedicated to providing high quality care to a diverse patient population and to the training of skilled physiatrists who are capable of providing excellent care to patients with a wide range of impairments.
The Physical Medicine and Rehabilitation residency program is a robust clinical and didactic education program that seeks to utilize the diversity of our city and training sites to prepare residents for future success in any setting or situation.
The three-year program begins at the PGY-2 level. Residents rotate through SUNY Downstate Health Sciences University, Kings County Hospital Center, Staten Island University Hospital North Campus, The Bronx VA, St. Albans VA, and St. John's Episcopal Hospital. Exposure to inpatient, outpatient, and consult services is available at each of the hospital settings. By the end of their three years of training, residents have been exposed to and trained in every variety of healthcare settings while coming across patients and staff from all different corners of the globe.
We have a strong focus on academics and hands-on training. Our residents work closely with physical therapists, occupational therapists, speech therapists, prosthetists, and other medical services to enhance the educational experience. There are many opportunities available for research, participation in national conferences, and annual review courses among many other academic activities.
Please continue to utilize our website for more information on the Division of Physical Medicine & Rehabilitation at SUNY Downstate Health Sciences University.
What Sets Downstate Apart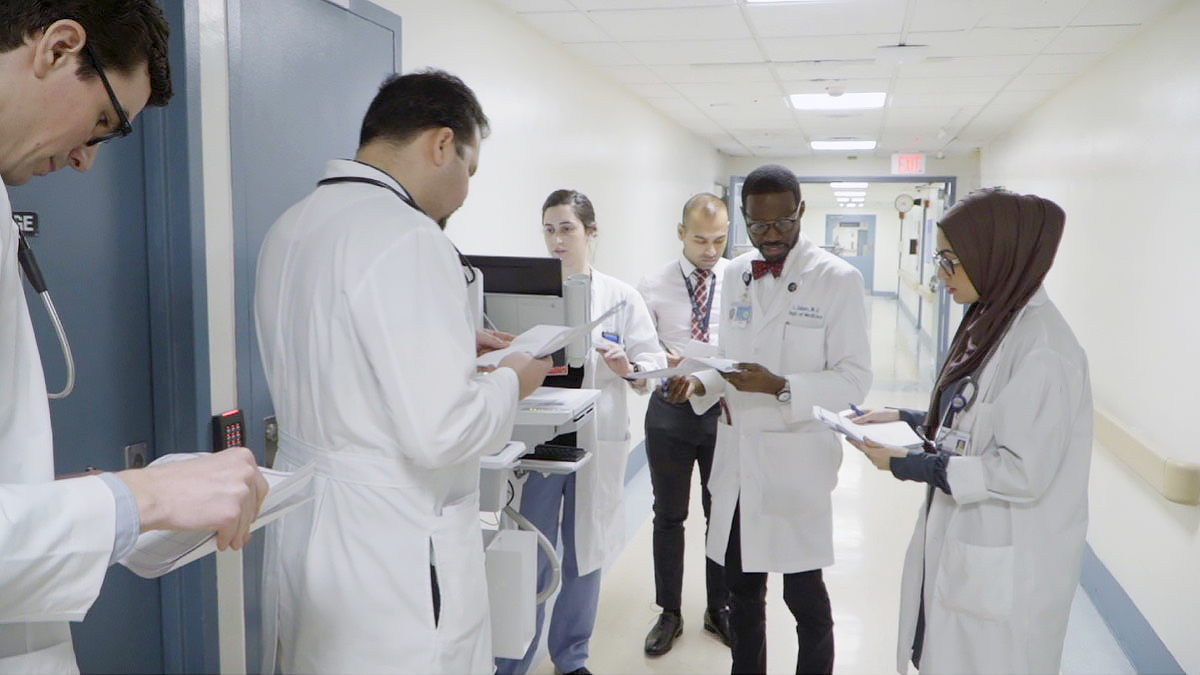 Mission
To provide outstanding education of physicians, scientists, nurses and other healthcare professionals.
To advance knowledge through cutting edge research and translate it into practice.
To care for and improve the lives of our globally diverse communities.
To foster an environment that embraces cultural diversity.
The primary objective of the Division of Physical Medical and Rehabilitation and SUNY Downstate Health Sciences University is to train, educate, and develop physiatrists who will go on to become experts in the evaluation and treatment of neuromusculoskeletal and disabling conditions who will contribute significantly to their patients, their specialty, and society by providing exceptional care and leadership.
Vision
SUNY Downstate will be nationally recognized for improving people's lives by providing excellent education for healthcare professionals, advancing research in biomedical science, health care and public health, and delivering the highest quality, patient-centered care.
Values
Pride. To take satisfaction in the work we do every day, and to value our collective contributions to the Downstate community.
Professionalism. We commit to the highest standards of ethical behavior and exemplary performance in education, research, and patient care
Respect. We value the contributions, ideas and opinions of our students, coworkers, colleagues, patients and partnering organizations
Innovation. We research and develop new and creative approaches and services for the anticipated changes in healthcare
Diversity. We embrace our rich diversity and commit to an inclusive and nurturing environment
Excellence. We commit to providing the highest quality of education and service to our students, patients and community by holding ourselves, our coworkers and our leaders to high standards of performance.
The Downstate Experience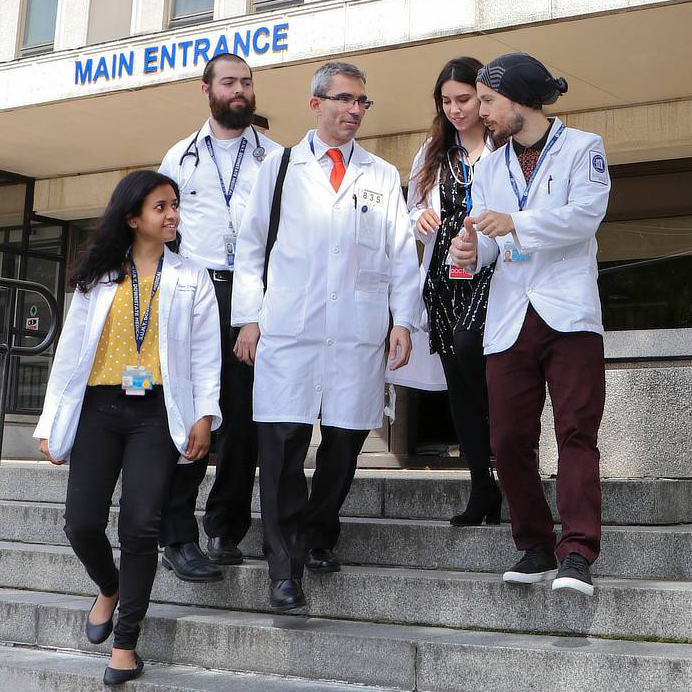 Everything that makes Brooklyn an amazing place to live—population 2.3 million, the entire world within walking distance—also makes SUNY Downstate an ideal place to study and train. Our neighborhood, Flatbush, isn't just a backdrop for the time you'll spend here. From the patients you'll serve to the community organizations you'll work with, Brooklyn will become an integral part of your learning experience. Read more about The Downstate Experience
Living in Brooklyn
The world has been coming to Brooklyn for generations: Nearly 40 percent of the people who live here come from different countries. Today, with 2.5 million residents, it's the largest borough in New York City. (On its own, Brooklyn would be one of the biggest cities in the U.S.)
As a Downstate resident, you'll be in the middle of everything great about Brooklyn, every day. Living here gives you access to experiences you'd be hard-pressed to match anywhere else. Choose from street food and fine dining, hole-in-the-wall clubs and polished venues, modern high-rise buildings and classic brownstone architecture, the serenity of vast green spaces and the excitement that comes from living and working in one of the world's biggest melting pots. Read more about Life in Brooklyn
Message on Diversity, Inclusion, and Equity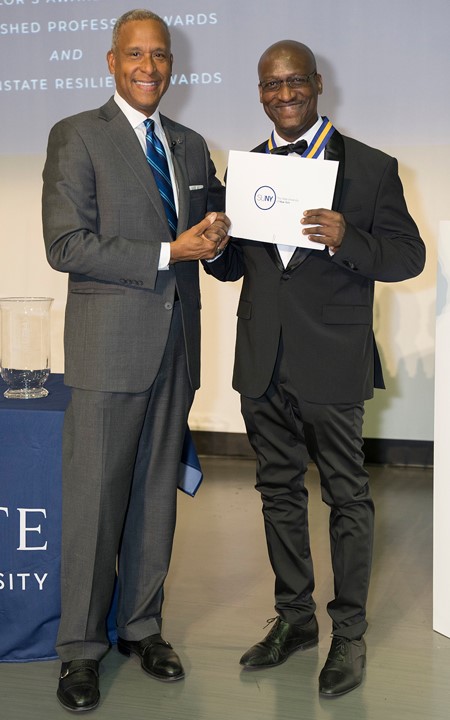 The Division of Physical Medicine and Rehabilitation and our faculty are committed to creating a supportive environment for all. We promote a culture that celebrates all individuals.
The Division of Physical Medicine & Rehabilitation at SUNY Downstate Health Sciences University has a firm commitment to diversity, inclusion, and equity. We seek to create a culturally diverse learning community that includes our faculty, students, and staff. We recognize the vital importance of a diverse and inclusive faculty and staff to ensuring that we provide the best educational environment for our trainees and the best care for our patients. We aim to provide a physician workforce in the Borough of Brooklyn that more closely reflects the diversity of the population that has settled here and, in so doing, to more effectively care for our community. We are committed to ensuring the development of cultural competence in all of our graduates.
We seek to make all of our faculty, staff, and trainees aware of the healthcare inequities present both nationally and locally. Our division seeks to find ways to overcome these systemic barriers and provide high quality, fair, and equitable healthcare services for all.
Read more about Diversity, Equity, and Inclusion at SUNY Downstate and GME Office - Diversity, Equity, and Inclusion.