Dr. Brian McNeil Named to The Class of 2023 Presidential Leadership Scholars
By Department of Communications & Marketing | Jan 24, 2023
SUNY Downstate Urologist is Among 60 National Scholar Leaders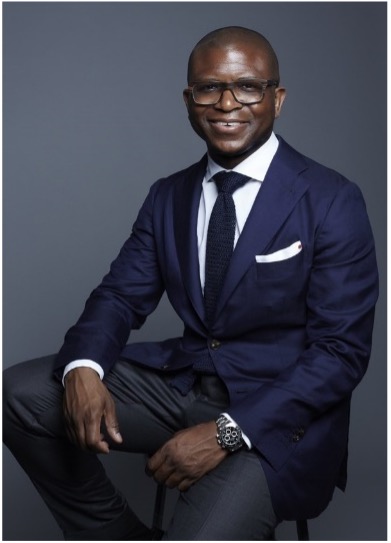 Brooklyn, NY— Associate Dean for Clinical Affairs & Associate Professor Brian McNeil, MD, MBA, FACS at SUNY Downstate Health Sciences University was named among the Presidential Leadership Scholars (PLS), which last week announced its esteemed Class of 2023.
This cohort is PLS's eighth annual class and comprises a diversity of military, public, private, and nonprofit leaders. The program introduces them to new ideas and ways of thinking to address societal needs under the leadership and tutelage of former presidents, key former administration officials, business and civic leaders, and leading academics. PLS catalyzes a diverse network of established leaders to collaborate and impact the world as they learn about leadership through the lens of the presidential experiences of George W. Bush, William J. Clinton, George H.W. Bush, and Lyndon B. Johnson.
"We're tremendously proud of Dr. McNeil on this amazing accomplishment," said SUNY Downstate president Wayne J. Riley, M.D. "As a member of the 2023 Presidential Leadership Scholars, he will continue to sharpen his expertise and acumen. Not only does he serve as a leading authority in urology, but he is also a role model for learners and the broader community, particularly for young people of color. We anticipate much more from Dr. McNeil."
"Being selected as a member of the 2023 PLS class is an incredible honor," said Dr. McNeil, who also serves as Vice Chair of Urology at SUNY Downstate. "I am thrilled to work with members of my cohort to address issues of importance to humankind. Learning from former presidents and other esteemed leaders is a tremendous privilege that will further enhance my ability to think globally and act locally to address health care disparities in medically underserved communities."
During the six-month program, Dr. McNeil will develop his Urology 2025 initiative. Urology 2025 is a multi-pronged strategy to address health care disparities within urology. He hopes to increase awareness of urologic ailments in underserved populations through strategic partnerships, create parameters to be adopted nationwide by practicing urologists to better serve communities at risk, and organize and refine pipeline programs to attract talented students from under-represented backgrounds to pursue careers in urology and other surgical subspecialties.
Over several months, Scholars will travel to each participating presidential center to learn from former presidents, key former administration officials, business and civic leaders, and leading academics to assess varying leadership principles and exchange ideas to help maximize their impact in the communities they serve.
Scholars were selected based on their leadership growth potential and personal leadership projects to improve civic engagement or social good by addressing a problem or need at local, national, or global levels. This class joins an active network of more than 400 Scholars who are already applying lessons learned through the program throughout the United States and globally. Examples of these Scholar-led efforts include: providing quality, trauma- and survivor-informed health care at no cost to gender-based violence survivors; providing support to and improving the lives of recently resettled refugee and immigrant families; and addressing the workforce crisis in trade industries. The program kicks off in Washington, D.C., on January 24.
Dr. McNeil works closely with the Downstate's College of Medicine dean to promote the clinical enterprise's success while working with other members of Downstate's Educational Leadership Team. He is widely published and is an ardent voice on the importance of diversity and inclusion in healthcare. He is also a vocal advocate for addressing and correcting healthcare disparities in underserved and under-resourced communities—most often communities of color—and often international in scope. This passion allows him to see these challenges through global lenses while he focuses on acting locally. Dr. McNeil's work has been influenced by a visiting professorship in Brazil and international immersions in Eastern Europe and other places around the world.
Dr. McNeil, who lives in TriBeCa, is a board member of The Urology Care Foundation, the world's leading nonprofit urological health foundation and the official foundation of the American Urological Association. He also serves as a Board Trustee of the Montessori School of Raleigh.
Dr. McNeil earned a B.S. in Biology from Morehouse College in Atlanta, GA and his medical degree from the University of Pittsburgh School of Medicine. He completed his urology residency at Loyola University Medical Center and a clinical fellowship in urologic-oncology at the Memorial Sloan Kettering Cancer Center following research fellowships at the National Institutes of Health/National Cancer Institute and James Buchanan Brady Urological Institute at Johns Hopkins Hospital. He also holds an MBA from New York University's Stern School of Business.
About the Presidential Leadership Scholars Program
The presidential centers of George W. Bush, William J. Clinton, George H.W. Bush, and Lyndon B. Johnson bring together leaders from the nonprofit, military, public, and private sectors to learn first-hand leadership lessons from the four presidencies. The Presidential Leadership Scholars program draws on the strengths and leadership initiatives of the four affiliated presidential centers creating a rare opportunity to instill a brand of principled leadership that transcends diverse backgrounds while fostering opportunities for leaders to emerge ready to offer solutions to pressing national problems. The program is designed to develop a new generation of leaders focused on solving society's toughest challenges and creating measurable change in their communities, the nation, and the world.
About SUNY Downstate Health Sciences University
SUNY Downstate Health Sciences University is the borough's only academic medical center for health education, research, and patient care. It is a 342-bed facility serving the healthcare needs of New York City and Brooklyn's 2.6 million residents. University Hospital at Downstate (UHD) is Downstate's teaching hospital, backed by an outstanding medical school's expertise and world-class academic center research facilities. Over 800 physicians, representing 53 specialties and subspecialties—many of them ranked as tops in their fields—comprise Downstate's staff.
In addition to high-risk neonatal and infant services, pediatric nephrology, and dialysis (kidney diseases)—and offering the only kidney transplantation program in Brooklyn, among many other distinctive programs—Downstate also sponsors a major learning center for young children with developmental disorders and disabilities. In addition to UHD, Downstate comprises a College of Medicine, College of Nursing, School of Health Professions, a School of Graduate Studies, a School of Public Health, and a multifaceted biotechnology initiative, including the Downstate Biotechnology Incubator and BioBAT for early-stage and more mature companies, respectively. For more information, visit www.downstate.edu or follow us on Twitter at @sunydownstate.
###