University Physicians of Brooklyn Welcomes New Chief Financial Officer
By Office of Communications & Marketing | Aug 10, 2023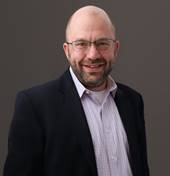 The University Physicians of Brooklyn Board of Trustees welcomes Matthew Mielczarek as the new Chief Financial Officer of the University Physicians of Brooklyn team.
Matthew is an experienced healthcare financial executive with over twenty years of expertise. At Summit Health, where he spent most of his career, he moved up in leadership roles from billing to accounts payable. Matthew served as Interim Controller managing a budget of over $500M, including over 500 physicians, both contracted and employed. He collaborated with all external and internal stakeholders, helping create partnerships to further business strategies and growth initiatives with relevant information, modeling, and education.
As the CFO, Matthew, a graduate of Rutgers Business School, will direct the organization's fiscal functions, including financial planning and budgeting. He is responsible for directing the fiscal functions of UPB, including leading the UPB clinical departments in managing a $65 million budget. He will also oversee fiscal planning, budgeting, financial audits, and controls.
We also thank Alan Dzija for his dedication and expertise as Chief Financial Officer for UPB over the past six years. Alan's journey with UPB began as Interim CFO during a critical period when we needed solid financial leadership. His decision to step up and fill this gap showcased his commitment to the organization's success from the beginning.
Before joining UPB, Alan served as CFO at SUNY Downstate, where he acquired extensive and diverse experience in healthcare financial management. When asked to join UPB, Alan graciously took on the leadership role, providing a depth of specific expertise, even staying much longer than he initially promised.
Please join us in welcoming Matthew to his new role and thanking Alan for his service.
###
---
About University Physicians of Brooklyn
University Physicians of Brooklyn, Inc., represents the faculty of SUNY Downstate Health Sciences University, Brooklyn's only academic medical center. UPB is comprised of 17 clinical departments, encompassing numerous specialties and subspecialties. Many of our doctors have been nationally recognized by Castle Connolly Top Doctors and Best Doctors in America®. In addition to providing world-class medical care, our physicians actively participate in the latest research efforts that contribute to developing cutting-edge technology and techniques in medicine.