We Bid Stanley Friedman, M.D., Ph.D., A Fond Farewell After 58 Years of Service To SUNY Downstate
By Office of Communications & Marketing | Jul 31, 2023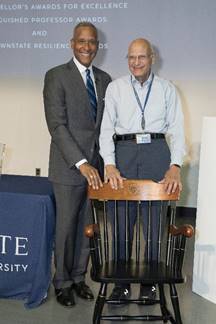 Stanley Friedman, Ph.D., Distinguished Teaching Professor, Physiology and Pharmacology, has announced his retirement as a Downstate faculty member and Director of the M.D./Ph.D. program, effective August 3, 2023.
In May of this year, I honored Dr. Friedman as our longest-serving employee and presented him with a fitting accessory for a retired Downstate faculty member. Dr. Friedman celebrated his 58th year at SUNY Downstate and has decided to relax and retire to enjoy more quality time with family and friends.
Dr. Friedman's medical career began with his NYU College of Medicine degree earned in 1959 when Dwight D. Eisenhower was president, movie tickets were $1, gas was $0.25 a gallon, and homes cost around $12,400!
Dr. Friedman completed his residency at Grace-New Haven Community Hospital—today known as Yale New Haven Hospital—and post-graduate work in Biochemistry at Oxford University. He was a research associate for the National Institutes of Mental Health in the Department of Cellular Physiology and the Department of Molecular Biology & Biophysics at Yale University. Dr. Friedman joined SUNY Downstate in 1965, serving as Assistant Professor of Pharmacology and later moving on to leadership positions as professor and acting chair in the Department of Pharmacology.
For over two decades, Dr. Friedman served as director of the M.D./Ph.D. program and previously as assistant dean and senior associate dean for education. His outstanding contributions to Downstate have been in teaching and administration, where he served as acting Chair of Pharmacology from 1984 to 1990, having served on countless committees. He has also served as a liaison with the American Association of Medical Colleges and LCME.
Dr. Friedman is immensely proud of his graduates' success, many significantly contributing to their respective fields. The growth and accomplishments of his graduates served as a source of motivation for Dr. Friedman, reaffirming his passion for teaching and guiding the next generation of professionals. As a mentor, he enjoyed staying in touch with his alum network, hearing about their achievements, and offering support whenever needed.
We collectively acknowledge the indelible mark that Dr. Friedman has left on the scientific landscape and the lives of those touched during such an extraordinary career in scientific exploration and discovery and a testament to the transformative power of his curiosity and dedication.
Dr. Friedman has amassed many honors and accolades that include Alpha Omega Alpha, Phi Beta Kappa, Sigma Xi, and a Distinguished Teaching Award (2007). His society memberships include the American Association for the Advancement of Science, the American Society of Pharmacology and Experimental Therapeutics, the New York Academy of Science, and the Harvey Society. He is a former Visiting Nurses Association board member and president of the Kane Street Synagogue in Brooklyn. He is also a well-published scholar and scientist.
On behalf of SUNY Downstate Health Science University's students, faculty, and staff, we thank Dr. Friedman for 58 years of dedication and commitment to prioritizing healthcare and research for our community. We wish him the greatest for a well-earned retirement.
###
---
Contact: Dawn S. Walker
347.533.2071 (Cell)
dawn.walker@downstate.edu
About SUNY Downstate Health Sciences University
SUNY Downstate Health Sciences University is the borough's only academic medical center for health education, research, and patient care. It is a 342-bed facility serving the healthcare needs of New York City and Brooklyn's 2.6 million residents. University Hospital at Downstate (UHD) is Downstate's teaching hospital; it is backed by an outstanding medical school's expertise and world-class academic medical center research facilities. Over 800 physicians, representing 53 specialties and subspecialties—many of them ranked as tops in their fields—comprise Downstate's staff.
In addition to high-risk neonatal and infant services, pediatric nephrology, and dialysis (kidney diseases)—and offering the only kidney transplantation program in Brooklyn, among many other distinctive programs. Downstate comprises a College of Medicine, a College of Nursing, a School of Health Professions, a School of Graduate Studies, a School of Public Health, and a multifaceted biotechnology initiative, including the Downstate Biotechnology Incubator and BioBAT for early-stage and more mature companies, respectively. For more information, visit www.downstate.edu or follow us on Twitter at @sunydownstate.
---