Good Customer Service is Our First Priority
Mail Services is located at University Hospital basemement level Rm UH B530D, adjacent to Central Sores & Reciving and QCC ; Opposite Medical Records/HIM.
Open Mon-Fri (except holidays ) 8:30am to 5pm.
Departments that have had vacant (CLOSED) offices have their mail being held at Mail Services until someone from that office pick it up from Mail Services (UH Rm B530D). On a day someone in your office is on-site, please instruct them to pick up mail.
If you have another nearby office that is OPEN every weekday, you can make arrangements with that office to accept your daily mail. Send eMail: MailServices@downstate.edu requesting your daily mail be temporarily delivered to that alt location,or
Place a message on your office door if another location is temporarily accepting your deliveries
Your Downstate Mailing Address: REQUIRED Fields:
Your Full Name, Your Title, if desired
Your Department Name if desired; MSC ___ (Mail Stop Code must appear above the street address line)
SUNY Downstate (UHB or your affiliate company name are acceptable)
450 Clarkson Ave (UHB depts may use the street address 445 Lenox Rd)
Brooklyn NY 11203-2098
DO NOT use the term "Box#" - Since 2013 it causes USPS processing delays of your incoming mail. (more detail link). Place your "MSC" next to recipients' name or dept name. Subscription formats vary widely you may need to put MSC__ in the field for "Room/Ste"
Your Downstate SHIPPING Address is Different! - Incoming "Ship To" Addressing (link)
Are you still using the term "box#? You're causing delays in your own incoming USPS mail!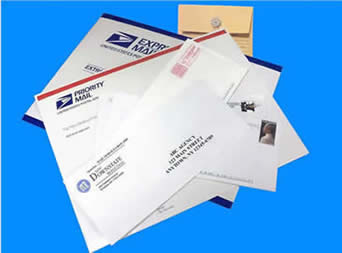 Jump Down To:
Mail Services Tip to improve your incoming mail processing time:
Experiencing incoming USPS Mail delays? Often caused by using the word "Box#" or having it appear on the street address line of your mailing address. USPS automated systems 'read' the word Box and process the mail to a USPS PO Box # causing mail processing delays. We began informing all Downstate offices in November 2013, but many have still not yet corrected their mailing address and stationery with your department's regular correspondents, as follows:
Mail Box#'s are NOW Mail Stop Codes (MSC)! Your actual Mail Stop Code NUMBER remains the same, but the word MSC and where it appears on an envelope DOES matter. You can improve the processing speed of your incoming mail by using the correct address format. Find out more about the Downstate Mail Stop Codes (MSC).
Begin using the new format ASAP: It will speed USPS delivery of your incoming Mail.

DO NOT USE the term 'box #' - causes USPS processing delays in your incoming mail; Always use the term Mail Stop Code, or "MSC".
Make sure MSC___ appears above the street address line of your address.
Submit revisions to all your incoming subscriptions and any professional mailing lists that you're on.
Update your Downsate Dept Webpage to this USPS Official Mailing address format!
Update your Downstate Outlook eMail signature (Downstate Outlook 'file', 'options, 'mail', 'stationery and fonts', 'eMail signature') to this USPS Official Mailing address format.
*Downstate's Residence Halls 811NYA, 825NYA and 440 Lenox Rd residential apartments are official USPS addresses that continue with their respective direct street addresses, no change needed.
Act NOW to help avoid delays
Failure to correct mail lists and subscriptions causes the problem to just gets worse in future as mail lists are bought and sold.
Submit revisions to all your incoming subscriptions and any professional mailing lists that you are on. Put your "MSC___" next to your dept name or in a room field depending on the subscriptions' available format.
Update your Downsate departmental webpage
Update your Downstate Outlook eMail automated signature format! (In Outlook, its under "File", "Options", then "Mail").
Your Downsate SHIPPING Address

is Different

!

-

Incoming "Ship To" Addressing (link)
Planning a 1st Class delivery large mailing? Give it a more professional look.
United States Postal Service (USPS) Stamps For your personal postage needs: Consider stocking up on Forever Stamps that are purchased at current USPS 1st class rates and can be used at ANY future date - avoiding future postage rate increases. Available for purchase on campus at the University Bookstore and Gift Shop!
Mail Services Green Initiatives:

Mail Services is committed to providing our customers with efficient and cost effective services while minimizing negative effects to the environment. We are dedicated to using eco-friendly products and reducing our environmental impact to SUNY Downstate. We invite you to explore the green services, products, and tips detailed on this site.
Green Tips:
Go Green Forever Stamps: Make a positive impact on the environment! The United States Postal Service now offers Go Green Forever stamps available to buy at the University Bookstore (Student Center/ 394 Lenox Rd) and the Hospital Gift Shop (UHB Main Lobby). Forever stamps are purchased at current USPS 1st class rates and can be used at ANY future date - avoiding any increased postage rate increases.
Green Packaging: Mail Services stocks environmentally friendly packaging materials provided by the USPS to give our clients "Green Options" to facilitate their shipping requirements. USPS is the only mailing and shipping company in the world to have earned "Cradle to Cradle Certification" for the environmentally friendly design of both its Priority Mail and Express Mail supplies, and a majority of ReadyPost boxes, envelopes and labels.
Address for success: You can reduce the paper, labor, and fuel associated with mail delivery by simply addressing items properly. Improperly addressed mail re-circulating through the mail stream wastes fuel, manpower and increases cost.
Eliminate unwanted mailings: You can help to reduce paper waste by stopping unwanted mail from being delivered to your office and home. To facilitate reduction of mail from solicitors that frequently send you "junk mail" contact the mailers directly and request them to remove you from their mailing list.
USPS Customers May Get Cash For PERSONAL Old Electronic Devices: (Not Applicable to Devices which are the property of SUNY Downstate). The USPS is making recycling your old cell phone, PDA, digital camera or other small electronic device, quicker and easier than ever before, by expanding the availability of their recycling program to 3,100 retail locations. Customers can now trade in their old electronic gadgets for cash in addition to protecting the environment and possibly putting some money in their pocket at the same time. The USPS has partnered with MaxBack, an electronics recycling company. MaxBack specializes in reducing waste that ends up in landfills by either buying back or simply recycling unwanted electronics. Follow these easy steps to find out how much your old cell phone or electronic device is worth and to see if your items qualify for instant cash:

Search for your cell phone or electronic device.
Receive an instant quote and accept.
Mail it FREE via USPS Priority Mail.
Once MaxBack receives your item, they'll inspect it and send you your cash. Even if your old electronic device doesn't qualify for cash back, it can still be recycled. Free recycling mail-back envelopes are available at participating USPS locations, making it easy for customers to ship their used small electronics.
Click on the links below for additional information:
www.usps.com/ship/recycle-through-usps.htm
http://www.maxback.com/How-It-Works

USPS Stops Accepting International Lithium Battery Shipments: Effective immediately, the USPS will not accept outbound international shipments containing lithium metal or lithium-ion batteries and/or devices containing them. Under the international agency rules of International Civil Aviation Organization (ICAO) and the Universal Postal Union (UPU), lithium metal or lithium-ion batteries cannot be sent on international commercial air transportation, including to/ from APO (Army Post Office), FPO (Fleet Post Office) and DPO (Diplomatic Post Office) locations. Customers sending electronic devices containing removable lithium batteries must remove the lithium batteries before tendering international shipments. Electronic equipment with non-removable lithium batteries may not be sent by international or military mail. This prohibition does not apply to lithium batteries when mailed within the United States. If you require international shipment of any electronic device that contain lithium batteries, contact Mail Services for alternate methods.
Mission Statement
Department of Administrative Services: Consolidated service units at a contiguous location to the extent practical, and commonly known as "Downstate Depot", that currently includes: Central Receiving, Central Stores, Quick Copy Center, Mail/Messenger, Warehouse, and Property Control, and provides:
A "one-stop" customer service location for multiple support unit services, and
Maximized workforce cross-training and deployment dependant upon daily workload.
Provide the highest standards of quality customer services and customer satisfaction while adhering to DMC's Code of Ethic and Business Conduct, and Principles of Behavior (pgs 16-31), in support of DMC's Educational, Clinical and Research enterprises, in a dependable manner while maintaining accurate records of all transactions within all applicable regulatory requirements.
Provide the timely, accurate and reliable handling, processing and distribution with accountability of all incoming, outgoing and interoffice mail and parcels, while utilizing most cost-effective methods and deployment of staff and resources, and in compliance with all policies and procedures of the United States Postal Service and all applicable private couriers.