Your Source for One-Stop Copy and Print Services
News:
Recharges: Your SUNY Business Intelligence (BI) online account records show your account's current allocation in the recharge section (object code 9500). You can contact QCC to get your current year-to-date expenses in order to determine your true current available recharge balance.
QCC recharges are processed to Downstate Financial Management Office on a monthly basis, Financial Management then uploads to SUNY BI before they will appear in BI.
The QCC can process your complex and high volume B&W copy jobs as well as reports, examinations, and on-demand emergency copying needs.
What We Provide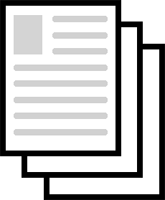 The QCC serves the DHSU Community in fulfilling all duplicating and printing needs for the Academic and Hospital enterprises of SUNY Downstate Health Sciences University. The staff of the QCC is committed to providing the most cost effective and efficient printing services processed in an expedient manner with the highest quality standards. The QCC provides high quality fast turnaround and the most cost effective methods to satisfy your requests by analyzing your particular needs and routing the job to either an in-house digital copier or an external vendor that provides the best service for your project.
The QCC offers a broad range of services for internal production including, but not limited to:
Single and Double sided copying (Digital Black & White) on a variety of paper stocks.
Cutting
Folding
Copying onto transparency material (Black & White)
Laminating (from 2¼" X 3¾" to Tabloid 11½" X 17½")
Saddle Stitched Booklets
Stapling
The QCC will also offers assistance and will coordinate the processing of external vendor print/copy services for your One Stop Print & Copy Needs.
Preparing Your Copy/ Print Job: Plan Your Job With Enough Lead time!
Preparing your Copy Job Page for critical tips on preparing your job for quality and efficiency - and Think Green!
Submitting your Job
*Interactive pdf format forms: Return to this online page when initiating a new blank form to ensure having the most current updated form as future form improvements are made. Forms can be completed then downloaded/ saved to your hard drive with a unique document name ('file', 'save as'). You will need to print the completed form for signature and processing; Then scan the signed form and attach to an e-mail.
Some UHB Forms (authorized by Health Information Management -HIM, aka Medical Records) are printed by the QCC.
All other UHB forms that are more cost effectively printed by external vendors are ordered by UHB's HIM department and processed through State Purchasing.
Special Print Projects/ External Vendor Printing
The QCC coordinates external work with the Downstate State Purchasing Department and has a network of outside vendors that allow us to offer you a wide range of additional services, or as needed if job can not be completed internally by your required completion date. If you have a special project that you are working on please call us and give us the opportunity to recommend the most cost effective and efficient off-site vendor to process your request.
Downstate's Stationery Procurement Program through DupliOnline (Downstate Contracted vendor) to be used for all stationery products. First time State Account users will need to call or e-mail Portia London-John at Extension 1123 (718-270-1123) in the State Purchasing Department.
QCC Pricing Guide provides a basic tool for estimating your job. The actual cost of your job is dependent upon all set up, production and finishing processes that are needed. The QCC will normally provide you with an estimated cost at the time your job is submitted. If you are planning a copy job, please contact us at extension 1117 during your planning process and we will provide you with an estimated cost based on the specifications you provide to us. Please be aware that job quotes/ prices are based on work specified in the quote only. Changes in any specification in the quote will invalidate the original quoted price and require recalculation of the cost. Contact the QCC for external vendor estimates (subject to State Purchasing process).
Quick Copy Center Pricing Policy: Rates are calculated to recover the annual expenses of completing Copy/ Printing requests, recouping incurred costs without mark up to all customers, regardless of funding source. The per copy rates factor the estimated annual production into the annual expense of the QCC's copier machine lease, service/ maintenance and repairs, and other raw supplies and materials such as actual paper cost. Pricing for other services provided by the QCC include annual maintenance/ service and repairs, supplies and the cost of materials.
When Your Job is Completed
You will be contacted when your copy job is inspected for quality by the Copy Center Staff. The completed work may be picked up at any time during normal hours of operation, or make advance arrangements for delivery of your completed job to your Mail Stop on the next business day after job completion via Downstate's Mail Services.
Payment for Completed Jobs
Click Here for the payment process details associated with your funding source.
Mission Statement
Department of Administrative Services: Consolidated service units at a contiguous location to the extent practical, and commonly known as "Downstate Depot", that currently includes: Central Receiving, Central Stores, Quick Copy Center, Mail/Messenger, and provides:
A "one-stop" customer service location for multiple support unit services, and
Maximized workforce cross-training and deployment dependant upon daily workload.
Provide the highest standards of quality customer services and customer satisfaction while adhering to DHSU's Code of Ethic and Business Conduct, and Principles of Behavior (pgs 16-31), in support of DHSU's Educational, Clinical and Research enterprises, in a dependable manner while maintaining accurate records of all transactions within all applicable regulatory requirements.
Provide quality copy and finishing services in a cost effective, efficient, courteous and timely manner to all DHSU community customers, including the coordination and processing of all external printing and copying needs.
Be a resource to the DHSU community by providing accurate and knowledgeable printing information to assist the customer in determining the best cost-effective solution(s) that meet the customer's mission.