Institution Statement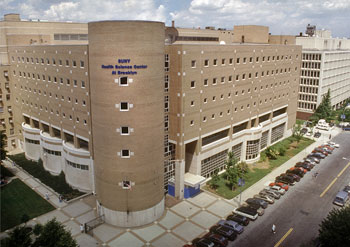 The State University of New York Health Science Center at Brooklyn also known as SUNY Downstate Health Sciences University is one of four such health science campuses within the 64-unit State University of New York system. Located on an urban campus in the East Flatbush section of Brooklyn, the SUNY Downstate Health Sciences University includes the College of Medicine, a School of Graduate Studies, College of Nursing, School of Health Professions, a major medical research library center, a new School of Public Health, two biotechnology incubator centers and the University Hospital of Brooklyn.
The SUNY Downstate's history spans over 150 years, during which time it has undergone several name changes. In 1856 two physicians established a dispensary in downtown Brooklyn to provide care for poor immigrants. The Long Island College Hospital (LICH) grew out of this dispensary. In 1858 the state granted the hospital's request for a charter to launch a medical school. The school, which opened its doors two years later, revolutionized medical education in the United States. LICH became the first institution in the United States to bring the teaching of medicine to the hospital bedside so that physicians were no longer trained exclusively in university classrooms and lecture halls. It was truly a college hospital.
In 1931 the school was re-chartered as the Long Island College of Medicine, with affiliated hospitals throughout Brooklyn. The "Downstate" era began on April 5, 1950 with a special ceremony at the Waldorf Astoria Hotel, where a merger contract was signed between the Long Island College of Medicine and the newly constituted State University of New York. Several years later, the current campus site was built in East Flatbush. In April 1953, ground was broken for the current Basic Sciences Building, and President Dwight D. Eisenhower laid the cornerstone in 1954. The complex was expanded in 1966 with the opening of University Hospital of Brooklyn. The School of Graduate Studies, the School of Health Professions, and the College of Nursing were also added that year. In 2008, the School of Public Health became fully accredited, only one of two schools for public health in the New York metropolitan area.
Today, the SUNY Downstate is the focal point of a health-care network that encompasses 18 hospitals and research institutions and more than 40 health-related facilities in Brooklyn, Staten Island, and beyond. It encompasses a campus of 13 acres, with a total student body of 1,500, a faculty of over 3,000 (including full-time, part-time and voluntary staff), and support staff of over 3,000. As the only academic medical center in Brooklyn, New York, SUNY Downstate serves one of the most diverse, dynamic, challenging, interesting and professionally rewarding patient populations anywhere. Our residents have the opportunity to make a substantive difference in the lives of their patients while having an extraordinary learning experience under the tutelage of an outstanding faculty of dedicated clinicians and educators.
SUNY Downstate is accredited by the Accreditation Council for Graduate Medical Education (ACGME) as the sponsoring institution for 53 integrated accredited residency and fellowship programs offered at over a dozen major affiliated hospitals training well over 1000 residents, chief residents and fellows.
State University of New York - Downstate Health Sciences University is committed to providing an organized educational program with guidance and supervision of medical residents and fellows, facilitating their professional, ethical and personal development through curricula, evaluation and effective resident supervision while ensuring safe, high quality and appropriate care for patients. As a sponsoring institution SUNY Downstate assures that educational, financial, human resources and administrative structure are available to support Graduate Medical Education conducted in a scholarly environment and committed to excellence in both education and medical care. This commitment is exhibited by the provision of leadership and financial and other resources that enables the institution to achieve compliance with the ACGME Institutional Requirements and to enable educational programs to achieve compliance with Residency Review Committee Program Requirements. This includes provision of an ethical and professional environment in which the educational curricular requirements, as well as the applicable requirements for scholarly activity, are met.