Patients & Families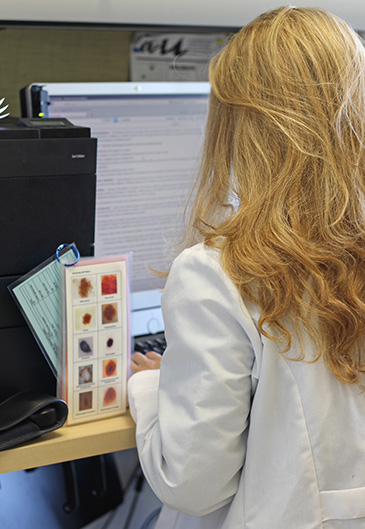 SUNY Downstate Medical Center
Adult Dermatology Clinic
470 Clarkson Avenue, Suite H & Suite I
Brooklyn, New York 11203
For appointments: 718- 270-7207
Kings County Hospital Center
Adult & Pediatric Dermatology Clinic
451 Clarkson Avenue
Brooklyn, New York 11203
For appointments: 718-245-3325
Pediatric Dermatology Clinic: E building, 5th floor, Suite D
Adult Dermatology Clinic: E building, 7th floor, Suite D
The Department of Dermatology provides comprehensive medical and surgical care to adults and children with diseases of the skin, hair, and nails. The faculty offers specialized treatment for rashes, hives, skin cancers, acne/rosacea, vitiligo, psoriasis, eczema, connective tissue diseases (cutaneous lupus, scleroderma, dermatomyositis, sarcoidosis), blistering disorders, scarring, sexually transmitted infections, hair loss, skin growths, as well as many other conditions of the skin, hair, and nails.
Pediatric dermatology is a special focus, and our dermatologists have expertise in vascular anomalies such as hemangiomas, eczema, cradle-crap, diaper rashes, molluscum contagiosum, fungal infections such as ringworm, heat rashes, skin allergic reactions, and more.
Our phototherapy unit is open on Monday through Fridays for narrow-band ultraviolet (NBUVB) light therapy. Staffed by a physician and a full-time nurse, this treatment is available for psoriasis, eczema, mycosis fungoides, and many other skin conditions.