Research
The Department of Physiology and Pharmacology currently has a well-funded and very active body of researchers. At present our principal emphasis is on brain function and neurological disorders, but we also have faculty actively investigating antibody diversification mechanisms and regulatory RNAs. Members of the faculty are gaining significant international recognition for their work. These cutting-edge research groups include the following areas of investigation:
the molecular mechanisms underlying learning and memory
translational control in neurons
the pharmacology and physiology of epilepsy
contribution of capillary vasodynamics to ictal neurodegeneration in epilepsy
traumatic brain injury
drug therapies used during adolescence to normalize synapse number
Find the pages describing individual faculty member's research.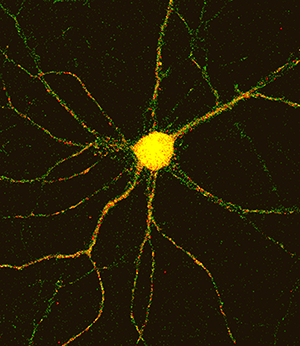 A hippocampal neuron in primary culture. The cell was labeled with an antibody against phosphorylated eukaryotic initiation factor (eIF) 4B (green) and an antibody against the presynaptic marker synaptophysin (red). Following receptor activation, eIF4B is rapidly dephosphorylated in a mechanism that switches BC RNA translational control from repressive to permissive, thus enabling initiation of local protein synthesis. From Eom et al., Neuronal BC RNAs cooperate with eIF4B to mediate activity-dependent translational control. J. Cell Biol. 207:237-252 (2014). Illustration courtesy of Drs. Ilham Muslimov and Taesun Eom.