Cell Biology Flow Cytometry
The Department of Cell Biology has two shared instruments for flow cytometry:
The analytical FACScan, which performs straightforward population analyses without cell recovery.
The BioRad S3, a cell sorter that can purify and recover live cells for subsequent culturing and analysis.
Only trained and approved users are permitted to operate these machines.
Potential users should contact Dr. C. Roman and Dr. S. Blain for more information about access and training. In addition, an active/approved Institutional Biosafety protocol that includes a description of the nature of the samples to be analyzed by flow cytometry must be provided before any work can be performed. Other analytical flow cytometry services on campus with dedicated technical support can be found in the Department of Pathology or in the UHB.
FACScan Flow Cytometer/BD Bioscience
Single laser (488nm)
Three colors (Filters: FL1 ~530nm; FL2 ~580nm; FL3 ~615nm)
Analytical Unit
CellQuest/Mac based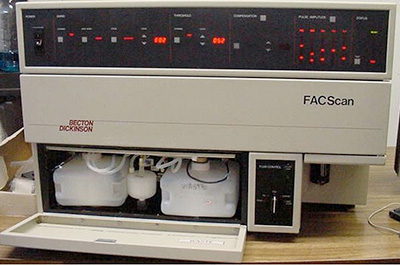 BioRad S3 Cell Sorter (with the "Biobubble" Biosafety Containment System)
Two lasers (488nm and 561nm)
Four colors (FL1 ~530nm; FL2 ~580nm; FL3 ~615nm ; FL4 ~655nm)
Automated 2-way sorting, with different capture platforms for cell recovery possible
PC based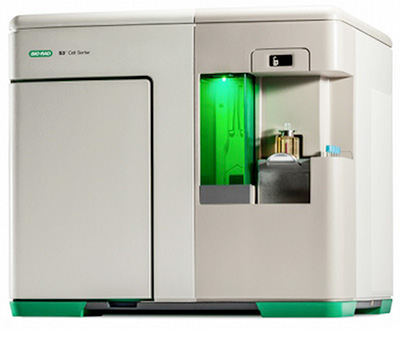 BioRad S3 web site
Investigating Cancer Stem Cells with the S3 Cell Sorter (YouTube video)