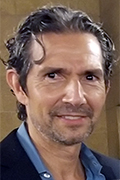 Christopher A. J. Roman, PhD

Associate Professor and Vice Chair of Cell Biology
Associate Professor of Medicine
(718) 270-1310
(718) 270-2656
Academic Background
B.A. Biochemistry, Harvard University ('84)
Ph.D. Biological Chemistry, University of California, Los Angeles ('91)
Post-Doctorate, The Rockefeller University (1992-1994); the Massachusetts Institute of Technology (1994-1998)
Awards and Honors
2018 - Outstanding Educator in the Foundations of Medicine. Nominated and selected by students and faculty.
2018 - Excellence in Mentoring Award from the Office of Diversity in Education and Research.
2010-present - The Henry Kunkel Society (elected member).
2008 - SUNY Chancellor's Award for Excellence in Faculty Service.
2006-2008 - Lupus Research Institute, Novel Research Project (award).
Research Summary
My lab studies transcription factors and receptors that regulate lymphocyte development, the immune response, and immunological tolerance to self. The goal is that this research will lead to a better understanding of the causes of major health challenges such as autoimmune and inflammatory diseases like systemic lupus erythematosus (SLE), and different forms of hematopoietic malignancies, such as leukemia and lymphoma, that will lead to better treatments. Key research technologies and strategies we employ to study gene function are transgenic and knock-out mouse models, primary human and mouse cell culture systems, flow cytometry, and immunohistochemistry. We provide research training in immunology, molecular biology, and cancer mechanisms, with collaborations with clinical departments.
The Mitf family of transcription factors in the immune response and in autoimmune disease.
The major focus of the lab is to understand how the microphthalmia transcription factor (Mitf) and its close relatives TFE3 and TFEB participate in T and B cell function. Mitf is well known as a master transcriptional regulator of the development of melanocytes, mast cells, and - in conjunction with TFE3 – osteoclasts. TFEB and TFE3 have been implicated in autophagy and related metabolic processes important for lymphocyte function, but their role in B and T cells is poorly understood. By simultaneously inactivating both TFE3 and TFEB in T cells, we discovered that they are important activators of CD40L gene expression and thus contribute to thymus-dependent humoral immune responses (Nat Immunol. 2006 Oct;7(10):1082-91.) Our research on Mitf has shown a critical role in B cell tolerance by enforcing the elimination of self-reactive B cells; most notably, the lack Mitf function in lupus-prone mice dramatically exacerbated disease manifestations (manuscripts in prep.; Keystone 2016). We are continuing to identify and validate other Mitf, TFE3 and TFEB target genes (such as FoxP3, important for regulatory T cells) that strongly impact B and T lymphocyte biology, and to clarify the underlying molecular mechanisms by which these transcription factors execute their critical functions that control autoreactive lymphocytes and prevent autoimmune disease.
The regulation of early B cell development by the preBCR
A remarkable property of B and T cells is that they must assemble the genes encoding their antigen receptors via a DNA rearrangement process known as V(D)J Recombination. Although this process yields billions of genetically unique antigen receptor genes with a corresponding diversity of antigen binding specificities, the DNA recombination process itself is ignorant of the functionality of the protein that may (or may not) be encoded by the assembled gene. Because of this, at all points during lymphocyte life, the functionality of the antigen receptor is tested for structural integrity and antigen binding specificity. In B cell progenitors, the gene encoding the immunoglobulin heavy-chain (IgH) component of the antibody is rearranged first. If an IgH protein is made, its functionality is tested by whether it can form a signal transduction complex with an Ig light chain (IgL)-like molecule known as the surrogate light chain. This complex, known as the preBCR, transduces instructive signals that activate a program of B cell differentiation and proliferation (J Immunol. 2005 Jul 1;175(1):358-66). Without a preBCR, progenitor B cells do not develop; people that are genetically incapable of making a preBCR are profoundly immune deficient because they lack antibody producing B cells. Despite its importance, how the preBCR signals has been enigmatic. We showed that preBCR surface expression was not required for signal transduction, but that productive preBCR signaling is possible from intracellular, post-ER membranes such as the trans-Golgi (J Immunol. 2006 Jun 1;176(11):6862-72); Cell Rep. 2016 Sep 6;16(10):2630-2640)
Teaching
College of Medicine
Unit 2: PBL Facilitator; Lecturer (Immunology Subunit - B Cell Development and Activation)
Unit 3: Director; PBL facilitator; Lecturer (Rheumatology Subunit - Autoimmunity)
T-Selective MS4: Hematology/Oncology/Immunology
Co-Director: HEAL (Health Equity Advocacy Leadership; Medical Elective Pathway on Health Disparities and Social Determinants)
School of Graduate Studies/Program in Molecular and Cellular Biology
Program in Molecular and Cellular Biology
Principal Investigator/Graduate Student supervisor
MCBI: Lecturer (Molecular Immunology)
MCB II: Lecturer (Molecular Mechanisms of Oncogenesis)
Guided Readings in Cancer Immunotherapy/Immune Checkpoint Therapy
Service
Current
Vice Chair, Department of Cell Biology
Chair, Cancer Scientific Review Committee
Executive Committee of the College of Medicine (member)
Faculty advisor for Oncology Club
Faculty research advisor for residency fellowship in Hematology/Oncology
Former
Interim Institutional Official
Interim Chair, Cell Biology
Financial Conflict of Interest Committee (Chair and member)
Advisory Committee on Research (ACOR; member; Research Subcommittee)
IACUC (member)
CAPQ (Chair and member)
Executive Committee of the School of Graduate Studies (member)
Director, Transgenic Mouse Facility (closed)
Full PubMed Bibliography Here.
Abstracts and Presentations
B. Ahmed, A. Diggs, C. Roman, C. Boutin-Foster. Health Equity Advocacy and Leadership (HEAL): A student-initiated educational pathway that empowers medical students to address health disparities and improve patient outcomes and community health. NEGEA 2018 Emerging Issues in Medical Education.
M. Lopez-Ocasio, A. Amarnani, J. Davila, S.R.S. Gottesman, C. Huan, and C Roman. B-Cell Specific Microphthalmia-Associated Transcription Factor (Mitf) Family Inhibition Breaks Tolerance and Exacerbates Lupus-Like Autoimmune Disease. 2016 Keystone Symposia Conference, B Cells at the Intersection of Innate and Adaptive Immunity. 2016
Patricia Bettinger and Christopher Roman. The induction of FoxP3 in naïve T cells is dependent on the transcription factors TFE3 and TFEB. AAI Annual Meeting, "IMMUNOLOGY 2012", Boston, MA, May 2012. Abstract.
Publications
Naboush, A., Roman, CA, Shapira, I. Immune checkpoint inhibitors in malignancies with mismatch repair deficiency: a review of the state of current knowledge. J Investig Med 2017; Apr;65(4):754-758.
Ji Y., Kim H., Yang L., Sha H., Roman, CA., Long Q., Qi L. The Sel1L-Hrd1 Endoplasmic Reticulum-Associated Degradation Complex Manages a Key Checkpoint in B Cell Development. Cell Reports 2016; Sep 6;16(10):2630-40.
Xu J, Treem WR, Roman C, Anderson, V., Rubenstein R, Schwarz SM. Ileal immune dysregulation in necrotizing enterocolitis: role of CD40/CD40L in the pathogenesis of disease. J Pediatr Gastroenterol Nutr. 2011; Feb;52(2):140-6.
Li XH, Kishore AH, Dao D, Zheng W, Roman CA, Word RA. (2010) A novel isoform of microphthalmia-associated transcription factor inhibits IL-8 gene expression in human cervical stromal cells. Mol Endocrinol. 2010; Aug;24(8):1512-28. Epub 2010 Jun 23
Couëdel C, Roman C, Jones A, Vezzoni P, Villa A, Cortes P. Analysis of mutations from SCID and Omenn syndrome patients reveals the central role of the Rag2 PHD domain in regulating V(D)J recombination. J Clin Invest. 2010; Apr;120(4):1337-44.
Smith, B.P., and Roman, C.A.J. The Unique and immunoglobulin-like regions of surrogate light chain component 5 differentially interrogate immunoglobulin heavy-chain structure. Mol. Immunol. 2010; Mar; 47(6): 1195-1206 Epub 29 January 2010
Guloglu, F.B., Smith, B.P., and Roman, C.A.J. Multiple Levels of Selection Responsive to Immunoglobulin Light Chain Structure Impede the Development of D-Expressing B Cells. J Immunol 2008; Sep 15;181(6):4098-106
Kohlhoff SA, Kutlin A, Riska P, Roblin PM, Roman C, Hammerschlag MR. In vitro models of acute and long-term continuous infection of human respiratory epithelial cells with Chlamydophila pneumoniae have opposing effects on host cell apoptosis. Microb Pathog. 2008; Jan;44(1):34-42.
Hailemariam TK, Huan C, Liu J, Li Z, Roman C, Kalbfeisch M, Bui HH, Peake DA, Kuo MS, Cao G, Wadgaonkar R, Jiang XC. Sphingomyelin synthase 2 deficiency attenuates NFkappaB activation. Arterioscler Thromb Vasc Biol. 2008; Aug;28(8):1519-26. Epub 2008 Jun 19.
Huan C, Kelly ML, Steele R, Shapira I, Gottesman SR, Roman CA. Transcription factors TFE3 and TFEB are critical for CD40 ligand expression and thymus-dependent humoral immunity. Nat Immunol. 2006; 7 (10): 1082-1091. Epub 2006 Aug 27
Guloglu FB, Roman CA. Precursor B cell receptor signaling activity can be uncoupled from surface expression. J Immunol. 2008; 176 (11): 6862-72.
Tian W, Nunez R, Cheng S, Ding Y, Tumang J, Lyddane C, Roman C, Liou HC. C-type lectin OCILRP2/Clr-g and its ligand NKRP1f costimulate T cell proliferation and IL-2 production. Cell Immunol. 2005; 234 (1): 39-53.
Guloglu FB, Bajor E, Smith BP, Roman CA. The unique region of surrogate light chain component lambda5 is a heavy chain-specific regulator of precursor B cell receptor signaling. J Immunol 2005; 175 (1): 358-66.
Huan C, Sashital D, Hailemariam T, Kelly ML, Roman CAJ. Renal carcinoma associated transcription factors TFE3 and TFEB are leukemia-inhibitory factor-responsive transcription activators of E-cadherin. J Biol Chem 2005;13: 13.
Mokhtarian F, Huan CM, Roman C, Raines CS. Semliki Forest virus-induced demyelination and remyelination--involvement of B cells and anti-myelin antibodies. J Neuroimmunol 2003; 137 (1-2): 19-31.
Donlin LT, Roman CA, Adlam M, Regelmann AG, Alexandropoulos K. Defective thymocyte maturation by transgenic expression of a truncated form of the T lymphocyte adapter molecule and Fyn substrate, Sin. J Immunol 2002; 169 (12): 6900-9.
Fang T, Smith BP, Roman CA. Conventional and surrogate light chains differentially regulate Ig and D heavy chain maturation and surface expression. J Immunol 2001; 167 (7): 3846-57.
Current
Nanda Lahiri, PhD candidate
Abhimanyu Amarnani, M.D./Ph.D. candidate (Ph.D. completed March 2018)
Anna (Ruiyang) Zhen M.A./B.A. Research Assistant (Hunter College/CUNY);
Milena Rodriquez, M.D. (Rheumatology Attending; ECRIP scholar)
COM Students (since 2014)
Nikita Malokhov, '19 (MS1 Summer 2016 Alumni Association; MS4 2018)
Michael Mann, '19 (MS1 Summer 2016 Alumni Association; MS4 2018)
Irina Derin, '22
Brian Ghezelaiagh, '18 (MS1 Summer 2015 Alumni Association)
Mizanur Ahmed, '17 (MS1 Summer 2014 AOA Awardee; MS4 intern)
Jonathan Davila, '17 (MS1 Summer 2014 Alumni Association)