Biotechnology Initiative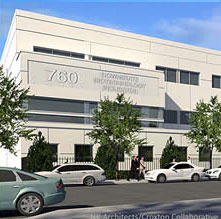 Offering state of the art wet laboratory and office space for start-ups and early-stage biotech companies.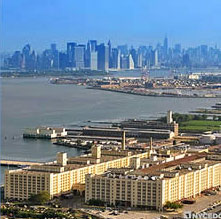 BioBAT at the Brooklyn Army Terminal for biotech expansion and manufacturing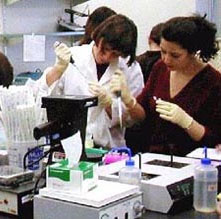 Biotech Workforce Development
Dr. Eva Cramer, Vice President for Biotechnology and Scientific Affairs, has designed and implemented a comprehensive strategic plan to position Downstate at the forefront of New York's growing biotech industry. The plan addresses the industry's most critical needs and includes:
Construction of a Biotech Incubator as part of a biotech park adjacent to Downstate
Development of BioBAT at the Brooklyn Army Terminal for biotech expansion and manufacturing
Development of a symbiotic relationship between biotech companies and Downstate Medical Center
Workforce development programs
The Biotechnology Incubator, which is being built in phases adjacent to the medical center, will be 50,000 square feet when fully constructed. The Incubator, which is currently 24,000 square feet, is completely occupied. An additional 26,000 square feet is being developed and will open in the Spring of 2014. At the incubator, biotech companies have access to an array of academic-based resources (basic and clinical scientists, students, an extensive medical and scientific library, vivarium, specialized research facilities/equipment, seminars and clinical trials).
When biotech companies out-grow the Incubator they can expand into BioBAT at the Brooklyn Army Terminal. Working with the city and the state, Dr. Cramer has established the Brooklyn Army Terminal as a site for biotech expansion and manufacturing. It is a gated, secure (24/7) complex located on a 97-acre waterfront campus across the river from Manhattan. The site, which is accessible by all New York City medical and research institutions, is very adaptable for biotech needs and the International AIDS Vaccine Initiative (IAVI), is the anchor tenant. BioBAT is also being developed in phases and Phase II, 85,000 square feet, is now available for leasing. When fully developed BioBAT will be 524,000 square feet.
To ensure an appropriate labor force, job-training programs in biotechnology have been initiated for graduate students (at Downstate) and with Hunter College of CUNY for biotechnology technicians. This biotech initiative has stimulated significant interest and has been highlighted in various publications, including the New York Times, Crain's New York Business, Newsday, the New York Daily News, the Scientist, American Biotechnology Laboratory, and Nature Jobs. Deans from several universities (e.g. Finland, Russia, Turkey) and representatives from various European and Asian countries (e.g. Canada, China, France, Germany, Great Britain, Hong Kong, Netherlands, Spain and Switzerland) have visited the incubator.