February 2023 Announcements
By Office of Communications & Marketing | Feb 1, 2023
329 Clarkson Avenue Parking Garage Closure
The 329 Clarkson Avenue garage will permanently close at 10:00 PM TODAY, Friday, January 27, due to building infrastructure problems that have escalated safety concerns.
Effective Monday, January 30, 2023, monthly parkers currently assigned to the 329 Clarkson Avenue garage will be temporarily relocated to 355 Lenox Road, which has been expanded into the adjoining lot at 354 Clarkson Avenue for the remainder of January and February 2023. All current 329 Clarkson Garage Monthly Parking customers have been sent more detail via e-mail.
Based on the results of the Parking Survey distributed to monthly parkers in September 2022, new monthly parking assignments will be sent out next week to all the parkers. These changes will go into effect on March 1, 2023.
We remain grateful for your cooperation and patience while we consolidate our locations to make parking for you safe and less onerous.
---
395 Lenox Road Entrance Reopens
We are pleased to share the news that the 395 Lenox Road & East 34th Street entrance is once again open to welcome faculty, students, and staff!
As part of a series of capital upgrades on campus, this project removed the exterior doors to the Basic Science Building (BSB) and Health Science Education Building (HSEB) and replaced them with energy-efficient revolving doors.
The 395 Lenox Road entrance hours are Monday to Friday from 7:00 AM to 9:00 PM and closed on weekends. The building remains accessible via the 450 Clarkson Avenue entrance. The Grove entrance is no longer open for egress to the street.
Take a look at our new doors!
Thanks to the FM&D team for their work on our physical campus. Not only are we improving and beautifying the physical campus, but we are also lessening our carbon footprint with energy-efficient installations and providing ease of access to our Downstate community.
Thank yous are also extended to University Police for adjusting to the staffing needs during the time needed to make this change at 395 Lenox.
---
Mask Mandate Reinstated at Downstate Effective Immediately

Effective immediately, the mask mandate at SUNY Downstate Health Sciences University (Downstate) has been reinstated in response to the rising number and transmission of COVID-19, respiratory syncytial virus (RSV), and influenza (flu) cases, as well as the expected increase following the holiday seasons.
All Downstate employees (hospital and non-hospital) and students must wear masks indoors in all Downstate facilities, including on the Downstate shuttles and at the gym. This notice is effective immediately and will remain in place until further notice or when decisions on whether to extend the mandate will be made based on the transmission of respiratory illnesses at the time.
Masks will be provided at all entrances for anyone who enters a Downstate facility without one.
Furthermore, the Surveillance Saliva Testing program will no longer be offered or required for employees and students. Downstate has obtained an ample supply of take-at-home tests, which are available free of charge voluntarily. Employees and students can obtain the home testing kits using their Downstate ID; the tests are available on the first and third Tuesdays of the month between 11:00 AM and 2:00 PM in the Public Health Academic Building (PHAB) Hall B (450 Clarkson Avenue). Instructions on administering and recognizing positive results will be provided when the home testing kit is picked up.
Employees and students who have obtained an exemption from the mandatory SUNY vaccination requirement must continue to submit to weekly PCR testing, which will now be done at Employee or Student Health Services during their regular business hours. (Note: If you are symptomatic or feel you have been exposed to COVID-19, you should obtain a PCR test either through a local testing agency or through Employee or Student Health Services.)
Vaccination and Booster Shots: Employees and students are highly encouraged to get boosted with the COVID-19 bivalent booster. Additionally, all employees and students must still comply with the NYS DOH or SUNY-mandated minimum vaccination status.
If you have COVID-19 symptoms or if you receive a positive COVID test:
Report any positive result to Employee/Student Health and the Downstate COVID-19 Testing and Contact tracing Corps by e-mail at covid19testtracecorps@downstate.edu, and include the best number to reach you in your email.
Isolate and notify close contacts that you have tested positive.
For VISITORS:
All visitors to the University Hospital at Downstate or anywhere on the Downstate campus who are two years of age and older and can medically tolerate masks are required to wear a mask at all Downstate facilities.
We thank you for your continued vigilance and shared responsibility in keeping our campus safe.
---
SUNY Pilot Telecommuting Policy Extended through June 30, 2023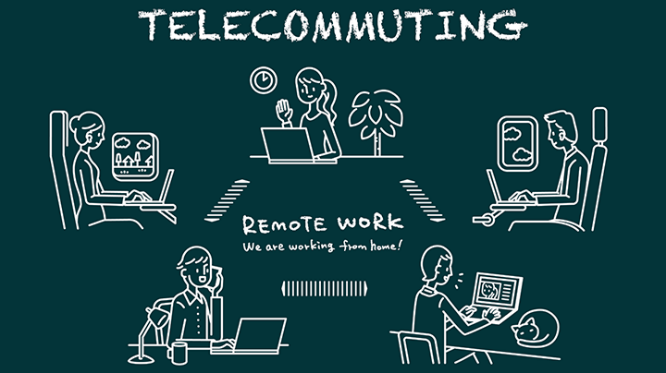 As a reminder, SUNY has extended the Pilot Telecommuting Policy until June 30, 2023.
If you are an employee whose title has been identified as eligible to telecommute, please be advised that the SUNY Telecommuting Policy set to expire for UUP, CSEA, NYSCOPBA, and PBANYS on December 31, 2022, has been extended to June 30, 2023. Therefore, if you have an approved application, no further action is required on your part.
If you have not submitted your telecommuting application and would like to participate, please contact humanresources@downstate.edu for more information.
---
Governor Hochul announces Excelsior Scholarship Application open for New Applicants for Spring 2023
SUNY and CUNY Students Whose Families Make Up to $125,000 Annually Can Apply for Tuition-Free College
Applications Accepted Through February 9, 2023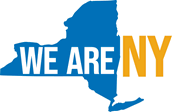 Governor Kathy Hochul today announced that the application for the Excelsior Scholarship for new applicants for the Spring 2023 term is now open here. The Excelsior Scholarship, in combination with other student financial aid, allows eligible full-time students to attend a SUNY or CUNY two-year or four-year college tuition-free.
"Since its inception, the Excelsior Scholarship has enabled tens of thousands of students from low and middle-income families the chance to pursue a quality education tuition-free," Governor Hochul said. "By easing the financial burden associated with the cost of attending college, students and their families can focus on their education, providing New York's students every possible opportunity to climb the ladder of success."
Students from households with federal adjusted gross incomes up to $125,000 are eligible for a Spring Excelsior Scholarship award. Students must also:
Plan to attend a SUNY or CUNY two or four-year college

Complete 30 credits per year towards their program of study (including Summer and Winter terms); and

Be on track to graduate with an Associate's Degree in two years or a Bachelor's Degree in four years
Dr. Guillermo Linares, President of the New York State Higher Education Services Corporation said, "The cost to attend college is often a barrier for students from low and middle-income families who wish to experience the benefits that come from earning a postsecondary degree or credential. The Excelsior Scholarship offers the opportunity for students who, without financial support, could not readily afford to purse a college degree."
SUNY Interim Chancellor Deborah F. Stanley said, "The data clearly shows that a college degree is the most effective tool for upward mobility - boosting earning power, expanding career opportunities, and even lengthening your life. Yet that experience remains out of reach for far too many. The Excelsior Scholarship helps address the college affordability problem, reinforcing SUNY's longstanding commitment to delivering a world-class education by eliminating financial barriers for hardworking students from across the state. I applaud Governor Hochul's ongoing efforts to help more New Yorkers earn and benefit from a SUNY education."
CUNY Chancellor Félix V. Matos Rodríguez said, "The Excelsior Scholarship program has aided CUNY's efforts to expand educational opportunity and access for New Yorkers of all backgrounds. Excelsior has given thousands of CUNY students the opportunity to attend college tuition-free, opening the door to educational achievement, career success and, ultimately, economic and social advancement. We thank Governor Hochul for her continued recognition of the unmatched value and importance of higher education for all New Yorkers."
The Excelsior Scholarship is just one of the many ways New York State makes college affordable and accessible. Check out the New York State Higher Education Services Corporation website to explore other options available to help pay for college.
The Spring 2023 Excelsior Scholarship application is open to first-time students entering college in the Spring 2023 term and current college students who have never received the Excelsior Scholarship. Students currently receiving an Excelsior Scholarship do not need to complete this application to receive continued award payments. Students eligible for the Excelsior Scholarship under the Senator José Peralta New York State DREAM Act can apply here.
Applications will be accepted through February 9, 2023.
---
Upcoming Events
NYS/CSEA Partnership Online Courses
Please be advised that the NYS/CSEA Partnership is offering the following online courses for CSEA-represented staff:
Adult Education Basics – Reading (Application Deadline 3/28/23)

This six-week course will help participants read and understand written materials.
Requires a three-hour commitment on Tuesdays & Thursdays from 9:30AM-12:30AM from 4/11/23-5/18/23. As such, participation must be approved by supervisors, subject to operational needs.
Certificate Programs (Apply between 2/9/23 – 2/8/24. Courses must be completed by 2/9/24)

A certificate can prepare CSEA-represented NYS employees to advance their careers or gain extra knowledge to stay competitive in their current positions. Supervisory approval is not required for courses taken outside the employee's normal workday. Should the course fall within the employee's workday, participation must be approved by supervisors, subject to operational needs.
Offerings:
Please post the attached information on your bulletin boards and share with your CSEA Staff.
Completed applications should be sent directly to the NYS/CSEA Partnership at 518-473-0056 (fax) or learning@nyscseapartnership.org (email).
Corebridge Financial (Formerly AIG) Updated Appointment
February 14 - March 29, 2023
7:45 AM - 2:30 PM

Now is a great time to meet and discuss your financial future and ensure you're on the path to the retirement you want.
When we meet, we can discuss:
The benefits of enrolling in your workplace retirement plan
How to boost your overall financial wellness
The resources available to help shape the future you want
Your broader financial goals so we can put a plan in place to help you get there
We can meet in person at any time that is convenient to you.
Schedule time to meet with me today!

We are available.
Dates:
Tuesday, February 14th
Tuesday, February 28th
Wednesday, March 8th
Wednesday, March 29th
Time: 7:45 AM to 2:30 PM
(45 minute appointments available)
Location:
Downstate Health Sciences University
Downstate Library – 1st Floor Lenox Entrance
HSEB – Health Science Education Building
Schedule a time that works best for you.
Schedule now
We see the future in you.

Questions? Here's who to call:
Richard Grofsick, CFP®
Financial Advisor
Direct: 973.902.8488
Office: 518.783.6464
richard.grofsick@aig.com
15 British American Blvd.
Latham, NY 12110
Michael L. Grofsick
Financial Planning Advisor
Direct: 973.461.3834
Office: 518.783.6464
michael.grofsick@aig.com
15 British American Blvd.
Latham NY 12110
Special Centerwide Assembly Meeting
Thursday, February 16, 2023
4:00pm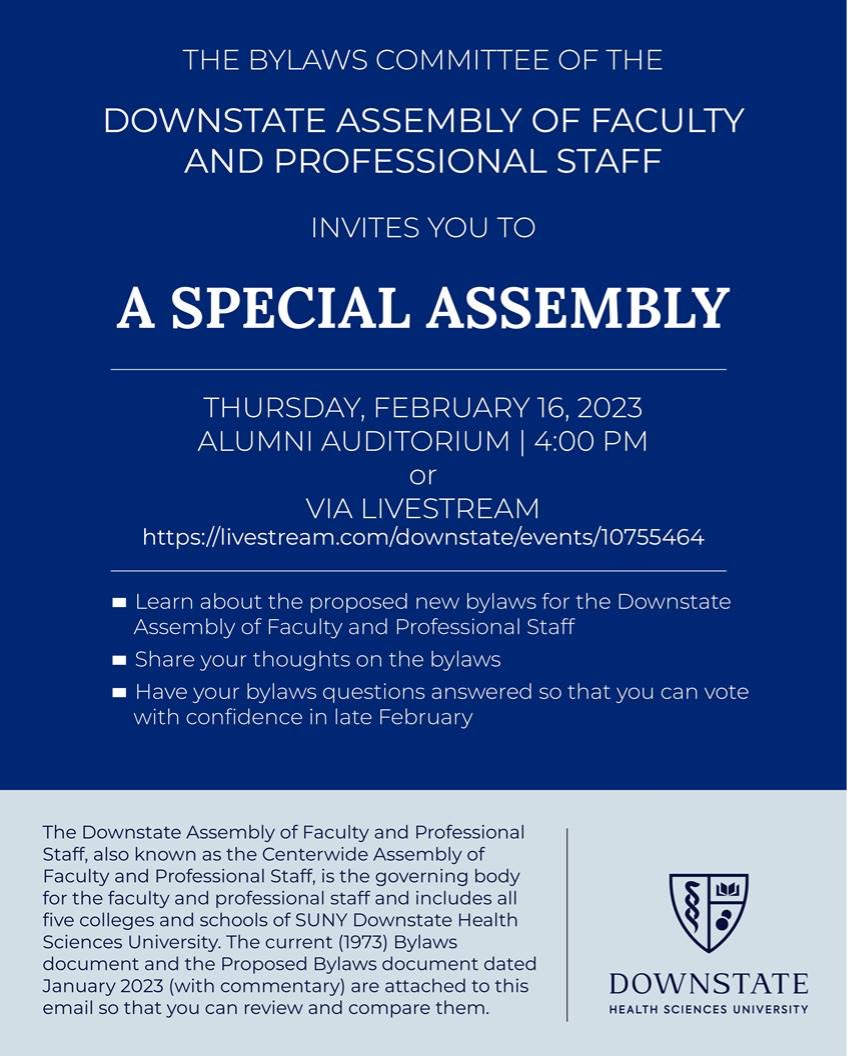 ---
Fireside Chat: A Half Century of Equity in Medicine
Thursday, February 21, 2023
2:00 PM - 3:30 PM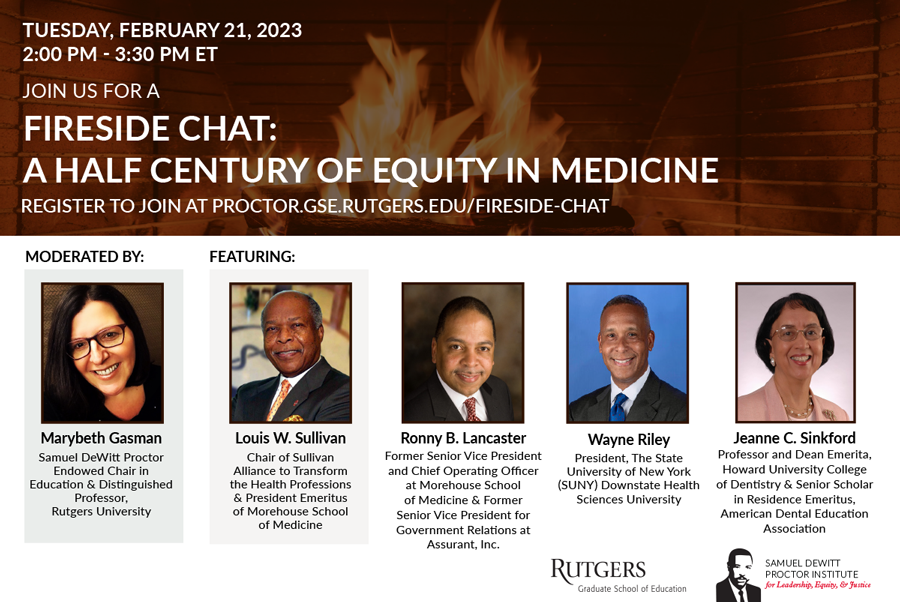 Register to join at proctor.gse.rutgers.edu/fireside-chat
---
Decolonizing Neurosurgery in Black Communities:
A Critical Conversation about Race, Ethnicity, and Community Empowerment in Neurosurgical Inequities
Wednesday, February 22nd, 2023
10:00 AM - 11:30 AM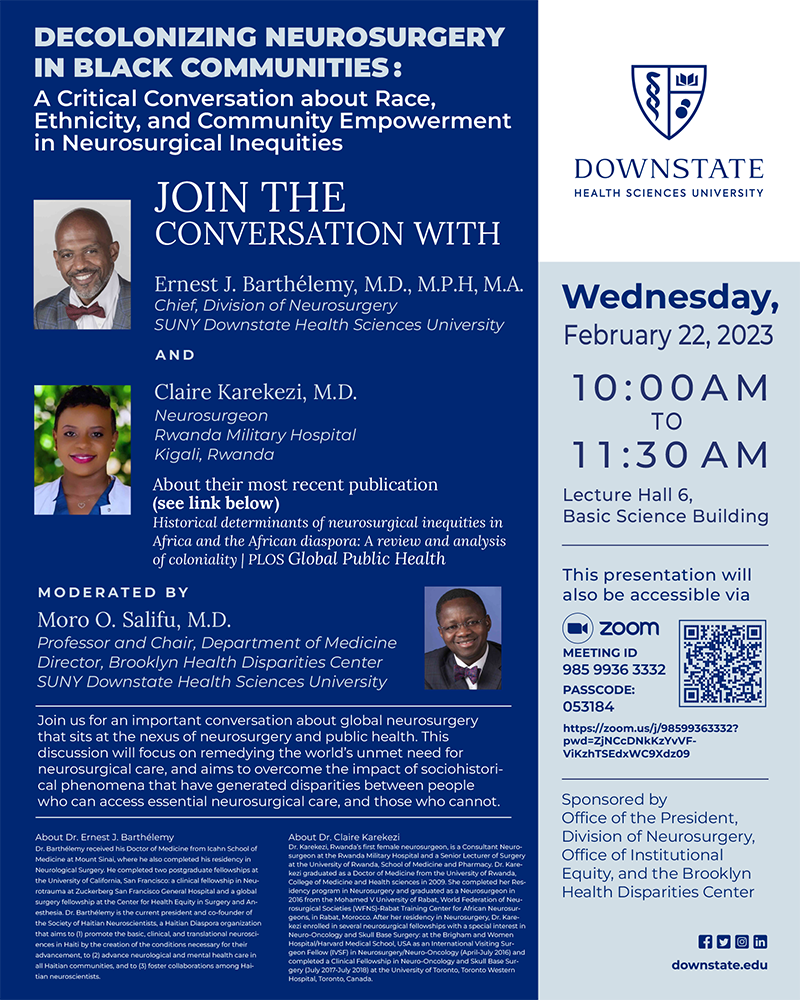 Third Annual SOHP Dean's Lecture Series: "Using Data-driven Decision Making to Improve a Clinical Practice or Program"
Wednesday, February 22, 2023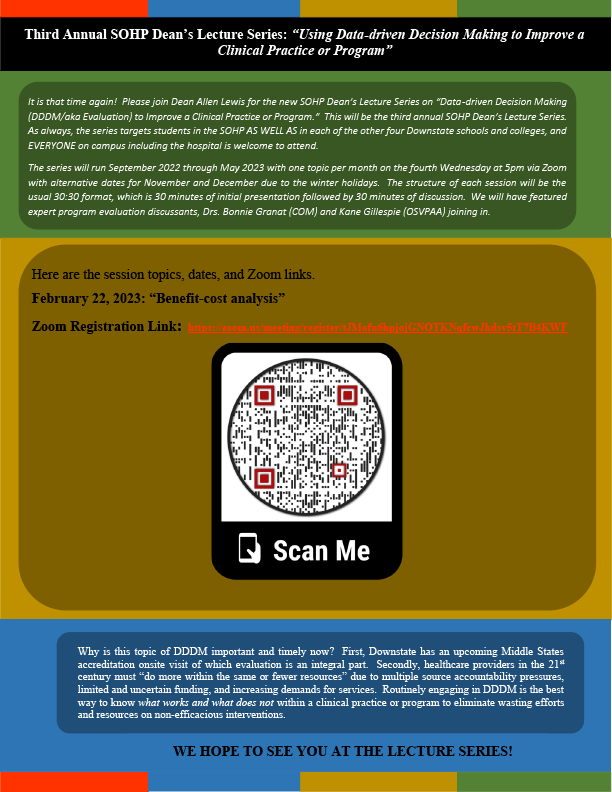 ---
8th Annual Cancer Health Disparities Symposium
Friday, March 3rd, 2023
8:30 AM - 4:00 PM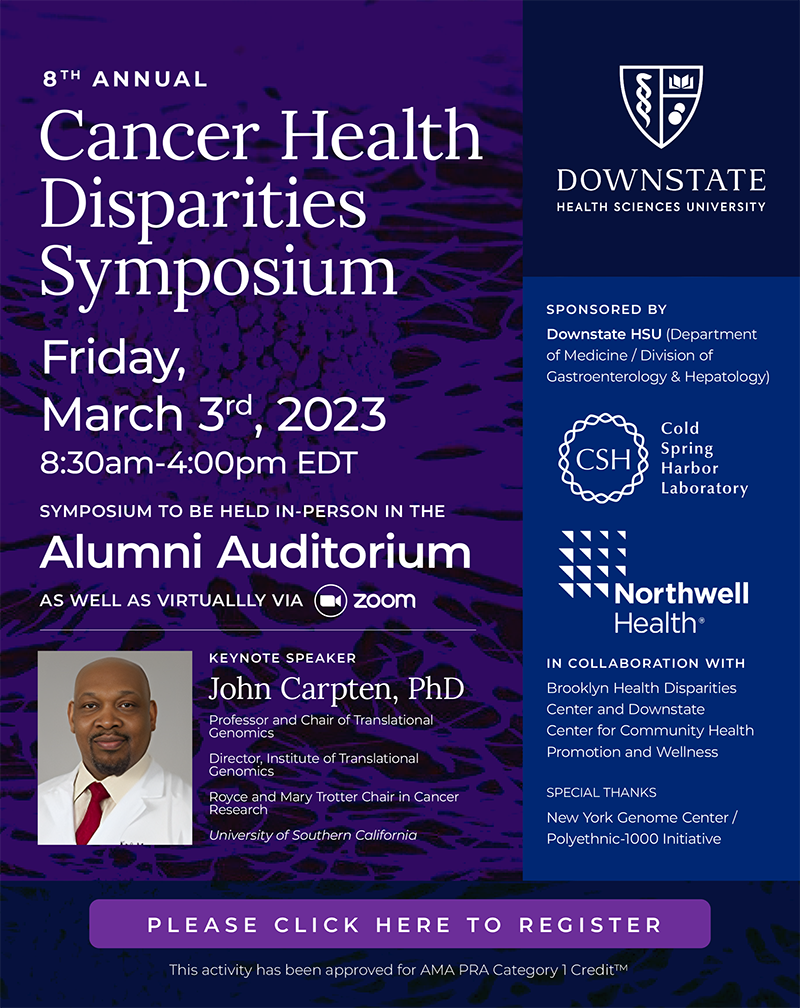 ---
The School of Health Professions Presents their 3rd Annual Career & Networking Event
Friday, March 21st, 2023
6:00 PM - 8:00 PM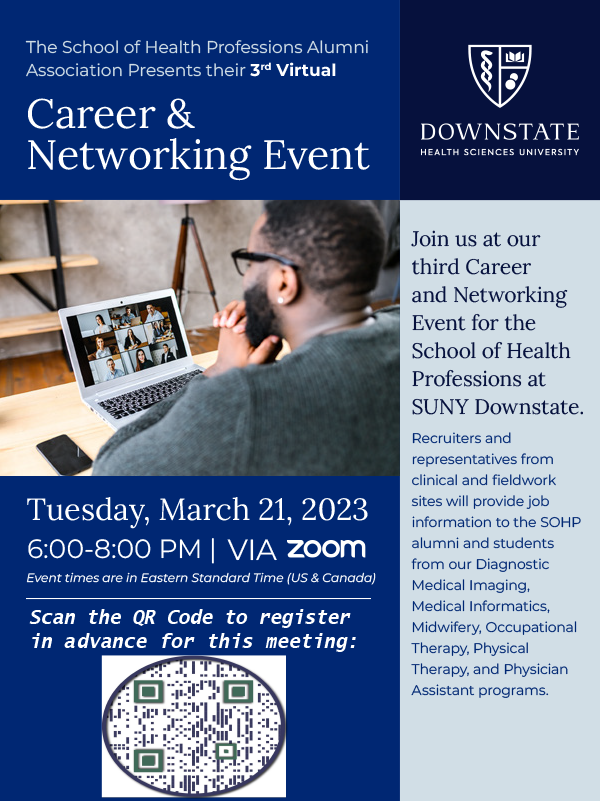 ---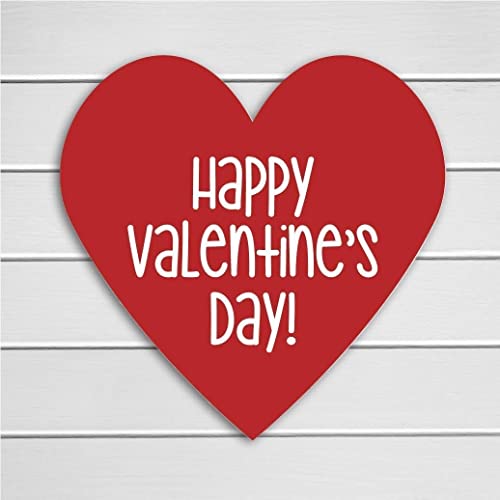 Valentine's Day
Tuesday, February 14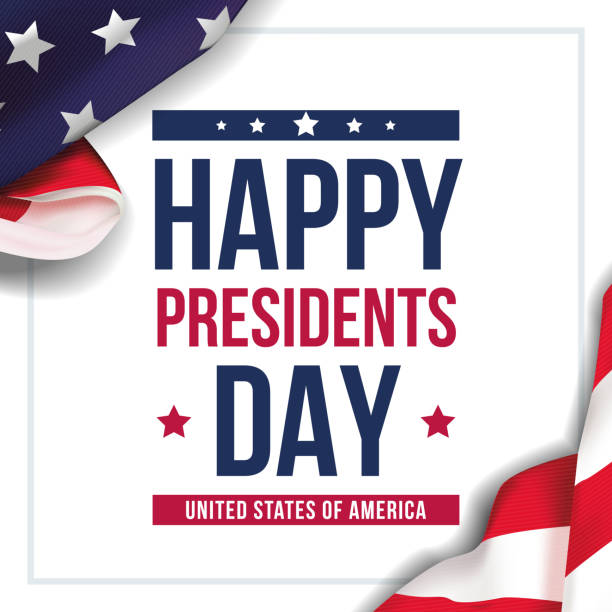 President's Day
Monday, February 20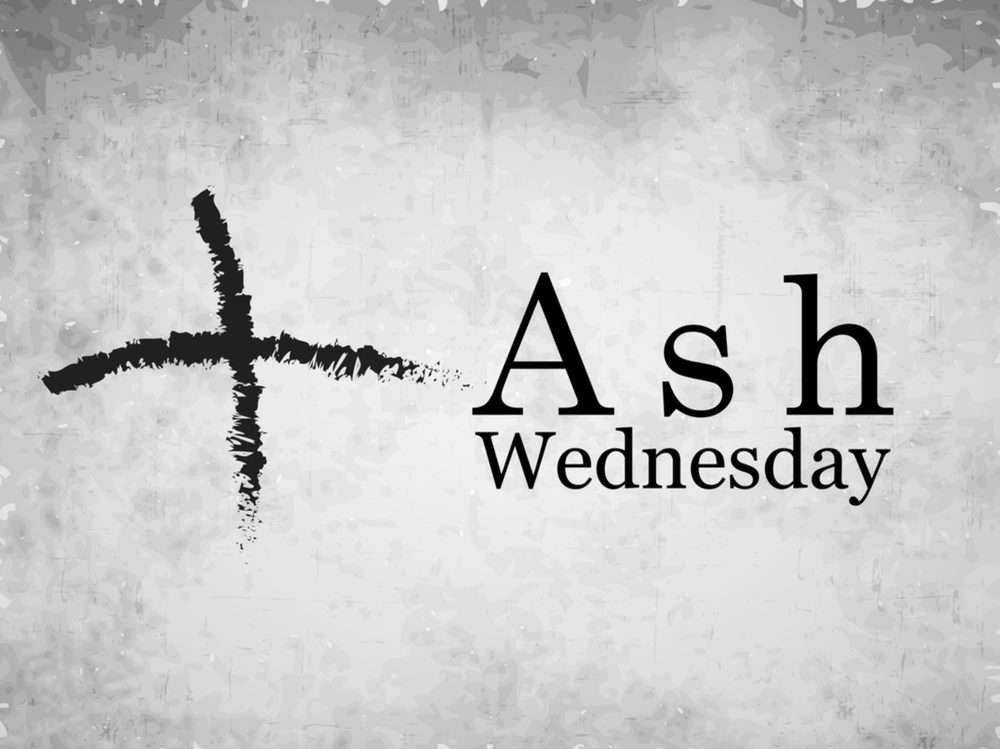 Ash Wednesday
Wednesday, February 22
---
Calendar of February observances, celebrations, and recognitions!
Health Observances:
2/1-7: National Patient Recognition Week

2/5-11: National Burn Awareness Week

2/6-10: ACOG National Wellness Week

2/6-12: Peri-Anesthesia Nurses Week

2/7-14: Congenital Heart Defect Awareness Week

2/12-18: Cardiac Rehabilitation Week

2/13-17: Gold Humanism Honor Society Solidarity Week for Compassionate Patient Care

2/13-19: Duchenne Muscular Dystrophy Awareness Week

2/13-19: Cardiac Rehab Week

2/13-17: Phlebotomist Recognition Week

2/14-20: Cardiovascular Professionals Week

2/20-26: National Eating Disorders Awareness Week
Health Observances:
Age-Related Macular Degeneration (AMD) Low Vision Awareness
American Heart Month
Kids ENT Health Month
National Cancer Prevention Month
National Children's Dental Health Awareness Month
Prenatal Infection Prevention Month
Teen Dating Violence Awareness Month
Check back for regular updates to this page!
* New information highlighted in yellow *