June 2023 Announcements
By Office of Communications & Marketing | Jun 1, 2023
Disallowed HP & Toshiba Toner Purchases
The Department of Information Services and Technology is pleased to announce that starting April 13, 2023 Toshiba will begin to support designated HP and Toshiba brand devices, which will provide a one stop shop for hardware repairs and automatic delivery for toners.
What does this mean to you?
Please continue to contact service desk to report any printing issues on supported devices. Service Desk will arrange for a Toshiba Technician to resolve any hardware issues as needed. Toner usage will be monitored by Toshiba and refills will automatically be delivered as needed, therefore additional purchases should not be made. For further details please refer to the Quick Guide.
During the week of April 24, 2023, the IT Team alongside Toshiba's Team will be visiting your work space to tag supported HP and Toshiba devices with a green "Keep" sticker. This sticker will contain the device model and serial number needed when reaching out to Service Desk.
Need more information?
This is a part of the SUNY Policy and Procedure in an effort to reduce the cost of printing, waste and paper, simplify and standardize the printer fleet (reduce color and single-function printers), and secure/optimize the print environment.
By participating in this program, SUNY Downstate intends to save between $695K- $1.0M annually and reduce its yearly carbon footprint by nearly 664,000 lbs.
---
Interim Payroll Director
Due to the recent departure of Payroll Director, Jennifer Del Rosario, the Finance Department would like to announce that Yvonne Knight, who has 33 years of experience within the department, will assume the responsibilities of Payroll Director on an interim basis.
The Payroll Department, through Ms. Knight will report directly to me.
The Payroll Team are as follows:
Loren Brown
Netfa Baggoo
Christopher Lee
Please reach-out to the Payroll Department at 718-250-1139 or via email at payroll@downstate.edu; Yvonne Knight or myself if you have any questions or need assistance.
cc: Richard Miller, VP Finance/Chief Financial Officer
---
Downstate Health Welcomes new
Senior Associate Vice President for Ambulatory Care Services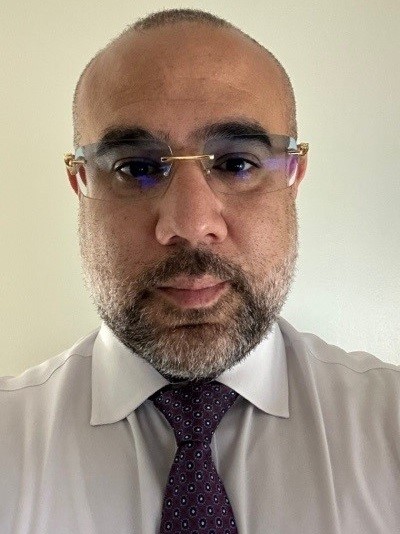 Downstate Health Sciences University welcomes Hesham Shaaban, as our Senior Associate Vice President for Ambulatory Care Services. Mr. Shaaban will oversee all the ambulatory care services and patient access. This role will cover our University Hospital at Downstate and other clinical sites to ensure operational efficiency and financial sustainability.
He joins us with experience as a highly effective leader delivering results in management roles in healthcare. He offers expertise in leading the implementation of strategies to meet set goals for efficiency, productivity, patient satisfaction, and financial benefit.
In his previous role as Chief Operating Officer for Princeton Medical Group in Princeton, New Jersey, his accomplishments include improving access to care, standardization of processes, increasing patient volume/utilization, implementation of patient portal/call center, and improving revenue cycle collections. Mr. Shaaban comes to us with two decades of leadership and team building experience, including 17 years served at New York City Health and Hospitals in various leadership roles.
He will ensure the efficient economic and quality performance of assigned departments to support our mission and provide quality health care services. His role will also provide the responsible preparation and management of departmental budgets and oversee departments so they are continuously compliant with CMS accreditation standards and those of other accrediting bodies where relevant. Mr. Shaaban will report to Patricia A. Winston, DNP, MS, RN, NEA-BC, FACHE, Senior Vice President for Hospital Operations.
Mr. Shaaban received his Master's in Healthcare Administration from New York University in Manhattan, NY. He has previous experience serving in Brooklyn that primarily focused on preventing disease and promoting healthy lifestyles for patients within the community.
Mr. Shaaban is located at the hospital in room A1-394, and can be reached via e-mail at Hesham.Shaaban@downstate.edu, by phone at 718-270-8979, and his mail stop is (MSC) 23.
Please join us in giving a warm welcome to Hesham Shaaban as a new member of the Downstate family.
---
State of the University Address Chancellor John B. King Jr.

On Wednesday, May 31, State University of New York Chancellor John B. King, Jr. delivered his inaugural State of the University Address, announcing plans for SUNY's first major investments in student success from the historic commitment to public higher education in this year's state budget – informed by his recently completed 64-campus tour.
Joined by Governor Kathy Hochul, Chancellor King spoke in Albany to an audience of the SUNY Board of Trustees, government officials, distinguished guests, and members of the SUNY community – including students, faculty, staff, campus leadership, and employer partners.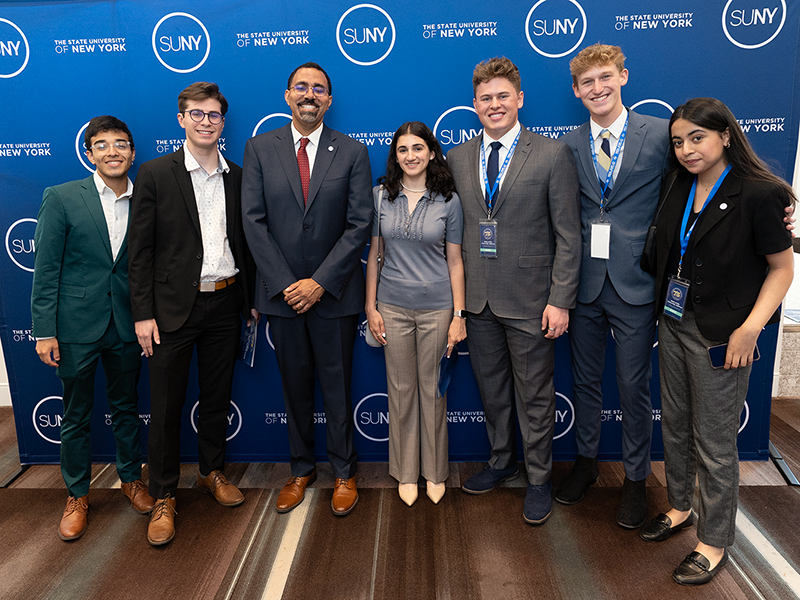 ---
UPD Announce Evolv Weapons Detection System (Evolv)
In response to the seemingly endless tragic mass shootings nationwide, the President's Office has instructed University Police Department (UPD) to impose greater rigor in screenings at the various entrances to our campus, including enhancing technology to improve safety for all constituent groups. As such, UPD is proud to announce the deployment of the Evolv Weapons Detection System (Evolv) throughout the campus.
Evolv is a non-intrusive system that balances a new approach in technology with the community's needs and understanding the role that security measures play in reducing anxiety and improving safety on campus. The system incorporates state-of-the-art weapons detection that identifies weapons while ignoring harmless personal items as students, staff, patients, and visitors enter at a natural pace. This technology has been employed around the state, including at other SUNY campuses. We want to ensure that we are doing everything possible to keep each member of the Downstate community safe.
Regardless of these new measures, always remember that safety is a shared responsibility. If you hear, see, or have an alarming or unusual experience on or near the campus, it is vital that you immediately contact UPD at X-2626 or from a non-campus phone at (718) 270-2626. If you are off campus, dial 911 for emergency assistance. Timely reporting can help prevent crimes or other incidents.
---
Register Today for an Upcoming Active Violence Emergency Response Training (AVERT)
AVERT, short for Active Violence Emergency Response Training goes beyond active shooter training by teaching emergency bleeding control techniques, warning signs of a potential aggressor, quick response in a violent situation, escape, evade, or attack in critical seconds during an event, and staff confidence needed to respond. University Hospital at Downstate is now a training center with 14 certified instructors that includes staff from Emergency Management, University Police, the HAZMAT team, and the ED.
Please RSVP by using the link below to register for an upcoming Active Shooter Training:
---
UPDATE: Wearing Masks in the Hospital and Clinical Areas

As of now, we will not screen staff or visitors at the entrance utilizing WellScreen or with hand-held devices. If any employee has any symptoms related to COVID-19, please report to Employee Health Service.
Masks are to be worn on all inpatient nursing units, the Emergency Department, procedure areas, diagnostic testing areas, Student Health Center, Employee Health Service, and all outpatient clinics.
Masking will no longer be required in first-floor corridors, lobbies, the cafeteria, break rooms, conference rooms, and offices.
Staff who elect to wear face masks should continue to feel comfortable doing so.
It is strongly recommended that staff, patients, and visitors with respiratory symptoms wear a face mask and practice respiratory etiquette.
The Infection Control Office actively monitors the situation and will adjust the hospital masking policy accordingly. Our paramount concern remains with the safety of our patients, visitors, and staff.
We thank everyone for their continued dedication and cooperation.
---
SUNY Pilot Telecommuting Policy Extended through June 30, 2023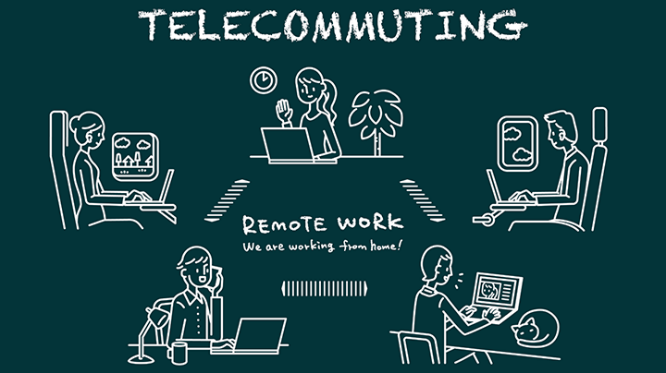 As a reminder, SUNY has extended the Pilot Telecommuting Policy until June 30, 2023.
If you are an employee whose title has been identified as eligible to telecommute, please be advised that the SUNY Telecommuting Policy set to expire for UUP, CSEA, NYSCOPBA, and PBANYS on December 31, 2022, has been extended to June 30, 2023. Therefore, if you have an approved application, no further action is required on your part.
If you have not submitted your telecommuting application and would like to participate, please contact humanresources@downstate.edu for more information.
---
SYEP (SUMMER YOUTH) REQUEST FORM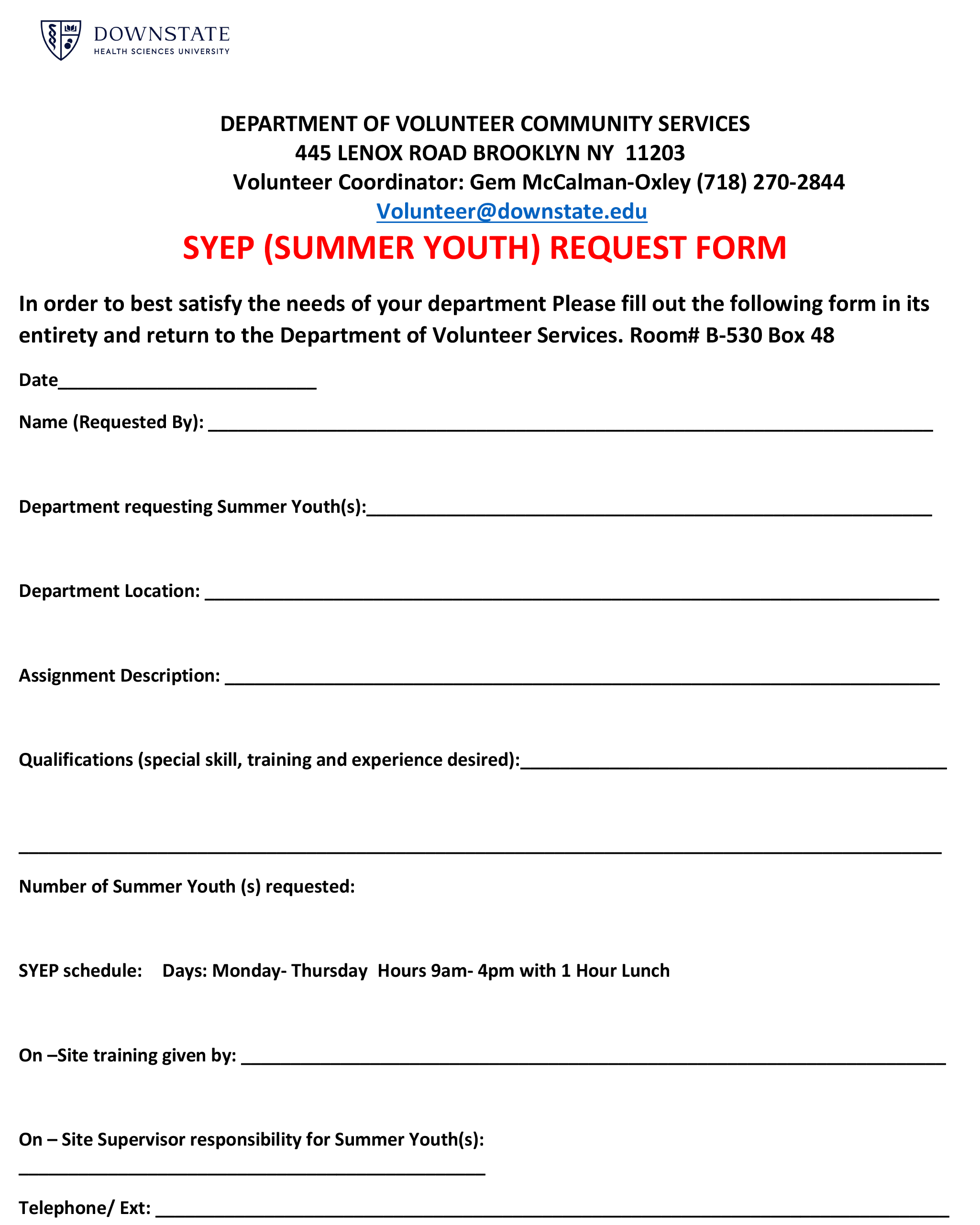 FOR MORE INFORMATION ABOUT THE CONTENT OF THIS MESSAGE, PLEASE CONTACT:
Department of Volunteer Services at 718-270-2844 or e-mail Volunteer@downstate.edu
We are pleased to inform you that the University Hospital at Downstate six-week (SYEP) Summer Youth 2023 program will begin July 5, 2023.
A Summer Youth request form is attached. For information regarding clerical volunteer opportunities and internships, please feel free to contact
Gem McCalman-Oxley SYEP/ Volunteer Coordinator at 718-270-3241 or ext. 2844
---
June 2023 Information Security Awareness Newsletter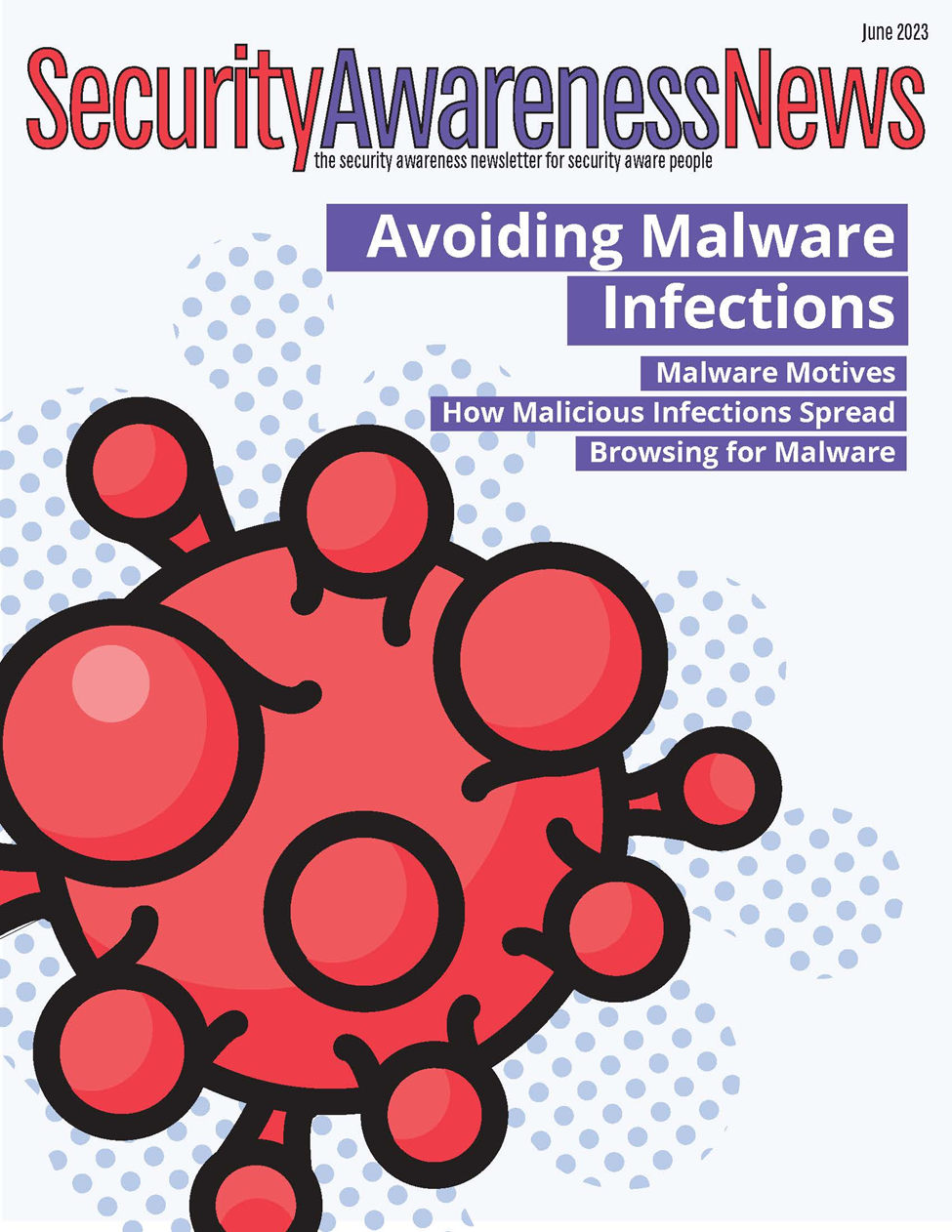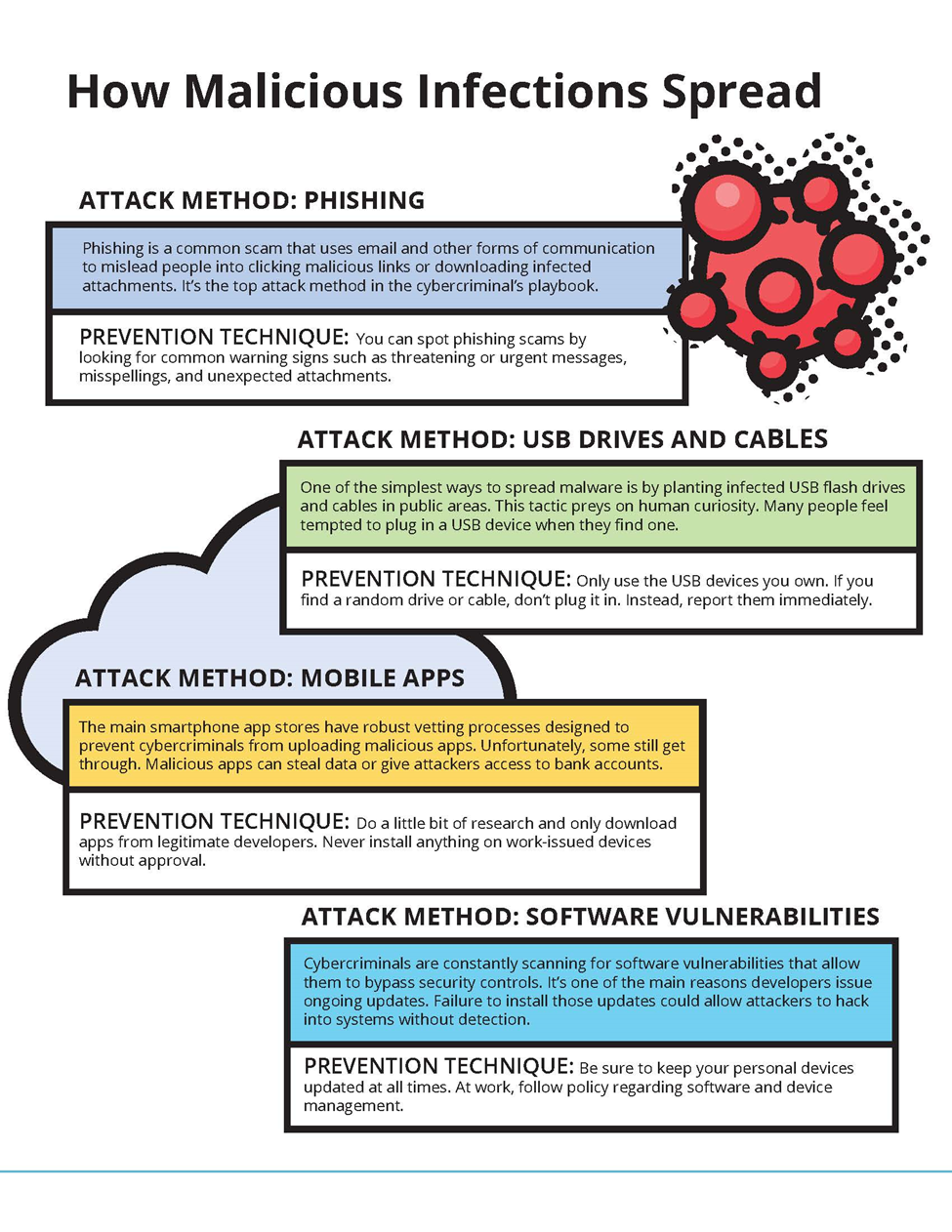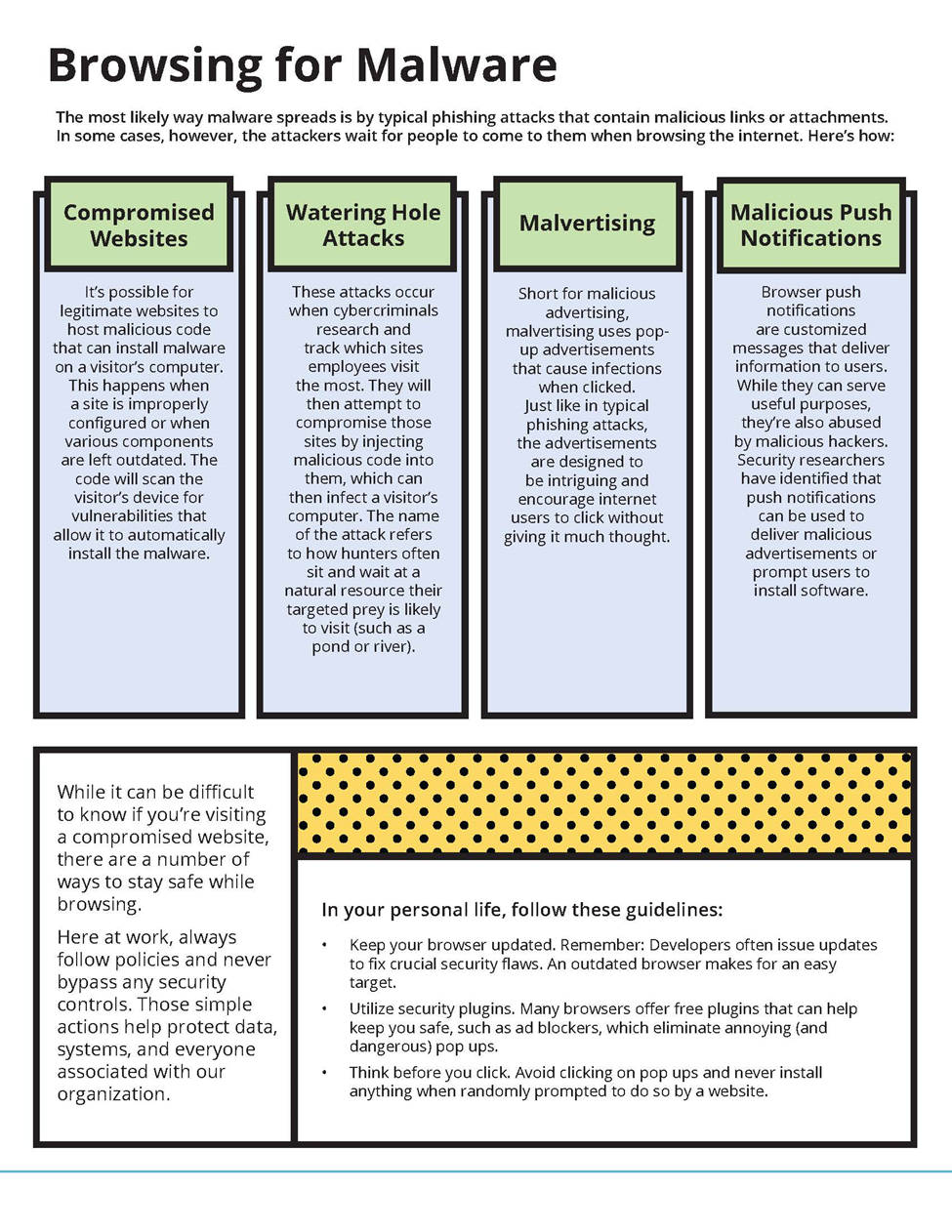 ---
Upcoming Events
Lend Workshop Panel Discussion:
Systems Change and Leadership Supporting Individuals with Neurodevelopmental Disabilies
Friday, June 23, 2023
11:00 am - 1:00 pm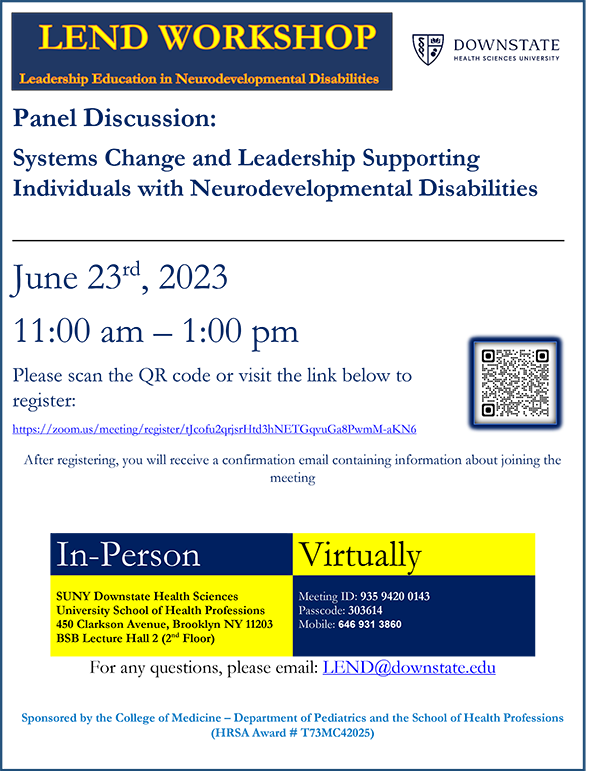 ---
June 2023 WellNYS Daily To-Do
Wednesday, June 14
12:00 PM
WellNYS Everyday is a wellness initiative dedicated to educating, engaging, and empowering New York State employees to choose to eat foods that are healthy for them and to be physically active.
The June monthly WellNYS Daily To-Do is to start and end your day with a positive habit. Join us on Wednesday, June 14, at 12:00 noon for the webinar, "Start and end your day in a positive way."
I hope you can join us!!!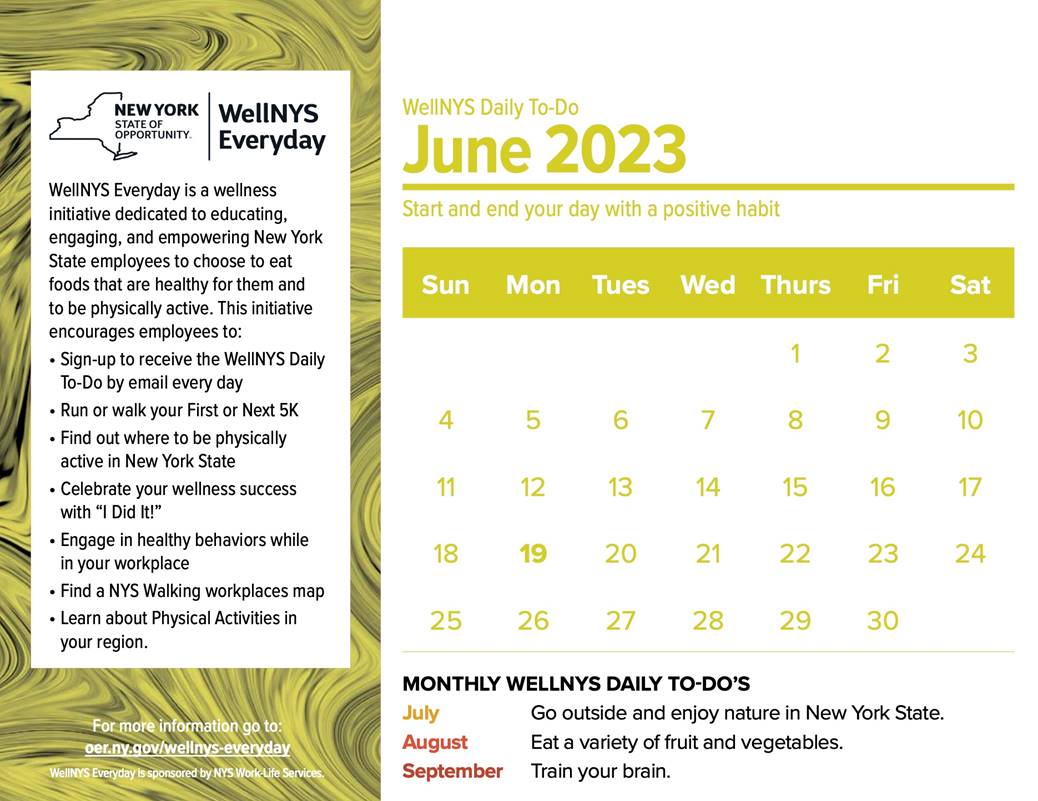 ---
Corebridge Financial - Benefits: Retirement & Financial WORKSHOP:
Wednesday, June 14th
3:00 PM – 5:00 PM

Retirement Income Strategies/Social Security Workshop
When we meet, we can discuss:
Take an in-depth look at Social Security
How to boost your overall financial wellness
Insights on estimating your benefits, tax implications in retirement
Your broader financial goals so we can put a plan in place to help you get there
We can meet in person at any time that is convenient to you.
Schedule time to meet with me today!
We are available.
Wednesday, June 14th
Social Security Strategies WORKSHOP:
3:00 – 4:00 PM
Wednesday, June 14th
Retirement Income Strategies Workshop:
4:00 – 5:00 PM
Workshop Location: Auditoria ABC – 1st Floor Education Building
(395 Lenox Entrance)
One-on-One Financial Planning Appointments
Dates: 5/31/23, 6/14/23
Time: Starting 7:45 AM – 2:00 PM
(45 minute appointments available)
Location: Downstate Health Sciences University
Downstate Library – 1st Floor Lenox Entrance
HSEB – Health Science Education Building
Schedule a time that works best for you.
We see the future in you.SM
---
Join Us for Nursing Grand Rounds!
Thursday, June 15, 2023
12:30 PM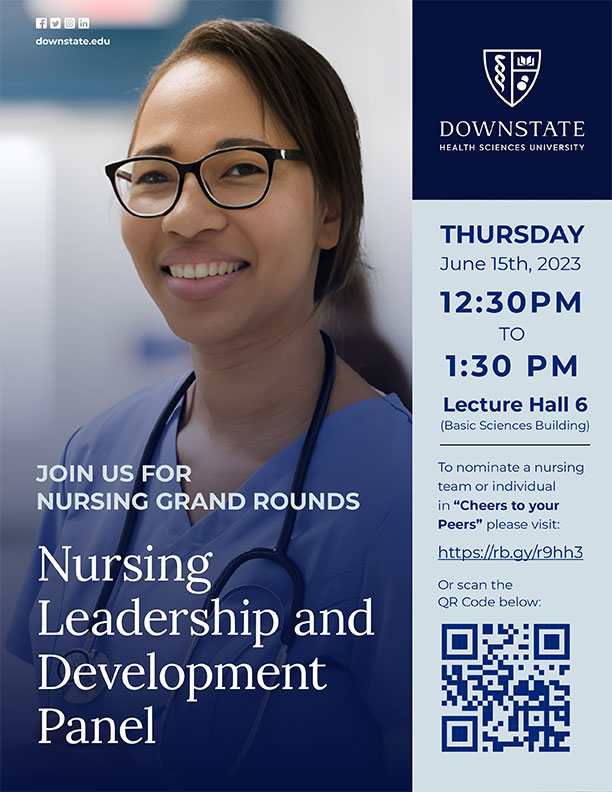 ---
Alzheimer's & Dementia in Communities of Color
Friday, June 16, 2023
8:00 AM - 12:00 PM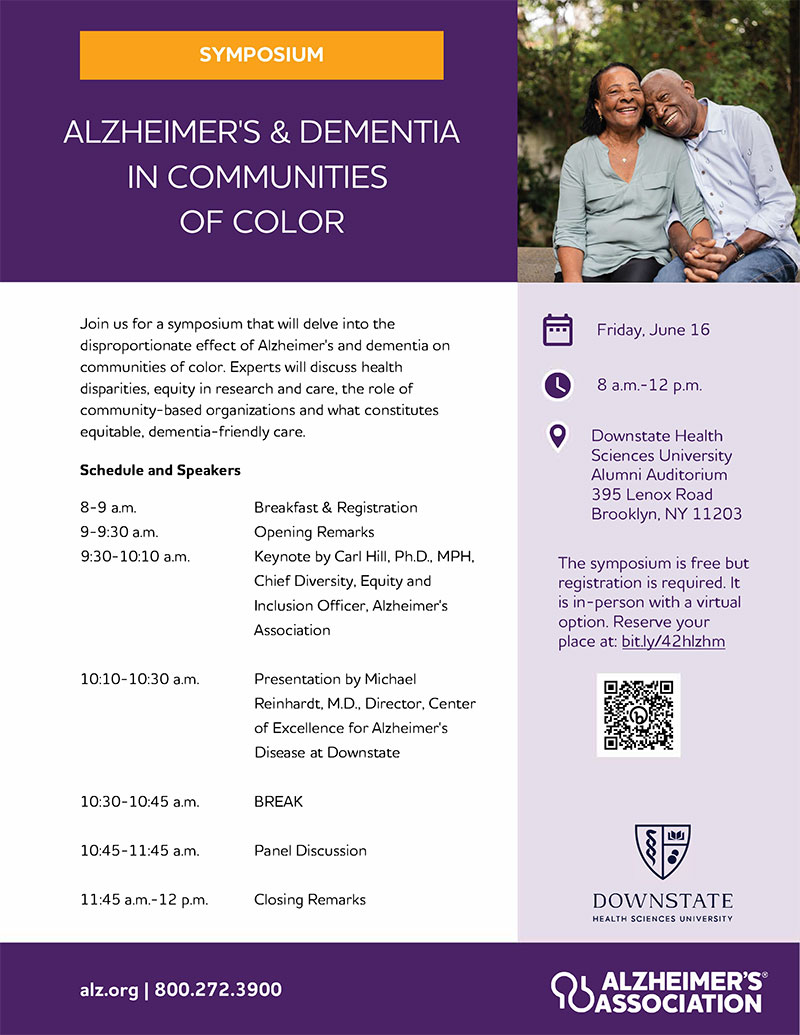 ---
SUNY is a Place for Pride
Sunday, June 25, 2023
11:00 am - 4:00 pm

The State University of New York (SUNY) was created in 1948 to fulfill a crucial promise: provide high-quality college education to all, by welcoming those who were so often denied. Seventy-five years later, the foundational commitment that explicitly opened doors to those who had been barred remains the crucial thread in the underlying fabric of the SUNY System of higher education.
Indeed, our students and faculty are often on the front lines, advocating for change and pushing SUNY to be better for all. Progress has been made, stumbles have occurred, and new barriers have been identified, but together, we continue to move forward.
As the rights and existence of the LGBTQIA+ community are under attack across the country, SUNY—like New York State—will resolutely remain a place for Pride. Be who you are. Discover who you are. Love who you love. Your place is at SUNY.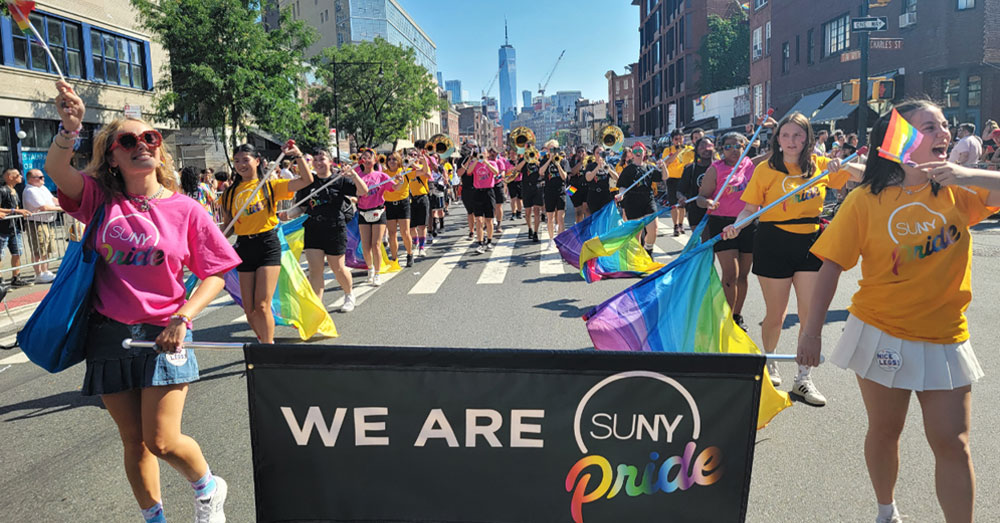 Join us at NYC Pride
We're proud to once again support our LGBTQIA+ community at SUNY and around the world at the 2023 NYC Pride March. We invite you to join us.
---
Holidays / Observances
Days
6/17: National Nursing Assistants Day
Weeks
6/4-10: Healthcare Executives Appreciation Week
6/15-21: National Nursing Assistants Week (Nursing Assistants and Orderlies)
6/19-23: Health Risk Management Professionals Week
Days
6/4: National Cancer Survivor's Day
6/5: HIV Long-Term Survivors Awareness Day
6/5: World Environment Day
6/6: National Hunger Awareness Day
6/6: National Huntington's Disease Awareness Day
6/8: National Caribbean American HIV/AIDS Awareness Day
6/8: World Brain Tumor Day
6/10: Family Health and Fitness Day
6/11: Abused Women's and Children's Awareness Day
6/14: World Blood Donor Day
6/15: World Elder Abuse Awareness Day
6/18: Autistic Pride Day
6/16: Wear Blue Day (to recognize men's health)
6/19: World Sickle Cell Day
6/25: World Vitiligo Day
6/27: National HIV Testing Day
Weeks
6/12-18: Community Health Improvement Week
6/12-18: National Men's Health Week
6/15-21: National Black Family Cancer Awareness Week
Month
Alzheimer's and Brain Awareness Month
Cancer from the Sun Month
Cataract Awareness Month
Disaster Preparedness Month
Fireworks Eye Safety Month
Hernia Awareness Month
Men's Health Month
Myasthenia Gravis Awareness Month
National Aphasia Awareness Month
National Congenital Cytomegalovirus Awareness Month
National Migraine and Headache Awareness Month
National Safety Month
National Scleroderma Awareness Month
PTSD Awareness Month
Scoliosis Awareness Month
Vision Research Month
World Infertility Month
Days
6/4: Trinity Sunday (Christianity)
6/5: World Environment Day
6/6: World War II D-Day Anniversary
6/11: Race Unity Day (Bahai)
6/11: Corpus Christi (Catholicism)
6/11: National Puerto Rican Day Parade
6/14: Flag Day
6/18: Father's Day
6/19: Feast of the Sacred Heart
6/19: Juneteenth
6/20: World Refugee Day
6/21: Summer Solstice
6/23: Public Service Day
6/24: First of Rahmat – Mercy (Baha'i)
6/25: Annual NYC Pride March
6/26-7/1: Hajj (evening to evening)
Month
Pride Month (LGBTQI+)
Caribbean American Heritage Month
National Immigrant Heritage Month
Check back for regular updates to this page!
* New information highlighted in yellow *