Chairman's Message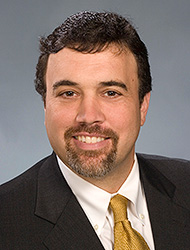 Welcome to the Department of Orthopaedic Surgery and Rehabilitation Medicine at University Hospital of Brooklyn. Our excellent physicians work closely as a team to provide you with comprehensive operative and non-operative care at one of our five convenient locations. Our physicians, all faculty appointed at SUNY Downstate Medical Center, are not just familiar with the most cutting-edge treatments, but are experts in their field who also teach these latest techniques and procedures to doctors-in-training and medical students on a daily basis.
We provide the full spectrum of care for orthopaedic conditions under a single department. Our clinical services include diagnoses of common and uncommon conditions with the aid of the newest diagnostic imaging modalities, non-operative treatments including a variety of injections and rehabilitation services, and when necessary, surgical services for a wide variety of pediatric and adult musculoskeletal conditions.
As Brooklyn's premier academic institution, our physicians are not just educators, but also physician-scientists who are helping to advance pioneering medical treatments. We are the home to several basic science and clinical research laboratories which ensures that they latest advances in medical knowledge can be quickly applied to benefit the patients who rely on our specialists for their medical care.
But most important of all, everyone in our department is dedicated to providing that type of personal, compassionate, care that we consider to be an invaluable component for providing you the highest level of care. I invite you to find out more about the clinical services and office locations that we offer and look forward to working together with you to improve your quality of life.