Tracks
Traditional Categorical Track
This is a fully accredited three years training program. We are an X+Y system and our curriculum is designed on a 4+2 model. Residents get a comprehensive and well rounded training both in the inpatient and the outpatient settings. During the 4 week X blocks, residents rotate through inpatient floors, critical care units, the Kings County emergency department and elective/coverage. During their ambulatory blocks, the residents see their own panel of patients in the continuity clinic and rotate through various sub specialty clinics to get a diverse training experience. All residents who are involved in research projects have the opportunity to get dedicated time for research on their Y block and they also get faculty support and help as needed. This 4+2 model enhances the learning experience of residents on one hand while ensuring a good work life balance on the other hand.
HASP (Healthcare Administration and Scholarship Program) TRACK
What is HASP?
The Healthcare Administration Scholars Program (HASP) is offered to PGY2 residents from all specialties that provides:
Formal training in healthcare administration through didactics
Exposure to hospital leadership, mentorship, hands-on experience
An opportunity to complete a substantial quality improvement project in Kings County Hospital.
The overall goal of HASP is to create the next generation of clinical quality experts and to grow our physician leaders.
How Does it Work?
Applicants accepted into program receive:
Bimonthly didactics over 20 months (2x per month; 1.5-hour sessions) taught through a speakers' bureau that features hospital and system leadership.
Curriculum topics include Hospital Administration; Quality Management/Patient Safety; Information Technology; Professional and Leadership Development; Healthcare Economics; and more
Opportunity to lead a quality or patient safety project at NYC Health + Hospitals/Kings County over 2 years
Selection Criteria: Incoming PGY2 residents from all specialties who are interested will be asked to apply with a Personal Statement and Letter of Recommendation (from the PD and a faculty Member) and selected via by the faculty of the track.
Faculty:
Jinel Scott, MD MBA
Program Director, HASP
Chief Quality Officer, Kings County Hospital
Latoya Jackson, RN, MSN, MPH, CPHQ
Administrative Program Director, HASP
Director of Performance Improvement, Office of Quality and Safety
Heber Chamorro, BS
Associate Director, Performance Improvement
Office of Quality & Safety
Shannon Fernandez, MPA, MA
Associate Director, Performance Improvement
Office of Quality & Safety
Nargish Begum, MBBS
Sr. Project Manager, Performance Improvement
Current/Past Residents in HASP from Internal Medicine (2019-2022):
Olta Tafaj- Reddy (2019 Cohort)
Chetan Virmani (2019 Cohort)
Haytham Aboushi (2020 Cohort)
Kwesi W. Blackman (2020 Cohort)
Dina Jaber PGY3 (2021 Cohort)
Sanya Anand PGY3(2021 Cohort)
Pedram Jouharian PGY3(2021 Cohort)
Vaibhaviben Solanki PGY3 (2021 Cohort)
Shraddha Raghavan PGY3 (2021 Cohort)
Klynt Bally PGY2 (2022 Cohort)
Nazeera Ghanie PGY2 (2022 Cohort)
Ram Prakash Thirugnanasambandam PGY2 (2022 Cohort)
Sarah Goldhill PGY2 (2022 Cohort)
POCUS LEADERSHIP TRACK
The POCUS leadership track was established in 2021 with a goal to support residents who may be interested in POCUS education, research, implementing or administering POCUS programs in their future careers.
The POCUS leadership track supplements the POCUS longitudinal curriculum and elective that have been in place for several years.
The curriculum is currently spread over two years, the first year involves consolidation of POCUS clinical knowledge and skills while the second is focused on POCUS implementation, research, and resident education projects.
Faculty:
Dr. Belligund (Pulm/CCM VA)
Dr. Shayowitz (IM Hospitalist VA)
Dr Shenoy (IM Hospitalist KCHC)
Dr Gill (IM Hospitalist UHB)
Chief Residents (UHB, VA, KCHC)
Senior POCUS leadership track residents
Sultana Alam-PGY 3
Zack Greenstein-PGY3
Joseph Jayaraj-PGY3
Daniel Fermi-PGY3
Joshua Reece-PGY3
Incoming Residents
Mariam Azam-PGY2
Dylan Bobrow-PGY2
Sahil Chaddha-PGY2
Riddhi Chauhan-PGY2
Asad Ahmed-PGY1
Howard Yu-PGY1
Preliminary Medicine
This is a one year experience designed as a clinical base year for those entering a specialty like Radiology or Anesthesiology that requires initial experience in Internal Medicine. This is not equivalent to a transitional year where interns rotate through multiple specialties for a few months each. The schedule for the preliminary year is the same as that for the categorical program, with a few exceptions. Preliminary residents do not attend a continuity clinic and they may substitute elective experience for their ambulatory block months.
Research Track
The Research Track mentors residents undertaking research. It ensures that residents receive adequate instruction on the fundamentals of research, encourages a high quality in research, and facilitates residents in their next steps of their careers in academic medicine. The program accepts 3 residents from the PGY-1 class each year and pairs them with a first-year medical student from the Internal Medicine Student Research Experience Program. Residents and students attend a lecture series throughout the year, from faculty and guest speakers on research topics selected by residents. Leadership provides guidance to help residents and students to achieve their projects goals.
Faculty:
Dr. Samy McFarlane-Program Director
Dr. Patrick Geraghty-Associate Program Director
Krunal Patel-Chief Resident UHB
Current Residents
Miriam Klar-PGY 3
Tolga Gidener-PGY3
Tim Jang-PGY3
Noah Silverstein-PGY2
Parima Saxena-PGY2
Sanya Goswami-PGY2
Prashil Dave-PGY1
Jonathan Lo-PGY1
Narinderjeet Kaur-PGY1
Current Students
Christina Agudelo
Alexander Hall
Felix Rozenberg
Ariana Gopal
Marianna Babadzhanov
Mojdeh Yadollahikhales
Raphael Kirou
Tasmia Promi
Benjamin Prizer
Alana Kosches
Alexander Pan
ALUMNI of the Research Track and their current Designation
Gaytri Gupta, Class of 2020, currently a PCCM fellow at Yale
Michelle Likhtshteyn, Class of 2020, currently a GI fellow at Downstate
Perry Wengrofsky, Class of 2020, currently a Cardiology Fellow at Rutgers New Jersey Medical School
Olta Tafaj Reddy, Class of 2021, currently a hospitalist at Newton-Wellesley Medical Group
Jennifer Tsai, Class of 2021, currently a Hem/Onc Fellow at Memorial Sloan Kettering Cancer Center
Angelina Zhyvotovska, Class of 2021, currently a currently a Cardiology Fellow at Lenox Hill
Junjing Guo, Class of 2022, currently a Hem/Onc fellow at Downstate
Ishmam Ibtida, Class of 2022, currently chief resident at Memorial Sloan Kettering Cancer Center
Ashkan Tadayoni, Class of 2022, currently a chief resident at Kings County Hospital
Former students:
Justina Ray, Class of 2020, currently a resident physician at Icahn School of Medicine at Mount Sinai
Natalie Sun, Class of 2021, currently a resident physician at Boston Medical Center
Melissa Rivas, Class of 2022, currently an IM Resident at Montefiore Medical Center


Evan Marzouk, Class of 2022, currently a Medicine-Pediatric Intern at Baystate Health


Daniel Loar, Class of 2022
Nabila Khondakar, Class of 2022, currently an intern at Northwestern University the Feinberg School of Medicine
Angeleque Hartt, Natalie Sun, Class of 2022, currently a Urology Resident at Stanford
STAR HIV
In July 2014, in response to a decreasing number of U.S. primary care physicians providing HIV care, the US Public Health Service's Health Resources and Services Administration (HRSA) designated funding for Internal Medicine residency programs to train the next generation of HIV providers. SUNY Downstate Health Sciences University was selected as one of only three programs nation-wide to receive funding to establish an HIV Specialty Track option within the Categorical Internal Medicine Residency Program. All incoming PGY-I Categorical Medicine house staff can apply to the program; those who are accepted complete their longitudinal clinical experience at Downstate's STAR Health Center. At STAR, residents establish a panel of patients for whom they provide both primary care and specialized HIV care. Didactics focus on both general ambulatory care medicine as well as issues specific to those individuals living with HIV. Residents who have completed the HIV Specialty Track have gone on to fellowships in a variety of areas, including Cardiology, Hematology-Oncology, Pulmonary-Critical Care, and Infectious Diseases, among others. Other graduates have gone on to establish primary care practices or practice Hospitalist Medicine. Our nationally recognized HIV treatment and research programs, our large Medicine residency program, and our diverse patient population make us uniquely suited to offer this training opportunity.
Selection Criteria: Interested incoming PGY1 residents will submit an application containing a statement of interest. Applicants will complete an interview with STAR faculty and will be selected for track participation prior to the start of their intern year.
Faculty:
Dr. Jessica Yager
Dr. Manisha Singh
Dr. Daniel Winetsky
Chief Resident: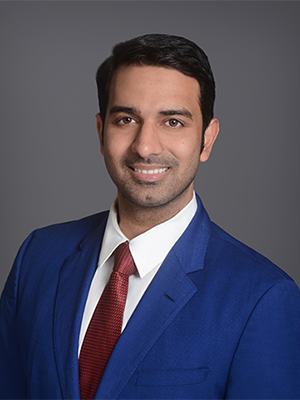 Ram Prakash Thirugnanasambandam MBBS, AAHIVS
PGY3
Current Residents:
Kenneth Bryant PGY3
Martin Akutek PGY3
Mariam Azam PGY3
Riddhi Chauhan PGY3
Soumya Dattangowda Dandothi PGY3
Michael Assefa PGY2
Christline Fernandez PGY2
Jordan Mikusa Kibuuka PGY1
Zachary Mostel, MD, AAHIVS - Infectious Disease Fellowship- Mount Sinai Hospital-New York
Ben Nguyen, DO, AAHVS - Chief Resident - University Hospital at Downstate-New York
Joshua Reece, MD - Pulmonary and Critical Care Medicine- UCLA -California
Rina Liang, MD AAHIVS - Infectious Disease Fellowship- Montefiore Medical Center- New York