Hospitals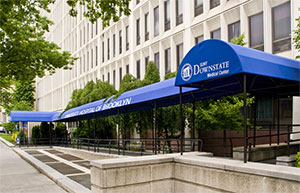 University Hospital at Downstate is one of the teaching Hospitals of SUNY Downstate Health Sciences University, a major academic medical center providing patient care, education, research, and community services for the nearly 5 million people living in Brooklyn, Queens, and Staten Island.
Opened in 1966 University Hospital at Downstate is a major hospital facility in central Brooklyn. The Hospital has state-of-the-art intensive care and step-down units, operating rooms, an emergency services department, a diagnostic and ambulatory surgery facility, an ambulatory care center with satellite Health Centers, and a nearby Dialysis Center.
Highlights of the training program at the hospital:
Providing patient care to the underserved community of Flatbush and the surrounding regions of Brooklyn.
As an academic center, residents get to work with research faculty and hone their research skills in their area of choice.
There are various sub-specialties offered at the university and residents have the opportunity to work under top specialists in their field.
Residents get the opportunity to work with medical students from the College of Medicine at Downstate and hone their teaching skills.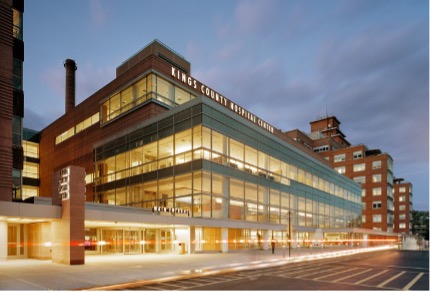 Kings County Hospital Center (KCHC) has a rich legacy for its pioneering role in medicine. Today KCHC remains on the cutting edge of technology and provides the most modern procedures with state-of-the-art equipment.
Built in 1831 as a one-room infirmary for publicly supported care of the sick, Kings County Hospital Center continues to be a leading healthcare facility whose mission is to provide care to everyone regardless of their ability to pay. The hospital provides a wide range of health services, and specialties are offered in all fields of modern medicine. More than 200 clinics provide a wide array of ambulatory care services.
Kings County Hospital Center operates a world-renowned Level 1 Trauma Center, one of only three in the borough, which serves 2.6 million residents of Brooklyn and Staten Island. It currently houses one of the busiest emergency rooms in the country. Rotations here provide residents an opportunity to care for a diverse patient population with a fascinating variety of pathology. "The County" remains a dynamic and exciting place to learn medicine – now in superb, modern surroundings.
Highlights of the training program at the hospital:
Providing patient care to the underserved, uninsured as well as patients of various nationalities who seek care at the hospital.
As a level 1 trauma center, residents have exposure to treating trauma patients along with their surgical colleagues which helps broaden the scope of their training.
With the presence of a dedicated behavioral health center, residents get to learn about various psychiatric illnesses and effective ways to deal with patients who are under their care.
With one of the country's busiest Emergency rooms (ER), residents get the opportunity to see a wide variety of patient pathology and perform various procedures which makes them strong clinicians upon their graduation.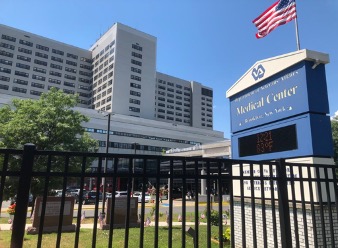 Brooklyn Veterans Hospital is an exceptional healthcare facility that provides top-notch medical care to our veterans. The Brooklyn VA medical center is in the residential neighborhood of Bay Ridge and is an integral part of the community in Brooklyn serving veterans and their families.
Highlights of the training program at the hospital:
Providing patient care to military veterans and their families who form a unique patient population for our residents to treat and learn from.
Residents have the opportunity to learn from the highly regarded Oncology and Palliative care teaching services at the hospital.
Longitudinal POCUS curriculum is offered residents are trained in the use of POCUS with a focus on clinical interpretation.
The hospital has separate grand rounds to enhance the learning process which is beneficial to our residents.
Academic Teaching:
Academics are provided with daily noon conferences from a variety of lecturers, hands-on ultrasound teaching with our new inpatient POCUS curriculum, procedural sessions, and mock codes.
Simulation Laboratory and Ultrasound Center:
Our state-of-the-art simulation lab offers a dynamic and interactive learning experience for healthcare professionals. The lab uses high-fidelity mannequins to simulate medical scenarios and codes, allowing residents to practice critical skills and procedures in a safe and controlled environment. An ultrasound elective is also available to residents to practice bedside hands-on POCUS skills on both live patients and high-fidelity simulators.
Outpatient Clinics:
Our outpatient clinic offers comprehensive care to our veterans, including robust primary care, mental health services, and specialty care. Residents rotate through both primary (continuity) care services as well as subspecialty clinics. Our expert staff is dedicated to ensuring that all our patients receive the highest quality care in a compassionate and respectful manner.
MICU and CCU:
Our intensive care unit provides critical care to patients with life-threatening medical and cardiac conditions, ensuring that they receive the necessary care to recover as quickly as possible.
Our dedicated team of healthcare professionals works tirelessly to provide the best possible care to our veterans. We are committed to excellence in healthcare, and we look forward to welcoming you to our community.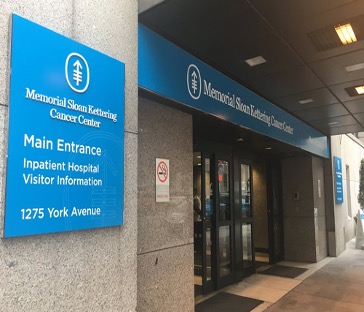 Memorial Hospital is located at 1275 York Avenue, between 67th and 68th Streets on the Upper East Side of Manhattan serves as the primary inpatient and teaching hospital for residents and fellows. The majority of the Center's outpatients are seen at Rockefeller Outpatient Pavilion on 53rd Street at Third Avenue in midtown Manhattan and at the newly opened David Koch Center at 74th Street in Uptown Manhattan. This facility offers medical consultation, diagnostic imaging, chemotherapy, pharmacy services, cancer screening, and integrative medicine services. Our residents participate in state-of-the-art cancer care and learn from some of the leaders in the field.
Highlights of the training program at the hospital:
Ranked among the top cancer centers in the country for cancer care and research, MSKCC provides residents an opportunity to see and learn from patients who have various types of cancer and related pathologies.
Provides residents access to a world-class research center with top researchers in the field of cancer, thereby allowing them to work alongside and participate in clinical and laboratory research.
Residents are exposed to cutting-edge treatments and clinical trials, which allow them to broaden their scope of learning.
Residents have the opportunity to learn from the highly regarded Oncology teaching faculty at the hospital.
The hospital has separate lectures to enhance the learning process for residents on oncology-related topics.