Rheumatology
Program Details
Division Chief:
Ellen M. Ginzler, MD, MPH
Address:
450 Clarkson Avenue, Box 42
Brooklyn, NY 11203
Telephone:
718 270-1662
Fax:
718 270-1562
E-mail:
snobia.jardim@downstate.edu
Number of first year fellows
3
Number of second year fellows
3
Number of faculty
12
Hospitals fellows rotate to
Kings County Hospital, University Hospital of Brooklyn, Brooklyn Veterans Administration Hospital
Description of the educational aspects and advantage of the program
Fellows are given the opportunity to diagnose and treat a wide variety of rheumatic diseases, because of the sociodemographic diversity of our patient population. Each fellow is given the opportunity to attend one national or regional conference each year, as well as 4-6 local symposia.
Application information
The Rheumatology fellowship program participates in a match.
Interviews for fellowship positions begin in the fall of the candidates last year of residency, and continue until the match.
Candidates are evaluated on the basis of their overall record, including letters of recommendation indicating the level of performance during prior training (3 letters are required; one must be from the Chief of Medicine or Program Director, and it is strongly recommended that one letter be from a rheumatologist). Applicants with J-1 visas are welcome to apply, however we expect a sincere commitment to the rheumatology training program.
Contact :
Dr. Ellen Ginzler, Division Chief,
Dr. Deana Lazaro, Program Director,
or
Mrs. Snobia Jardim-Hinds
Division Administrator / Fellowship Coordinator
E-mail:
snobia.jardim@downstate.edu
Address :
SUNY Health Science Center at Brooklyn
450 Clarkson Avenue, Box 42
Brooklyn, NY 11203
Telephone :
718 270-1662
Fax :
718 270-1562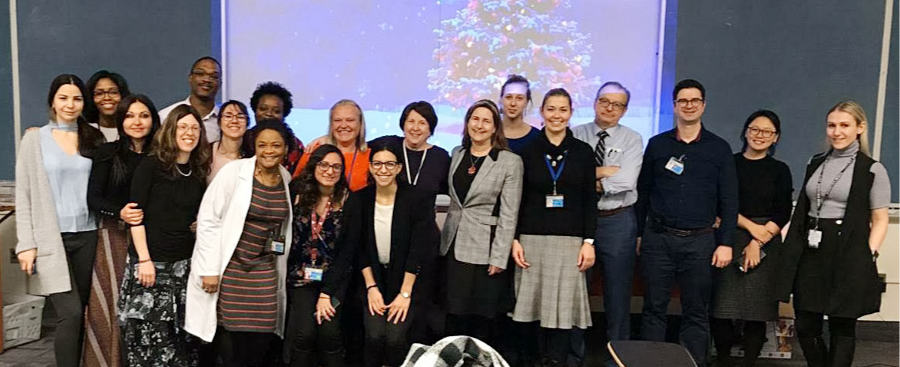 SUNY Downstate Rheumatology Fellowship Program
SUNY Downstate Rheumatology Fellowship Program is dedicated to developing and refining the knowledge and skills essential for the evaluation and management of patients with rheumatic diseases.
Our mission is to care for and improve the lives of our globally diverse communities, and to foster an environment that embraces cultural diversity.
We aim to provide excellent education for our rheumatology fellows with opportunities for research in biomedical science, health care and public health.

History of the Downstate Rheumatology Fellowship program
1856 two physicians established a dispensary in downtown Brooklyn to provide care for poor immigrants
1858 the state granted the hospital's request for a charter to launch a medical school.
1931 the school was rechartered as the Long Island College of Medicine
1950 contract was signed between the Long Island College of Medicine and the newly constituted State University of New York
1953, ground was broken for the current Basic Sciences Building, and President Dwight D. Eisenhower laid the cornerstone
106 rheumatologists trained since 1969
Full-time faculty
Ellen M. Ginzler, MD, MPH
(Division Chief, SUNY Downstate Medical Center)
Deana Lazaro, MD
(Director, Fellowship Training Program and Director of Rheumatology at the Brooklyn VA Hospital)
Olga Dvorkina, MD
Naureen Kabani MD
Rauno Joks, MD
(Chief of the Allergy/Immunology Division)
Aleksander Feoktistov MD
(Director of Rheumatology Service and site Fellowship PD KCH)
Jane Golub MD
Part-time and voluntary faculty
David Blumenthal, MD
(Chief of Medicine, Brooklyn Veterans Hospital)
Eddy Manuchian, MD
Maja Nowakowski, PhD
(joint appointment in Pathology and Medicine)
Isabel McFarlane, MD, Mentor for research
Christopher Roman, PhD
(Director, Transgenic Mouse Facility)
Mona Pervil-Ulysse, MD
Milena Rodriguez Alvarez MD

UNIVERSITY HOSPITAL OF BROOKLYN
376-bed NY State supported private hospital

KINGS COUNTY HOSPITAL
The largest (627 beds) municipal hospital in New York City with one of the busiest emergency rooms in the nation

THE BROOKLYN VETERANS AFFAIRS MEDICAL CENTER
Located in the residential neighborhood of Bay Ridge
Serves a large veteran population
Most of the patients seen by the rheumatology fellow on this rotation are outpatients, who are seen almost daily in a variety of clinics.
UHB and KCH
Large cohorts of patients with SLE, rheumatoid arthritis, and scleroderma are followed in clinic.
Patients with inflammatory muscle disease, vasculitis, seronegative arthropathies, crystal arthropathies, osteoarthritis, osteoporosis, soft tissue rheumatism, and fibromyalgia are also seen.
Brooklyn VA
The population served by the VA Hospital is predominantly male. There is also an emphasis on care of the geriatric patient.
Rheumatoid arthritis, spondyloarthritis, crystal arthropathies, polymyalgia rheumatica/GCA, soft tissue rheumatism, and regional pain syndromes are seen.
First year fellows
| Rotation | Months |
| --- | --- |
| KCH IP | 2.0 |
| UHB | 2.0 |
| KCH OP | 2.0 |
| VAH | 2.0 |
| Elective/Research | 3.0 |
| Vacation | 1 |
Second year fellows
| Rotation | Months |
| --- | --- |
| KCH IP | 2.0 |
| UHB | 2.0 |
| KCH OP | 1.0 |
| VAH | 2.0 |
| Elective/Research | 4.0 |
| Vacation | 1 |
Elective 1
Scholarly activities
Investigator-initiated research
Case reports
Book chapters
Quality management projects
Elective 2
MSK ultrasound
Physical Medicine and Rehabilitation
Sports Medicine
Pediatric rheumatology
Pain Management
Dermatology
Pulmonary/Sleep Medicine
Neurology
Business of Medicine
| Location | Days |
| --- | --- |
| SUNY Downstate | Monday 1-5, Friday 9-12 (Continuity clinic) |
| BKVA | Monday 9-11, Tues 9-12, Wed 9-12, 1-5, Thurs 1-5 |
| KCH | Monday AM, Tues AM, Wed AM +PM, Wed P, Thurs AM Continuity clinic; Wednesday PM |
Monday:
9:00 AM
Coffee to fully recover from the weekend (mandatory)
Tuesday:
12:00 PM
Rheumatology Grand Rounds 2:00PM KCH rounds
Wednesday:
8:15 AM
Journal Club
Thursday:
8:30 AM
Medicine Grand Rounds
Friday:
12:00 PM
Immunology Club and Case Presentations

Statistics and research seminars at Downstate
Electronic books and journals
Librarian for EBM
Textbooks
ACR annual scientific meeting
ACR State of the Art (SOTA)
Metropolitan Bone Club
NYU Post-graduate course in Rheumatology and Pediatric Rheumatology
Arthrocentesis and injection workshop using simulators
MSK Ultrasound
Telemedicine
Madina Ray, MD (Abduraimova)
"Comparative Analysis of Clinical, Laboratory and Therapeutic Strategies Among Blacks with Rhupus, SLE and RA." Kabani N, Pathiparampil J, Abduraimova M, Freeman-Beman L, Terebelo S, et al. American College of Rheumatology/ARHP Annual Meeting 2019.
"DEXA Does Not Accurately Reflect FRAX Score in Patients with Autoimmune Disease on Corticosteroids." Terebelo S, Abduraimova M, Freeman-Beman L, Kabani N, Pathiparampil J, et al. American College of Rheumatology/ARHP Annual Meeting 2019.
"Neuromyelitis Optica Spectrum Disorder associated with Autoimmune Diseases: clinical and radiologic features in a predominately-Black population." Rodriguez Alvarez M, Kabani N, Pathiparampil J, Freeman L, Abduraimova M, Terebelo S, et al. New York State Rheumatology Society Meeting 2019.
"Rare case of Bilateral Cerebellar Hemorrhage" Kariyanna PT, Charles A, Ahmed MF, Jayarangaiah A, Das S, Al- Sadawi M, Abduraimova M, McFarlane SI; Am J Med Case Rep. 2019
"Longitudinally extensive Transverse Myelitis associated with Systemic Lupus Erythematosus" Mehmood T, Munir I, Abduraimova M, Ramirez MA, Paghdal S, McFarlane IM; Am J Med Case Rep. 2019
"Weight support treadmill exercise for patients with knee ostearthritis: a pilot study The Researcher(s): Ellen Ginzler MD; Madina Abduraimova MD; Abida Hasan DO; Jason Lazar MD; Olga Dvorkina MD; Naureen Kabani MD The study is IRB approved, in patient recruitment process.
"Systemic Scleroderma" chapter in "RISE" manual for residents Authors: M. Abduraimova, A.Amarnani, M.Rashid, A.Archaya, I.McFarlane
Currently working on a case report: "A Case of Hyperviscosity Syndrome in Undifferentiated Connective Tissue Disease" Abida Hasan, M.D, Sara Sharif, M.D, Violeta Capric, M.D, Madina Abduraimova, M.D, Samy McFarlane, M.D.MBA, Aleksander Feoktistov, M.D., M.B.A.
Latoya Freeman MD
Isabel M. McFarlane, Su Yien Zhaz, Manjeet S. Bhamra, et. al. Assessment of interstitial lung disease among black rheumatoid arthritis patients. Clinical Rheumatology; August 2019. DOI 10.1007/s10067-019-04760-6.
Alvarez MR, Bhamra M, Velayudhan V, et al. Neuromyelitis Spectrum Disorders Associated with Autoimmune Diseases: Difference in Clinical Characteristics and MRI findings. Annals of the Rheumatic Diseases 2019;78:1042.
McFarlane IM, Zhaz Leon SY, Bhamra MS, et al. Assessment of Cardiovascular Disease Risk and Therapeutic Patterns among Urban Black Rheumatoid Arthritis Patients. Med Sci (Basel). 2019;7(2):31
McFarlane IM, Shin TH, Bhamra M, et al. The Relationship of Pulse Pressure and Bone Mineral Density in Adult USA Population: Analysis of the National Health and Nutritional Examination Survey. Rheumatology (Sunnyvale). 2018;8(2):240.
Freeman-Beman L, Acharya A, Alvarez MR, Seidman R, Feoktistov A. A Case of Necrotizing Myopathy after Moringa use. Pending Submission to: Annals of Internal Medicine.
National
Maimonides MC
Northwell: Staten Island
PhD candidate at Downstate
Watertown, NY
Jamesburg,NJ
Downstate MC
St. Louis, MO
International
Jamaica
Bahamas
Israel
Singapore
Private practice
Academic practice:

RWJ Medical School
MD Anderson (Professor of Medicine)
SUNY Downstate
PhD candidate at SUNY Downstate MC Immunology/Neurology
Opportunity to work out of 3 hospitals with different patient demographics
High prevalence autoimmune diseases
Part of University Hospital with ample exposure to medical students, residents and other subspecialties
Living in NYC - The Big Apple!

Kristaq Koci DO
Residency: SUNY Health Sciences Brooklyn
Ekaterina Simakova MD
Residency: Danbury Hospital
Sabina Ratner MD
Residency: Maimonides Medical Center
Michael Trevisonno MD
Residency: SUNY Health Sciences Brooklyn
Monsoon Rashid DO
Residency: SUNY Health Sciences Brooklyn
Aveena Gurung MD
Residency: Woodhull Medical Center