Dean's Message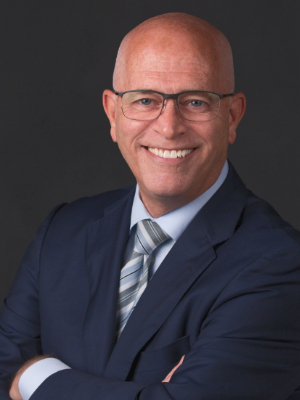 Welcome to SUNY Downstate Health Sciences University's College of Medicine. It is my esteemed privilege to lead this pillar of scholarship and education in the healthcare community—standing as the only academic medical center that serves the Brooklyn Borough and the diverse needs of its 2.6 million residents.
For more than 150 years, Downstate's College of Medicine has had an indelible influence on the fabric of medical innovation and education, and we continue to strive to be at the forefront of current trends in medicine. We were the first medical college in the country to be founded within a hospital setting, pioneering a new best-practice in medical education that brought the lecture hall and laboratory to the patient's bedside.
Since our inception, our faculty has continued to advance the bio-medical sciences via invaluable contributions to modern-medicine. Dr. Stanley Kountz, the nation's first African-American kidney transplant surgeon, founded our kidney transplant program in 1972, which remains standing as the only transplant center in Brooklyn. Not long after, in 1977, Dr. Raymond Damadian invented the first MRI scanning machine capable of taking full-body images in his laboratory on the Downstate campus. Then in 1998, Dr. Robert Furchgott received the Nobel Prize in Physiology/Medicine for his research identifying nitric oxide as a signaling molecule in the cardiovascular system, promoting blood vessels to relax and widen.
At Downstate, we understand that healthcare is constantly on the verge of transformational change. As such, an outstanding educational experience remains the chief priority for the College of Medicine. Our leading-edge education, both didactic and clinical, is designed to support the advancement of that evolution; providing the next generation of diverse healthcare and research professionals the tools, skills, and experiences needed to approach any and every challenge within healthcare from the most informed foundation of knowledge—scientifically, culturally, and socially.
We employ a rigorous, competency-based approach to education known as the Integrated Pathways Curriculum, which develops our scholars into lifelong students and leaders of medicine by fusing together the underpinnings of medical science with clinical education across all four years of training and then assessing students against the six core-competencies of a physician: Systems-Based Practice, Professionalism, Interpersonal & Communication Skills, Practice-Based Learning & Improvement, Patient Care, and Medical Knowledge.
Our curriculum is designed to be as diversely unique as our student body. Learners will be provided an outstanding academic experience enabling them to study and work alongside nationally and internationally lauded faculty, physicians, and researchers. They will also be immersed in, learning from, and caring for the surrounding community of people from varying nationalities, backgrounds and customs. The goal of our unique programming is to bestow upon our learners the highest quality of medical education, so that they—the future leaders of medical leadership and expertise—are empowered to deliver every patient with quality healthcare that is culturally-sensitive and identity-specific in an inclusive, welcoming environment.
The College of Medicine's dynamic programming presents our scholars with an array of opportunities to participate in unearthing groundbreaking new discoveries via student and faculty-led research opportunities ranging from identifying and eliminating health disparities and social determinants of health impacting vulnerable populations, to precision medicine research involving state-of-the-art genomic analyses and linking this information to targeted therapies for illnesses and impediments to health. As our current and past students have successfully published research manuscripts in some of the most prestigious peer-reviewed journals at a rate above the national average, new students will also have access to research projects across a broad spectrum of scientific areas ranging from Infectious Diseases and Immunology to Gastroenterology and Hepatology.
Most importantly, Downstate's College of Medicine is part of a larger university, which consists of five health science schools and colleges. This translates into a collaborative scholastic experience for our physicians-in-training, researchers and faculty that never have to work alone or in silos. Instead, we've created and continue to enhance a cross-functional environment where physicians, nurses, advanced practice providers, physical therapists, researchers and public health scientists are encouraged to reach across the aisle of care and share valuable information with each other—enabling them to deliver superior, comprehensive and equitable healthcare for all.
Downstate's College of Medicine is a community marked by exceptional personal and professional integrity that embodies the foundational tenets of our institution—values-driven culture, leadership, and education. It's our system of principles that I'm most impassioned about, and one that continues to spur excellence and P.R.I.D.E. in the work we do every day, inspiring us all to recognize and value our collective contributions to the Downstate community via our five institutional credos:
PROFESSIONALISM: We commit to the highest standards of ethical behavior and exemplary performance in education, research, and patient care.

RESPECT: We value the contributions, ideas, and opinions of our students, coworkers, colleagues, patients and partnering organizations.

INNOVATION: We research and develop new and creative approaches and services for the anticipated changes in healthcare.

DIVERSITY: We embrace our rich diversity and commit to an inclusive and nurturing environment.

EXCELLENCE: We commit to providing the highest quality of education and service to our students, patients, and community by holding ourselves, our coworkers and our leaders to high standards of performance.
I'm honored and humbled to advance the mission and values of Downstate's College of Medicine and am excited to oversee the educational programs which lead to exceptionally well prepared and diverse medical scholars. Opportunities abound for our learners to find their niche in the world of medicine and to launch and develop their careers. I want to wish everyone currently matriculating through one of our programs the best throughout your journey here, and for those not yet a part of the Downstate Family—I welcome your interest in joining the College of Medicine.
Best wishes,
F. Charles Brunicardi, M.D., FACS
Dean, College of Medicine