SUNY Downstate and Maimonides Health Expand Cancer Care in Central Brooklyn
By Office of the President | Feb 7, 2023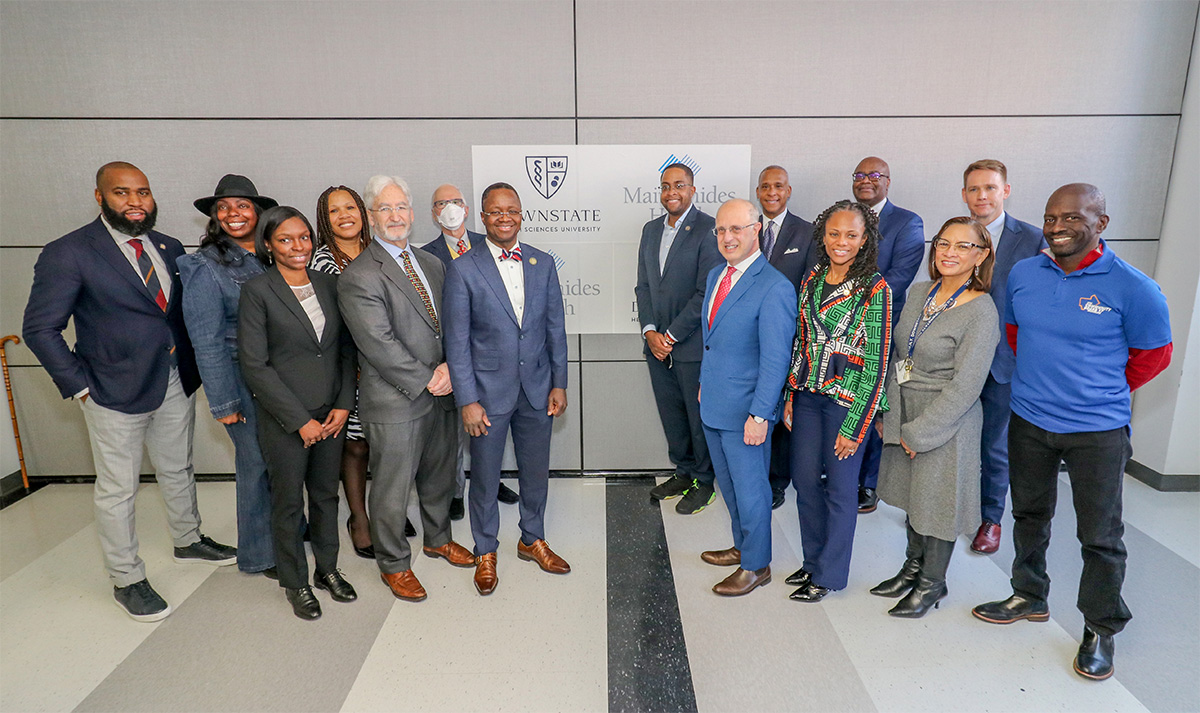 Statistics show that people diagnosed earlier with cancer are more likely to survive, have better care experiences, and have lower treatment morbidity, resulting in an improved quality of life compared with those diagnosed later. However, access to quality healthcare and positive health outcomes in underserved communities can vary among neighborhoods when impacted by high poverty rates, low insurance rates, the underinsured, and limited access to affordable healthcare.
I am proud of our new partnership, announced last week, between Downstate Health (the clinical enterprise of Downstate Health Sciences University, Downstate University Hospital (UHD), University Physicians of Brooklyn (UPB), and Maimonides Health, leveraging the strengths of both Downstate and Maimonides to expand access to cancer care in Central Brooklyn where access to quality healthcare can be challenging based on socioeconomic, insurance, poverty, and other factors impacting households.
Under this partnership, patients can immediately access a broader range of specialists at the University Hospital at Downstate and Maimonides Cancer Center without leaving the community and traveling to other locations for much-needed treatment.
According to a 2018 NYC Community Health Profile for East Flatbush, 19 percent of East Flatbush residents live in poverty, compared with 20 percent of New York City's residents; 15 percent of adults in East Flatbush are uninsured, and 9 percent reported going without needed medical care in the prior 12 months. Residents of East Flatbush, Farragut, and Rugby are disproportionately at risk for common forms of cancer that can be treated if caught early enough.
New York State Cancer Registry statistics 2015-2019 cite the highest cancer incidence among men and women for the East Flatbush area was an average of 23 annual cases of non-Hodgkin's lymphomas—14.4 per 100,000 of the population, followed by 22.8 average annual cases of myeloma—14.3 per 100,000 of the population, and 19 average annual cases of leukemia—13.0 per 100,000 of the population.
Last year, University Hospital at Downstate treated over 8,500 patients in the inpatient setting, with 428 discharges related to Oncology/Hematology diagnoses. UHD cared for more than 222,000 on an outpatient basis, of which 2,000 were Chemotherapy/Infusion visits.
Thanks to the diligent work of David Berger, M.D., Patricia Winston, DNP, Moro Salifu, M.D., and Lori Donnell, MBA, our partnership with Maimonides Health, under the leadership of CEO Kenneth Gibbs, and the Maimonides clinical leadership of Kevin Becker, M.D., for pulling this important partnership together. I extend my gratitude to all the Downstate and Maimonides staff who made this partnership a reality and continue supporting us in this vital partnership to provide access and critical care for our unique patient populations.
Thanks to our elected officials and community leaders, including State Senators Zellnor Myrie, Assembly Members Monique Chandler-Waterman, Brian Cunningham, Latrice Walker, New York City Council Member Mercedes Narcisse, Community Board Chair Rodrick Daley, American Cancer Society District Manager Renee Regnier, as well as SUNY Council Chair Rev. Kirkpatrick G. Cohall, and SUNY Council Member Marlene D. Heath for joining us at the announcement.