Jameela J. Yusuff, M.D. Appointed as First Woman Chief Medical Officer at University Hospital of Brooklyn
By Office of Communications & Marketing | Apr 1, 2021
MEDIA CONTACT: Dawn S.Walker | dawn.walker@downstate.edu | M: (917) 439-9666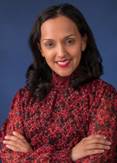 Brooklyn, NY (April 1, 2021) – SUNY Downstate Health Sciences University announced Jameela J Yusuff, M.D., MPH, MSHCDL, FACP as the first woman Chief Medical Officer at the University Hospital of Brooklyn.

Dr. Yusuff will drive efforts to implement state-of-the-art credentialing processes, new patient safety oversight protocols, and forward-looking outcome and quality management standards in her new role. Currently, Dr. Yusuff will leave her position as Medical Director of Downstate's Special Treatment and Research (STAR) Program after more than eight years. Dr. Yusuff also has a faculty appointment as an Associate Professor in the College of Medicine.

"Dr. Yusuff's appointment as Chief Medical Officer is a proud moment in our history as she becomes the first woman CMO at Downstate," said SUNY Downstate president Wayne J. Riley, M.D. "She will be an excellent addition to our executive leadership team and a tremendous role model for women, especially those interested in the medical field. Dr. Yusuff understands our patient population and is sensitive to their needs which are both critical to providing the most effective care and to enhancing patient satisfaction."

"I look forward to collaborating with senior leadership and our physician colleagues to address the converging issues of the COVID-19 pandemic recovery, longstanding health disparities, and provider burnout while advancing a culture of quality and safety," said Dr. Jameela J. Yusuff. "As a descendant of Guyanese immigrants, I am very connected to the patient population we serve in Central Brooklyn. Here at SUNY Downstate, we are perfectly poised to make an impact in the community on these critical issues."

Dr. Yusuff began working at SUNY Downstate in 2006 as a clinician for the STAR Program she would eventually lead as its Medical Director. She has championed various academic and clinical initiatives, including achieving and maintaining the National Committee for Quality Assurance's Patient-Centered Medical Home Recognition, SUNY Downstate's Organizational HIV Care Cascade, and overseeing the Internal Medicine HIV Residency and Physician Assistant Residency Tracks.

Dr. Yusuff received her Medical Degree and her Masters' in Healthcare Delivery Leadership from the Icahn School of Medicine at Mount Sinai and her Master's in Public Health from the SUNY Downstate School of Public Health. She is also board certified in both infectious diseases and addiction medicine.

Dr. Yusuff has received several awards, including the JetBlue Healthcare Heroes Award, the SUNY Downstate Award of Excellence, and the Best Capstone Award from the Icahn School of Medicine at Mount Sinai. Dr. Yusuff was recently recognized as a Certified Professional in Patient Safety (CPPS) by the Institute of Healthcare Improvement and a Certified Professional in Healthcare Quality (CPHQ) by the National Association of Healthcare Quality.

Dr. Yusuff currently serves on the National Quality Forum's Opioid and Behavioral Health Committee and on the board of Comunlife, a non-profit organization that provides housing to vulnerable populations. She chairs the SUNY Downstate Faculty and Professional Staff Personnel Policies, Promotions, and Appointments Committee and is a member of the Infectious Diseases Society of America, the American College of Physicians, as well as the American Medical Association. Dr. Yusuff will begin her new position on April 4.
###
---
About SUNY Downstate Health Sciences University
SUNY Downstate Health Sciences University is the borough's only academic medical center for health education, research, and patient care, and is a 342-bed facility serving the healthcare needs of New York City, and Brooklyn's 2.6 million residents. University Hospital of Brooklyn (UHB) is Downstate's teaching hospital, backed by the expertise of an outstanding medical school and the research facilities of a world-class academic center. More than 800 physicians, representing 53 specialties and subspecialties—many of them ranked as tops in their fields—comprise Downstate's staff.
A regional center for cardiac care, neonatal and high-risk infant services, pediatric dialysis, and transplantation, Downstate also houses a major learning center for children with physical ailments or neurological disorders. In addition to UHB, Downstate comprises a College of Medicine, College of Nursing, School of Health Professions, a School of Graduate Studies, a School of Public Health, and a multifaceted biotechnology initiative, including the Downstate Biotechnology Incubator and BioBAT for early-stage and more mature companies, respectively. For more information, visit www.downstate.edu or follow us on Twitter at @sunydownstate.
---