SUNY Downstate Health Sciences University Appoints New Chief Information Officer
By Office of Communications & Marketing | Sep 27, 2021
MEDIA CONTACT: Dawn S.Walker | dawn.walker@downstate.edu | (917) 439-9666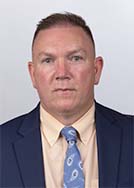 Brooklyn, NY (September 27, 2021) – SUNY Downstate Health Sciences University announced the appointment of Dennis Sutterfield as its new Chief Information Officer (CIO).
Mr. Sutterfield brings extensive experience leading information technology teams and operations management to his new role at SUNY Downstate. He will serve as the Downstate's key strategist and overall Information Technology (IT) administrative and operations leader.

Mr. Sutterfield will be responsible for building and leading a high-performing Information Technology and Telecommunications function. Additionally, he will develop and establish a vision, structure, and strategy for information technology across the clinical, academic, and research enterprises that supports and enables Downstate to achieve its performance goals.

"I am excited to join SUNY Downstate and to collaborate with leaders to develop information systems that support our specialized needs," said Mr. Sutterfield. "I look forward to ensuring that IT is prepared to move Downstate forward in the most effective technological direction to meet the needs of our students, faculty, staff, and patients."

Most recently, Mr. Sutterfield was Associate Vice President of IT Applications at Temple University Health Systems, where he managed IT strategy and operations for the five-hospital organization. He also had oversight of the day-to-day business of production support, optimization, and new projects for all applications.

"We are thrilled to welcome Dennis to SUNY Downstate and look forward to his IT and operations leadership," said SUNY Downstate President Wayne J. Riley, MD."His contributions will be instrumental in improving and developing our growing Information Technology systems and strategy as we continue to meet the needs of our students, educators, and staff, as well as providing the best care for our patients."

Mr. Sutterfield earned his MS in Organizational Leadership from Wilmington University in New Castle, DE, and a BA in Psychology at Elizabethtown College in Elizabethtown, PA. He is currently pursuing CHCIO Certification, the first certification program exclusively for CIOs and IT executives in the healthcare industry.
###
---
About SUNY Downstate Health Sciences University
SUNY Downstate Health Sciences University is the borough's only academic medical center for health education, research, and patient care, and is a 342-bed facility serving the healthcare needs of New York City, and Brooklyn's 2.6 million residents. University Hospital of Brooklyn (UHB) is Downstate's teaching hospital, backed by the expertise of an outstanding medical school and the research facilities of a world-class academic center. More than 800 physicians, representing 53 specialties and subspecialties—many of them ranked as tops in their fields—comprise Downstate's staff.
A regional center for cardiac care, neonatal and high-risk infant services, pediatric dialysis, and transplantation, Downstate also houses a major learning center for children with physical ailments or neurological disorders. In addition to UHB, Downstate comprises a College of Medicine, College of Nursing, School of Health Professions, a School of Graduate Studies, a School of Public Health, and a multifaceted biotechnology initiative, including the Downstate Biotechnology Incubator and BioBAT for early-stage and more mature companies, respectively. For more information, visit www.downstate.edu or follow us on Twitter at @sunydownstate.
---