SUNY Downstate's Chief Diversity Officer Cited as One of '15 to Know'
Feb 22, 2016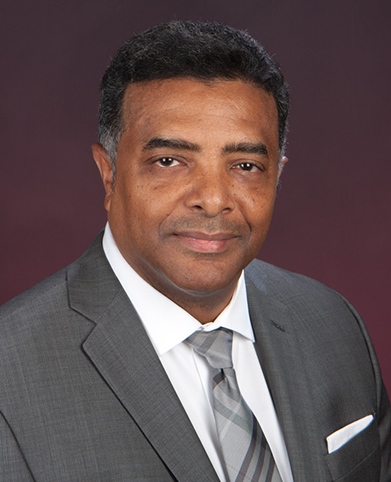 Kevin Antoine, Assistant Vice President and Chief Diversity Officer
Brooklyn, NY – Kevin Antoine, assistant vice president and chief diversity officer at SUNY Downstate Medical Center, was named one of "15 hospital, health system chief diversity officers to know" by Becker's Hospital Review, in an article on the growth of chief diversity officer positions in healthcare.
The article notes that Mr. Antoine oversees SUNY Downstate's compliance with federal and state law and university non-discrimination policies, as well as workforce cultural competency training. He serves as chair of Downstate's University Hospital of Brooklyn Cultural Competency Committee. He is also a member of the American Association for Access Diversity and Inclusion, is on its board of directors, and serves as its national legislative director. A former Harvard University administrative fellow, he has a law degree from the College of William and Mary, and a graduate certificate in organizational change from Cornell University.
In addition, Mr. Antoine was appointed to the SUNY Chancellor's Diversity Task Force that recently developed SUNY's new comprehensive Diversity, Equity and Inclusion Policy that the SUNY Board of Trustees adopted in September 2015. Mr. Antoine also serves as a peer reviewer for the Association of American Medical Colleges Journal of Academic Medicine. In August of 2015 he gave the inaugural address of the Center for Disease Control & Prevention (CDC) National Center for HIV/AIDS, Viral Hepatitis, STD, and TB Prevention's Office of Health Equity Speaker Series. The title of his presentation was, "The Balance of Power: Controlling the Spread of Infectious Disease While Protecting Individual Civil Liberties."
SUNY Downstate has a long tradition as one of the most culturally diverse academic medical centers in the nation. Downstate ranks fourth nationally, behind only the three historically African-American medical schools, in the number of minority faculty on staff, and its College of Medicine is first in New York State in the number of minority students.
Downstate's College of Medicine Office of Minority Affairs helps minority students enter the field of medicine as effective and empathetic medical professionals and role models who inspire young people of any background or heritage to pursue opportunities in health care, ensuring a healthcare workforce that is better equipped to provide culturally competent care to an increasingly diverse population.
Downstate's Program to Increase Diversity Among Individuals Engaged in Health-Related Research (PRIDE) provides intensive didactic and mentored research training in cardiovascular health disparities. It is housed within the Brooklyn Health Disparities Center, a partnership between SUNY Downstate, the Arthur Ashe Institute for Urban Health, and the Office of the Brooklyn Borough President.
The SUNY Downstate chapter of the Student National Medical Association – a national organization committed to supporting current and future underrepresented minority medical students – is the Daniel Hale Williams Society, which is dedicated to healthcare education, leadership development, networking, and community outreach. The society is named for an African-American physician who was the first to perform open-heart surgery in which the patient survived.
SUNY Downstate offers students a broad professional education that prepares them for practice or careers in any location and community. The vast majority of students are drawn from the New York City metropolitan area. Many have immigrant backgrounds and are members of racial and cultural groups who are underrepresented in the health professions. The differences in cultural background, life experiences, and outlook enhance the quality of the educational experience of all students.
###
---
About SUNY Downstate Medical Center
SUNY Downstate Medical Center, founded in 1860, was the first medical school in the United States to bring teaching out of the lecture hall and to the patient's bedside. A center of innovation and excellence in research and clinical service delivery, SUNY Downstate Medical Center comprises a College of Medicine, College of Nursing, School of Health Professions, a School of Graduate Studies, School of Public Health, University Hospital of Brooklyn, and a multifaceted biotechnology initiative including the Downstate Biotechnology Incubator and BioBAT for early-stage and more mature companies, respectively.
SUNY Downstate ranks twelfth nationally in the number of alumni who are on the faculty of American medical schools. More physicians practicing in New York City have graduated from SUNY Downstate than from any other medical school.
---