BioBAT Receives $1 Million from Brooklyn Borough President Eric Adams
Dec 16, 2016
Funds will Help Develop Infrastructure for World-class Lab Space in Brooklyn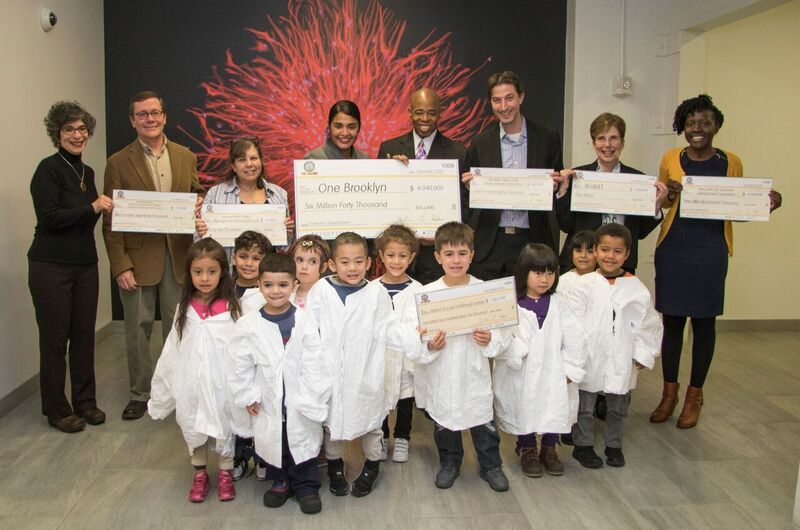 Brooklyn Borough President Eric L. Adams joined Deputy Brooklyn Borough President Diana Reyna, business leaders, community advocates, and a class of pre-kindergarten students dressed in lab coats at BioBAT, a non-profit science and technology center at the Brooklyn Army Terminal in Sunset Park, as he announced more than $6 million in funding from his FY17 capital budget that he is investing in advancing economic development across Brooklyn; he held an oversized check made out to "One Brooklyn" for economic development.
Brooklyn, NY – Brooklyn Borough President Eric L. Adams recently announced that BioBAT, a not-for-profit organization established to develop affordable, state-of-the-art biotechnology/technology research and manufacturing space in New York City, will receive $1 million in Fiscal Year 2017 (FY17) for the outfitting of infrastructure for life science and technology companies occupying BioBAT's laboratory and manufacturing space.
BioBAT is a joint venture of the New York City Economic Development Corporation (NYCEDC) and the Research Foundation for the State University of New York (SUNY) on behalf of SUNY Downstate Medical Center.
The award is part of more than $6 million from Brooklyn Borough Hall to advance economic development initiatives across the borough. The announcement was made at BioBAT.
To highlight this investment's impact on the future of Brooklyn's economy, Borough President Adams was joined by a group of pre-kindergarten (PreK) students, clad in lab coats, who will be part of an innovative STEAM education program being developed in the PreK program at BioBAT. This program is being funded through the Borough President's FY17 capital budget. Scientists associated with companies at BioBAT and SUNY Downstate will help develop the program.
"This capital budget is part of our philosophy of 'cradle to career,'" said Borough President Adams. "How do we prepare our children for tomorrow? I was amazed, in my first few months as borough president, sitting down with many of our business leaders, when they stated quite frankly that many people here in the borough of Brooklyn were not prepared to fulfill their jobs. We wanted to stop that and we're going to stop that. In order to move Brooklyn forward in the right direction, we have to make sure we fund its development in the proper manner."
"We are honored to be part of Borough President Adams' economic development allocations for FY17," said Michael Lucchesi, MD, chief medical officer and officer-in-charge at SUNY Downstate Medical Center. "We would like to thank Borough President Adams for his allocation of $1 million for BioBAT at the Brooklyn Army Terminal. These funds will be used for tenant fit-out for biotechnology companies looking to expand in New York City. Borough President Adams' support of our biotech initiative (Downstate Biotech Incubator and BioBAT) is making Brooklyn a center of biotechnology. We look forward to continuing to work together."
"NYCEDC has created at Brooklyn Army Terminal the right environment for innovation and job creation," said New York City Council Member Carlos Menchaca. "I thank Borough President Adams for his ongoing support of BioBAT and pledge my own. BioBAT, a not-for-profit created in partnership with SUNY and Downstate Medical Center, is a shining example of world-class innovation and hosts tenants like the International AIDS Vaccine Initiative (IAVI). The enterprises at BioBAT are doing the work that will change our lives, create jobs, and sustain New York's economy."
"Everyone at IRX is thrilled to be at the new BioBAT facility," said Jeffrey Hwang, president and COO of IRX Therapeutics, Inc., a bioresearch company developing novel immunotherapies for cancer and other diseases. "Most of our employees live in the five boroughs. It is great to be able to consolidate all of our operations personnel into one beautiful waterfront location. We also thank Borough President Adams and SUNY Downstate for their foresight to invest in BioBAT to address the needs of biotech companies who need quality space to expand their operations and a location that can attract new talent from the five boroughs."
For full details of other funding recipients in the borough, please see the news release from the Office of the Brooklyn Borough President here.
###
---
About SUNY Downstate Medical Center
SUNY Downstate Medical Center, founded in 1860, was the first medical school in the United States to bring teaching out of the lecture hall and to the patient's bedside. A center of innovation and excellence in research and clinical service delivery, SUNY Downstate Medical Center comprises a College of Medicine, College of Nursing, School of Health Professions, a School of Graduate Studies, School of Public Health, University Hospital of Brooklyn, and a multifaceted biotechnology initiative including the Downstate Biotechnology Incubator and BioBAT for early-stage and more mature companies, respectively.
SUNY Downstate ranks twelfth nationally in the number of alumni who are on the faculty of American medical schools. More physicians practicing in New York City have graduated from SUNY Downstate than from any other medical school.
---