August 2022 Announcements
By Office of Communications & Marketing | Aug 1, 2022
SUNY Pilot Telecommuting Policy Extended through December 31, 2022
SUNY has extended the Pilot Telecommuting Policy through December 31, 2022.
If you are an employee whose title has been identified as eligible to telecommute, please be advised that the SUNY Telecommuting Policy set to expire for UUP, CSEA, NYSCOPBA, and PBANYS on August 31, 2022, has been extended to December 31, 2022. Therefore, if you have an approved application, no further action is required on your part.
If you have not submitted your telecommuting application and would like to participate, please contact humanresources@downstate.edu for more information.
President Riley Discusses Downstate's Accomplishments and Challenges with City and State New York

President Wayne Riley sat down with City and State a few weeks ago to discuss how Downstate fared during the height of the pandemic, the University Hospital at Downstate's designation as a COVID-only patient-care facility, and the challenge of overcoming the label amid ongoing fiscal challenges.
Read the article here in today's City and State.
---
A Message about the Passing of Dellon Orlando Angel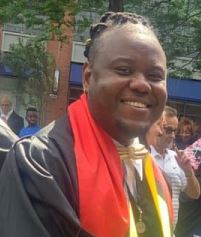 We are deeply saddened to announce that our very own Angel passed away on August 17, 2022.
A beloved member of the Downstate family, Angel worked in the Mailroom and Copy Shop as a Mail and Supply Clerk for over eleven (11) years. Those who knew Angel remember him for his positive words, uplifting phrases, and his infectious smile.
Please see the Funeral Services information below:
Viewing/Funeral Service will be held at:
Frantz Daniel Jean Funeral Service, Inc.
Thursday, August 25, 2022
9:00 AM – 11:00 AM
5020 Foster Avenue, Brooklyn, NY 11203
(718) 613-0228
Interment (Burial)
12:30 PM
Forest Green Cemetery
535 Texas Rd, Morganville, NJ 07751
---
A Message about the Passing of Dr. Raymond Damadian – "Father of the MRI"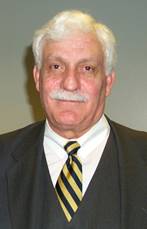 We are deeply saddened to announce that our very own Raymond V. Damadian, MD, Emeritus Professor of Medicine & Biophysics, widely recognized as "The Father of Magnetic Resonance Imaging (MRI)," passed away on August 3 at the age of 86.
SUNY Downstate has lost a legend who was recognized for having revolutionized the field of diagnostic medicine. He was a true pioneer, committed to medicine and research.
Dr. Damadian was one of the first to propose using nuclear magnetic resonance (NMR) to produce medical images. He was widely recognized for developing the world's first commercial MRI (magnetic resonance imaging) machine, now commonly used in clinical applications globally, which has transformed the diagnosis and treatment of diseases.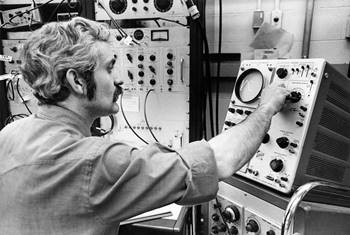 Born in Queens, Dr. Damadian was an avid violinist and tennis player who played in the Junior Davis Cup as a teenager and attended Juilliard School of Music. He was awarded a Ford Foundation scholarship to the University of Wisconsin and completed a degree in mathematics before earning his MD at Albert Einstein College of Medicine, subsequently joining SUNY) Downstate in 1961 to complete his residency.
In 1967, he was appointed to the faculty of Downstate in the Biophysics Section of the Department of Medicine. During his tenure at SUNY Downstate, he encountered a tool used in chemistry called nuclear magnetic resonance (NMR). He began to explore how it might be used to image the body. He discovered that the relaxation times of NMR signals differed in normal and cancerous tissue, paving the way for what came to be known as magnetic resonance imaging (MRI).
Dr. Damadian received numerous awards and accolades throughout his career, including the Lawrence Sperry Award (1984), the National Engineers' Special Recognition Award (1985), the National Medal of Technology (1988), induction into the National Inventor's Hall of Fame (1989), selection of the first human MRI scanner, Indomitable, for permanent exhibit in the Smithsonian Institution, Washington, DC (1986). In addition, Dr. Damadian received an Honorary Doctor of Science Degree from SUNY Downstate in 1995.
Dr. Damadian had a storied career. It was a true honor to have him as a member of the Downstate family. His contributions will be cherished in the medical community, and his legacy will be cemented as an innovator well ahead of his time.
We mourn with his family, friends, and colleagues, and join them in cherishing his work and contributions to the advancement of medical science and better patient care. We are proud, grateful, and humbled by the legacy Dr. Damadian leaves behind.
SUNY Downstate's ADA Ethics Analyst Works to Prevent and Maintain Awareness of Domestic Violence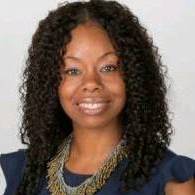 A recent Reuters article featured Nicole Sharpe's story and her work on domestic violence prevention and awareness. Thanks, Nicole, for keeping this vital conversation where it belongs—in the forefront of people's minds.
---
Janet E. Rosenbaum, Ph.D., A.M. Joins Editorial Board of the Journal of Adolescent Health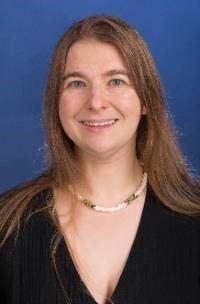 Congratulations to the School of Public Health Department of Epidemiology and Biostatistics Assistant Professor Janet E. Rosenbaum, Ph.D., A.M., on her appointment to the prestigious Editorial Board of the Journal of Adolescent Health. This recognition identifies Dr. Rosenbaum as a national expert in adolescent health and continues her involvement with the Society for Adolescent Health and Medicine (SAHM). In 2011, she was one of four finalists for SAHM's early investigator award for her work in reproductive coercion. She is incredibly proud of this appointment as she joins several professionals on the board whom she has admired since graduate school.
The Journal of Adolescent Health is a multidisciplinary scientific Journal dedicated to improving the health and well-being of adolescents and young adults. It publishes new research findings in the Adolescent and Young Adult Health and Medicine field, ranging from the basic biological and behavioral sciences to public health and policy.
---
Nira A. Goldstein M.D., MPH, Appointed to General Editorial Board for The Laryngoscope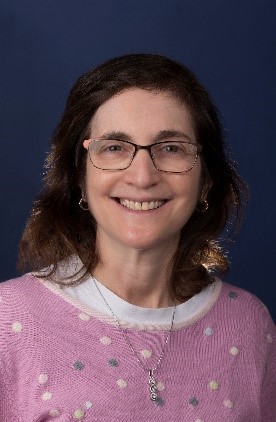 Congratulations to the new General Editorial Board (GEB) Member, Department of Otolaryngology, Professor Nira A. Goldstein, M.D., MPH, on her appointment to The Laryngoscope, the leading source of information on advances in the diagnosis and treatment of head and neck disorders. Dr. Goldstein has authored over 50 articles and 25 chapters on various topics in otolaryngology and has presented at numerous national and international conferences. Her clinical and research interests include pediatric obstructive sleep apnea, otitis media, and sinusitis.
---
Read the Latest Issue of Research Pulse from the Office of Research
For the latest in Research News at Downstate, please read the latest Research Pulse Newsletter. Many exciting things are happening, including new appointments to our research advisory committees, seed grant awardees for 2022, and new extramural grants, including an NIH S10 equipment grant to purchase nearly $600K in high-performance computing hardware.
---
SUNY Downstate Selected to Participate In American Association Colleges of Nursing National Initiative
By Office of Communications & Marketing | Aug 3, 2022
SUNY Downstate's College of Nursing Will Join Forces With 49 Schools to Foster Inclusive Environments and Build a More Diverse Nursing Workforce
Brooklyn, NY – SUNY Downstate Health Sciences University has been selected to participate in a national initiative from the American Association of Colleges of Nursing (AANC) to foster inclusive learning environments and build a more diverse workforce. The project titled Building a Culture of Belonging in Academic Nursing launched in January 2022 with funding from Johnson and Johnson to help schools of nursing create environments where students, faculty, and staff possess a strong sense of belonging and are encouraged to thrive.
"We're delighted to be selected to participate in this initiative by the American Association Colleges of Nursing," said Lori A. Escallier, Ph.D. RN CPNP-PC, FAAN, Dean and Professor, College of Nursing at Downstate. "At Downstate, we're prioritizing initiatives that focus on health equity, diversity, and inclusion that will allow us to provide the highest quality of healthcare to every patient we serve. Inclusive learning is crucial for success, and I am confident that our participation in this program will help our nursing program to continue to grow and evolve."
Using a digital platform called Leading Across Multidimensional Perspectives (LAMP), which was developed by the AACN, data will be collected from SUNY Downstate student, faculty, and staff based on their perceptions of their college classrooms as communities. AACN will use the data collected to provide institution-level assessments and action reports to help administrators with a better understanding of how their campus climate influences student experiences and achievement.
---
UUP HOLIDAY SCHEDULE: 2022-2023 ACADEMIC YEAR
The following dates are designated as holidays for the 2022-2023 academic year: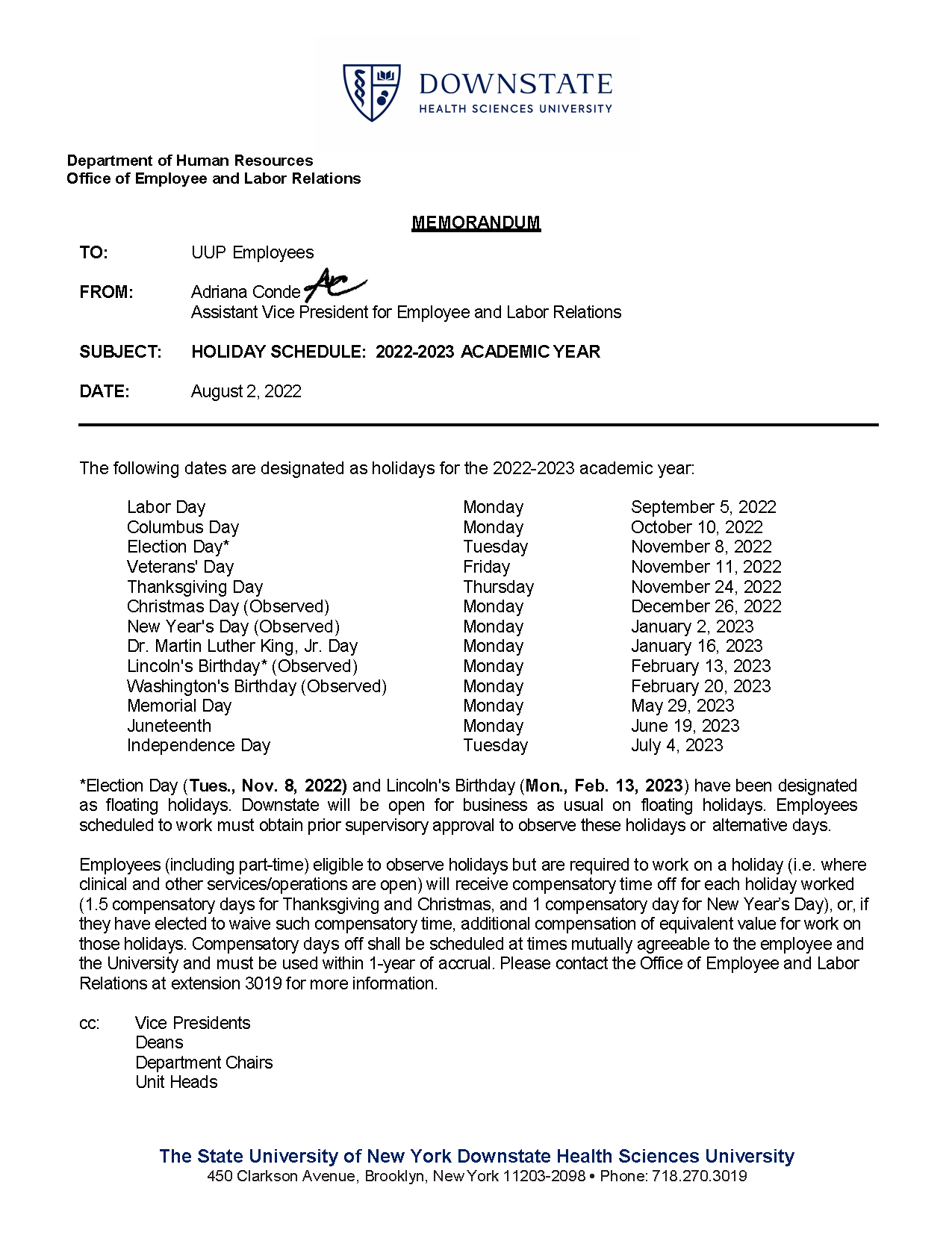 ---
A Message from University Police Department
The University Police Department (UPD) wishes to remind the Downstate community of our commitment to safety. To ensure a safe and secure environment, we would like to remind the entire community to remain vigilant while navigating the campus and surrounding areas.
Safety is a shared responsibility for every member of our community. If you see, hear, or have an alarming experience on or near the campus, immediately call University Police directly at X-2626 or from a non-campus phones at (718) 270-2626. If you are off-campus, dial 911 for emergency assistance. Timely reporting can help prevent crimes or other incidents. Reports to UPD will always remain confidential.
We also encourage you to use the shuttle service whenever possible and refrain from using headphones or talking/texting on cellular devices during your commute.
---
395 Lenox Road Entrance Closure
REMINDER that the HSEB entrance at 395 Lenox Road remains temporarily closed until further notice while the exterior doors are replaced. Access to the HSEB will be through the Grove, as per the signage leading to the Grove.
COVID-19 scanning for entry remains in process. The doors to the Grove are open from 7:00 AM to 7:00 PM. Please use the entrance at 450 Clarkson before and after these hours if you need access to the HSEB.
Please contact Anthony Piscopo, Facilities Program Coordinator, with questions at anthonypiscopo@downstate.edu, 718-270-4668, or 347-563-0983.
Downstate College of Nursing Selected by AACN to Identify Hallmarks of Inclusive Learning Environments
Downstate's College of Nursing was one of 50 schools from 28 states chosen by the American Association of Colleges of Nursing (AACN) to participate in a national initiative designed to foster inclusive learning environments and build a more diverse nursing workforce.
As part of the project, Downstate will pilot test a new AACN digital platform that will help to evolve how nurse educators approach teaching, learning, and professional engagement. The platform will administer AACN's Leading Across Multidimensional Perspectives (LAMP®) Culture and Climate Survey.
This instrument collects data on student, faculty, and staff perceptions of their college classrooms as communities in five thematic areas: fair treatment and observations of discrimination, belongingness, the value of diversity and inclusion, campus services, and clinical training.
Using data collected via LAMP, AACN will provide institution-level assessments and action reports to participating schools related to developing inclusive academic environments.
In addition to Downstate, SUNY schools of nursing participating in the pilot study are Binghamton and Stony Brook University.
---
Journal Entry Processing for the Fiscal Year Ended June 30, 2022
The deadline for submitting journal vouchers to be processed for the fiscal year ended June 30, 2022 is Friday, August 12, 2022. Journal Entry Forms are available online in the 'Administration-Finance Division-Forms' section of the SUNY Downstate website.
Download form directly from here:
If you have any questions or require further assistance, please contact the Office of Financial Management at (718) 270-3056.
---
Upcoming Events
August 2, 10, 22 & September 6


Now is a great time to meet and discuss your financial future and ensure you're on the path to the retirement you want.
When we meet, we can discuss:
The benefits of enrolling in your workplace retirement plan
How to boost your overall financial wellness
The resources available to help shape the future you want
Your broader financial goals so we can put a plan in place to help you get there
We can meet in person at any time that is convenient to you.
Schedule time to meet with me today!
We are available.
Dates:
Tuesday, August 2, 2022
Wednesday, August 10, 2022
Monday, August 22, 2022
Tuesday, September 6, 2022
Time: 8:30 AM to 2:30 PM
(45 minute appointments available)
Location: Downstate Health Sciences University Downstate Library
Schedule a time that works best for you.
Schedule now
Questions? Here's who to call: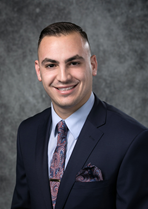 Richard Grofsick, CFP®
Financial Advisor
Direct: 973.902.8488
Office: 518.783.6464
richard.grofsick@aig.com
15 British American Blvd.
Latham, NY 12110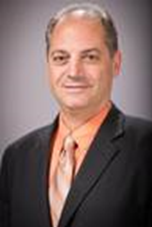 Michael L. Grofsick
Financial Planning Advisor
Direct: 973.461.3834
Office: 518.783.6464
michael.grofsick@aig.com
15 British American Blvd.
Latham NY 12110
The Brooklyn Health Disparities Center, TRANSPORT and the Office of the SVPR Present
July 18th, 2022
Achieving Diversity in Clinical Trials: The Importance of Community Engagement
A Seminar By
Dr. Sharon A. Brangman, MD, FACP, AGSF
Distinguished Service Professor
Chair, Department of Geriatrics
Director, Center of Excellence in Alzheimers Disease
SUNY Upstate Medical University
Please find recording of the seminar
Passcode: 5y%?1*67
---
SPECTRUM Registration is Now Open!
September 15-16

SUNY SPECTRUM
ACCESS | ACTION | ACHIEVE
SPECTRUM registration is now open!
Join us for one of the largest LGBTQIA+-focused conferences in the nation!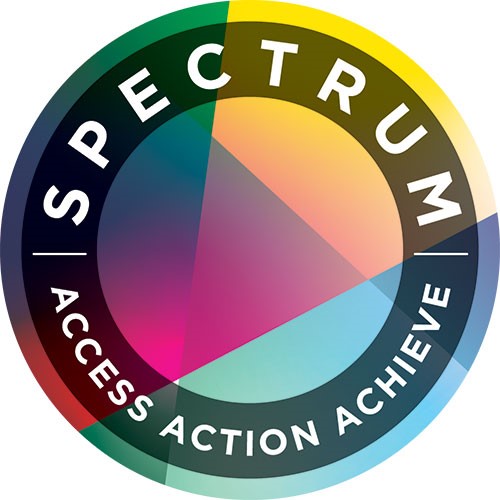 September 15-16, 2022
SUNY Global Center
116 East 55th St.
New York, NY 10022
Hybrid event with virtual attendants
Keynote speakers to be announced
2022 SUNY SPECTRUM Conference registration is open!
Join us September 15-16 for curated conversations, sessions, and panels.
Visit us at www.suny.edu/events/spectrum for updates.
---
News Reel
News 12 Brooklyn
Dr. Jameela Yusuff discusses West Nile virus on News12 on August 17.
News 12 Brooklyn
Dr. Jameela J. Yusuff discusses Monkeypox on News12 Brooklyn on August 2.
Insider
Dr. Jameela J. Yusuff discusses Monkeypox conditions and symptoms on Insider.
What's Happening in August
Calendar of August observances, celebrations, and recognitions!
Check back for regular updates to this page!
* New information highlighted in yellow *